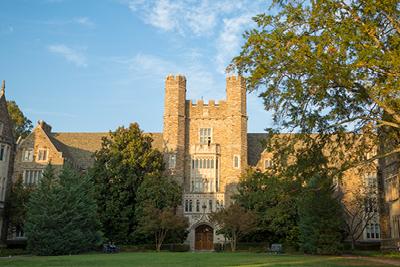 Duke University School of Medicine vaulted to No. 3 for research among 122 medical schools in the nation – tying its highest ranking in history – in the U.S. News & World Report annual ranking of graduate programs released today. It was also ranked third in 2001.
The magazine's research rankings are based on numerous indicators, including assessment by deans and residency directors (reputation), as well as faculty-student ratio, student admissions statistics such as MCAT, GPA and acceptance rates, and total federal research activity.
In addition to the research ranking, seven specialty programs in the School of Medicine placed in the top 10:
Surgery - second
Anesthesiology - fourth
Internal Medicine - fifth
Radiology – sixth 
Pediatrics – seventh, tied
Obstetrics and Gynecology - eighth
Psychiatry - tenth
"These rankings recognize our outstanding faculty, staff and students and their unwavering commitment to delivering exceptional patient care, groundbreaking research and inspired teaching," said Mary E. Klotman, MD, dean of Duke University School of Medicine. "I am especially proud and grateful to our entire School of Medicine community for never losing sight of our core missions during this most challenging year."
For the first time this year, the magazine also published four new rankings to measure how medical schools are performing on key health care issues, including the diversity of graduates and how many newly trained physicians plan to practice primary care, establish practices in rural areas, and work in health professional shortage areas.
Among those new measures, Duke tied for 20th nationally among 118 medical schools for the diversity of its graduates. The ranking is based on two indicators:  the number of underrepresented minority (URM) students enrolled in the school and the ratio of the school's URM students to state and national numbers, both based on data from fall 2020. Public institutions' URM enrollment were compared with its respective state URM percentage, and private institutions' URM were compared with national figures. 
"At Duke, we know that diversity is a key metric for excellence," Klotman said. "Our diverse classes of students are here because they have demonstrated academic achievement, as well as noble character and the potential to be leaders and make a positive impact on our world."
This past year, Duke's School of Medicine has also placed highly in other national assessments, including: 
3rd place among allopathic medical schools, by the Student Doctor Network;
10th place for funding from the National Institutes of Health, by the Blue Ridge Institute for Medical Research;
16th place internationally among medical schools, by QS World University Rankings.