Duke University will honor Nobel Prize winner Robert J. Lefkowitz's 50 years at Duke with a two-day symposium, "Celebrating Scientific Discoveries that Advance Human Health," to be held Oct. 2-3 at Page Auditorium. 
The event will feature presentations from seven Nobel laureates, as well as sessions with University President Vincent E. Price, PhD; Mary E. Klotman, MD, executive vice president for health affairs and dean of the Duke University School of Medicine; former Duke basketball coach Mike Krzyzewski; and Lefkowitz, who received the 2012 Nobel Prize in chemistry with his former trainee Brian Kobilka, MD. 
Lefkowitz's trailblazing research on how cells communicate reshaped modern medicine. He revealed the workings of G-protein-coupled receptors that are relied on by almost half of the medications available today. 
"This symposium is a wonderful opportunity to celebrate Bob Lefkowitz's many achievements and to learn about the latest advances in biomedical research," Price said. "His discoveries have made a difference in the lives of innumerable people, and the research that will be presented at this symposium also has the potential to improve the lives of people around the world." 
In addition to the Nobel Prize laureates, speakers will include top scientists from Duke and other universities who are working on biomedical research to advance treatment of Alzheimer's disease, blood disorders, and heart disease. 
Lefkowitz, MD, the Chancellor's Professor of Medicine at the Duke University School of Medicine, has been on the faculty at Duke since 1973.  
He spent his early career as a cardiologist before his transition to biochemistry, devoting his energy to the discovery and characterization of beta-adrenergic receptors that support heart function.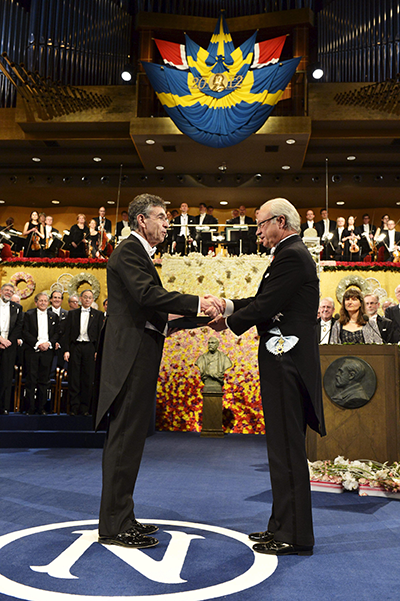 "Bob Lefkowitz's pioneering work in the realm of cellular communication has left an indelible mark on the field of medicine," Klotman said. "His dedication to understanding the intricacies of cell receptors has paved the way for numerous medical breakthroughs, making him an indispensable figure in modern biomedical research." 
Beyond his research, she added, "his lasting impact has also been through the generations of very talented scientists who have had the good fortune to call Bob their mentor."  
In an innovative move in 1974, Lefkowitz attached a radioactive isotope to a beta blocker drug. This allowed him to track and identify an adrenaline receptor by monitoring the emitted radiation. It opened the door to understanding the functionality of such receptors. 
Lefkowitz's discovery led to the subsequent realization that there is an entire family of similarly functioning receptors — the G-protein-coupled receptors. These receptors play a crucial role in cellular communication. 
G-protein-coupled receptors are not just a matter of academic interest. Many medications leverage these receptors to exert their therapeutic effects. Lefkowitz's work has defined pharmaceutical advancements for decades. 
Nobel laureates invited to join the symposium include cancer researcher Harold E. Varmus, MD, who earned the Nobel Prize in physiology or medicine in 1989; neurologist and biochemist Stanley Prusiner, MD, the 1997 Nobel Prize winner in medicine or physiology; Joseph Goldstein, MD, the 1985 Nobel Prize winner whose discoveries became the basis of statins, medications to treat high cholesterol; Peter Agre, MD, and Roderick MacKinnon, MD, who received the Nobel Prize in chemistry in 2003; and Kobilka, a physiologist at Stanford Medicine who worked as a postdoctoral fellow with Lefkowitz at Duke University. 
The event is open to faculty, staff, students, trainees, and the public. Visit the School of Medicine symposium webpage to see the full schedule and register.