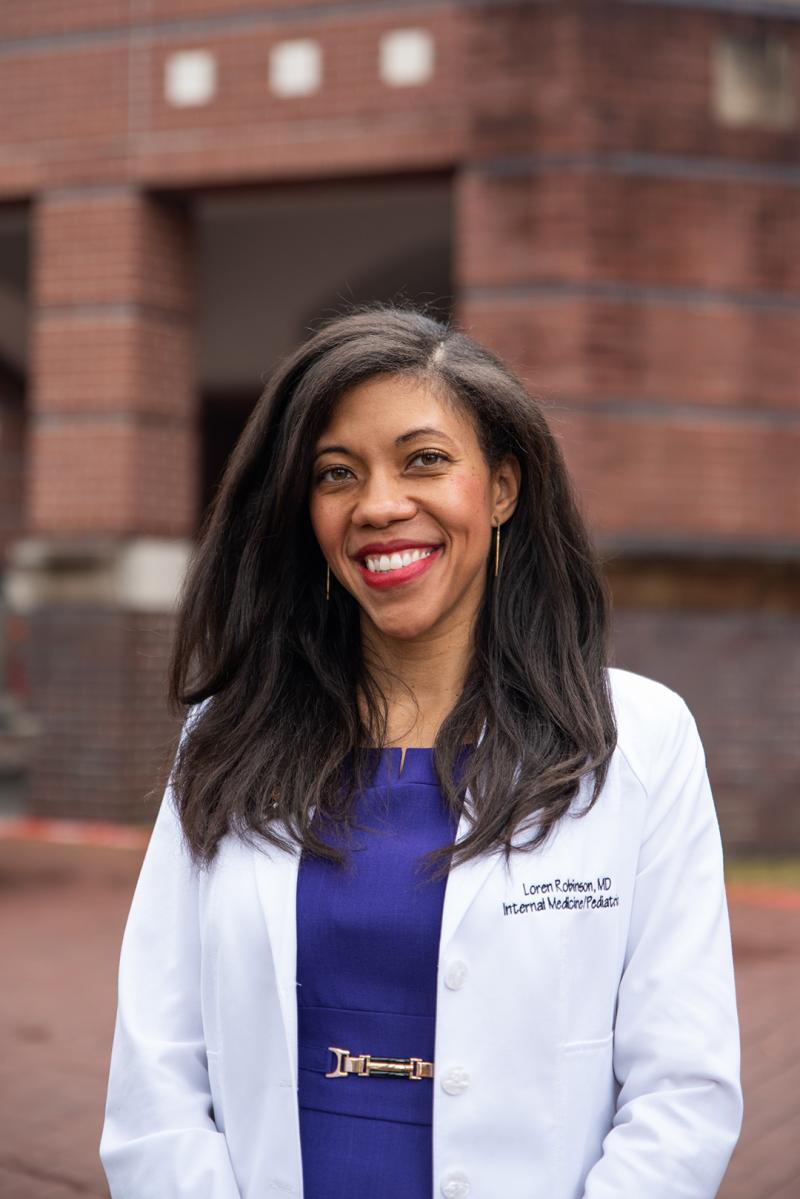 In January of 2020, Loren Robinson, MD'09, and the rest of the leadership at CHRISTUS St. Michael Health System, a 312-bed hospital in Texarkana, Texas, gathered to conduct an annual tabletop exercise in crisis management, mandated as part of the hospital's regulatory requirements.
As their "what if" scenario, they settled on the mysterious virus that had broken out in Wuhan, China. "We thought, 'That virus is probably not going to come to the U.S., but let's use it for this simulation and see how the hospital would respond,'" says Robinson.
She was only three months into her job as vice president for medical affairs and chief medical officer at CHRISTUS St. Michael. And although she had experience in health care administration at the governmental level, having served as deputy secretary of health for the state of Pennsylvania, she had never before run a hospital. She was still learning her way around Texarkana and, with her husband, Ermias Abebe, MD'11, raising a nine-month-old son.
"They recruited me here to lead the hospital's physician recruitment and quality and safety efforts, and I had just about gotten my feet wet when we ran that exercise," Robinson says. "Thirty days later we had our first COVID-19 patient. And from that point forward, COVID was almost all I did."
The hospital initially set aside space for a dozen pandemic patients. Within a few weeks, they had 96. Then members of the medical staff started getting sick.
"Now we were not only dealing with something bigger than any of us had ever experienced, but we were having to do it short-handed," says Robinson. "You have to re-think literally everything you do. That tabletop exercise proved very helpful. It was quite a year."
Running a hospital in the hills of east Texas—much less doing so in a pandemic—was a long way from any future Robinson imagined when she was growing up in Buffalo, New York. The daughter of an academic pediatrician father and a pediatric nurse practitioner mother, she says, "I was adamant I was going to do anything but medicine." She dreamed instead of a life in foreign service, and after high school she left for Spelman College in Atlanta, planning to major in French and prepare for a life traveling to far-flung corners of the globe to help people in need.
Spelman opened her eyes in more ways than one. For one thing, she'd gone from being the only Black student in her high school to a historically Black women's college.
"My senior year in high school, I was always being called upon to speak on 'the Black experience.'" she says. "That got old quickly. At Spelman, I saw that Black women are not a monolith. I saw how many different ways Black women could show up and be excellent and diverse in so many ways. I learned it was OK to be whoever I wanted to be."
She also found herself drawn inexorably toward medicine as the best way she could help people. When she started exploring medical schools, she found Duke irresistible.
Right from my first interview with Brenda Armstrong, it was clear that Duke valued our diversity of backgrounds and experiences," she says. "I'd go to other interviews and think, 'Well, that was nice, but it wasn't Duke."
On her second visit, she met her future husband. Once enrolled, she dove into the medical student experience, devouring knowledge, experiences, and new perspectives.
"I loved my time at Duke," she says. "I focused on everything. I came in thinking pediatrics, but I fell in love with internal medicine. I loved interacting with undergrads, so I did a lot of mentoring. I did rotations at the VA hospital and learned so much interacting with veterans who had given so much for their country."
At the outpatient clinics, and with a little nudge from Abebe, she learned that you don't have to cross any oceans to find people in need.
"I thought I had to go off to foreign lands to help people," she says. "My husband, who is from Ethiopia, said, 'That's a very American way of looking at things. You can drive around Durham and see people who need your help.' Somehow I had never thought of it quite that way."
She did her residency at UNC Chapel Hill, rising to chief resident of the Med Peds program. The passage of the Affordable Care Act in 2010 triggered an interest in health care policy. After completing a Robert Wood Johnson Foundation fellowship at the University of Pennsylvania, she served an internship at the U.S. Department of Health and Human Services and then took the deputy secretary post in Pennsylvania.
When Abebe, an orthopaedic surgeon, was recruited to join a clinic in Texarkana, she began conversations with the administration at CHRISTUS St. Michael. She was too pregnant to fly for her final interview, so the hospital's CEO and COO flew to Philadelphia to interview her there.
"That said a lot," Robinson says. "A supportive team means so much. Everyone at CHRISTUS St. Michael has been so supportive, and the people of Texarkana have welcomed us with open arms."
When COVID-19 vaccines became available, Texas named CHRISTUS St. Michael a vaccination hub, and Robinson has been overseeing the vaccination program. Case numbers are well down from their height, and she is hopeful that life will soon return to something like normal.
Her energy and excellence have won her more than 30 awards and honors, including the National Medical Association's Rising Star Award and the National Minority Quality Forum's 40 Under 40 Leaders in Minority Health.
She and her family love Texarkana, she says, but Duke is never far from her thoughts.
"We're very happy here," she says. "But we love the Durham area, and there are so many opportunities in health care throughout the Triangle. If the time ever comes where we're thinking about next steps, we would love to come back home to Duke."