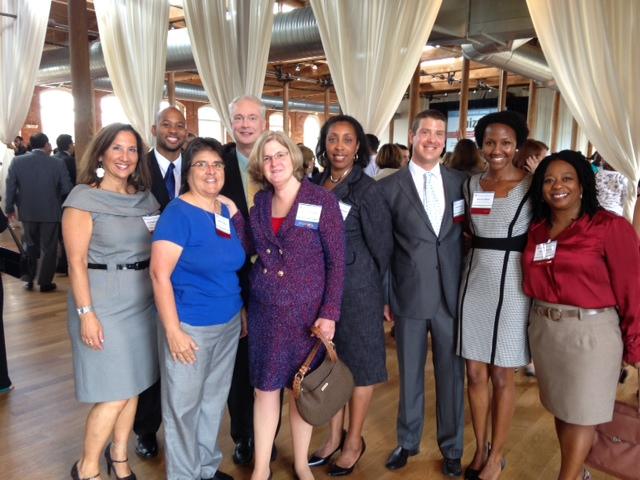 Nancy C. Andrews, MD, PhD, Dean, Duke University School of Medicine, has been recognized as a "Leader in Diversity."
The Leaders in Diversity Awards are sponsored by the Triangle Business Journal and recognize individuals in the Raleigh, Durham, Chapel Hill area who have demonstrated a commitment to diversity. Dean Andrews was among 23 individuals honored at an awards luncheon on September  11. School of Medicine faculty and staff including members of the School's new Inclusion Council joined Dean Andrews at the lunch to help her celebrate this award, which recognizes her leadership and commitment to diversity and inclusion.
"We feel strongly that diversity and inclusion are key drivers of institutional excellence, and we try to be intentional in tapping the widest and most diverse talent pools for students and faculty," said Dean Andrews.
"This year's list of winners represents organizations and individuals who are not just checking the box on diversity," says Bryan Michael Hamilton, publisher of Triangle Business Journal. "They are leading the efforts of a cross-cultural work force and are yielding results that benefit their companies as well as the tapestry of our community."
To learn more about the School's Office of Diversity and Inclusion: http://www.medschool.duke.edu/about-us/office-diversity-and-inclusion
To view the entire article from the Triangle Business Journal: http://www.bizjournals.com/triangle/blog/2014/08/tbj-2014-leaders-in-diversity-awards-winners.html?page=all
Read more about Dean Andrew's commitment to diversity and inclusion: http://www.insightintodiversity.com/diversity-inclusion/inclusion-is-a-high-priority-for-two-medical-school-deans