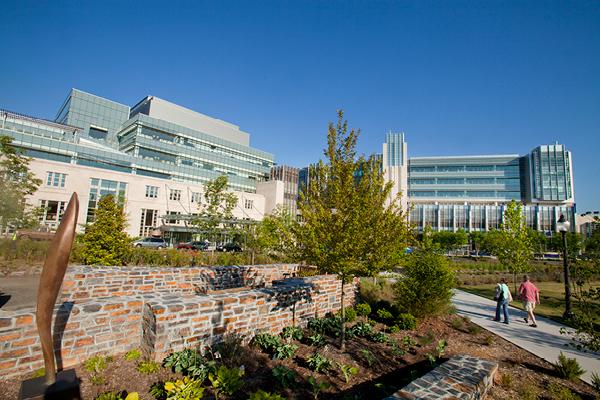 The COVID-19 pandemic has exacerbated pre-existing health inequities and emphasized the need for community-engaged research to address those disparities, according to a panel of Duke and UNC-Chapel Hill experts. 
The panel, moderated by Dr. Ebony Boulware as a part of Duke Research Week 2022, also covered the role of big data and the need to look beyond individual behavior to the systemic forces that influence people's health. 
On the State of Health Inequity in the US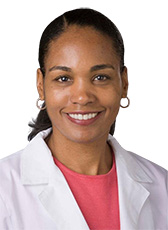 Ebony Boulware, MD, director, Duke Clinical & Translational Science Institute 
"If we harken back to 2020, as the pandemic was unfolding with a lot of uncertainty and concern, we saw immediately that there were tremendous health inequities that were happening, particularly among historically disenfranchised and historically marginalized communities in the United States. What we saw were up to four- to six-fold differences in hospitalization rates by race and ethnicity." 
"And so the challenge we have, and that we've been facing, has been how do we improve health equity? These are not new phenomena. These are the same phenomena that have been happening across a number of [health] conditions. What we want to achieve, that we're working to achieve, is health equity — a state in which everyone has the opportunity to attain their full health potential." 
"Health inequities are the product of multiple determinants, including poverty, structural racism, discrimination, and other environmental and social determinants." 

On the Gaps in our Knowledge
Keisha Bentley-Edwards, PhD, associate professor, Duke School of Medicine 
"How we can infuse equity, and specifically anti-racist and anti-bias frameworks, throughout the research enterprise? The values of anti-racism and anti-bias should be reflected in all these areas of development. Also, how do we use community engagement in research where it's not just a checkmark, but where we really have insight and everyone has something in the game?" 
Tyson Brown, PhD, associate professor of sociology, Duke University 
"We need a better understanding of the social determinants of health. And along those lines, a growing body of research suggests that structural racism is in fact toxic for population health. However, our understanding of these phenomena has really been hindered by both conceptual and methodological gaps." 
Schenita Randolph, PhD, associate professor, Duke University School of Nursing 
"As an example, the CDC has interventions around PrEP uptake [for HIV prevention], but all of those evidence-based interventions focus on men who have sex with men. None to date have a focus on black women. And so we have to consider what structures and systems are in place that are impacting our ability to be able to address disparities." 
On the Need for Multi-level Approaches to Equity
Giselle Corbie, MD, MSc, Kenan Distinguished Professor of Medicine, UNC School of Medicine 
"For a long time we were really focused on the individual and individual behavior, somehow believing that in the face of adversity when [disadvantaged] patients leave our office as clinicians they would go out and do all the things that anybody else could do without that disadvantage." 
"Now, I think we have a very clear sense of the way that structural oppression and racism works, and that it works on multiple levels. Now we've recognized that where we live, work, and play is critically important to our health, to the opportunities that we have and the ones we don't have."  
Bentley-Edwards 
"Everyone's always looking for a silver bullet. It's always been focused on the individual. But the problems are systemic. Historically we've been trying to build a laboratory experiment when we're talking about behavior and population health. But population health has more complexities than what you would have in an isolated lab." 
On Big Data and Health Equity 
Brown 
"We can't change what we don't measure. Measuring structural racism requires collecting, harmonizing, and analyzing complex data sources. My research aims to address these gaps by conceptualizing, quantifying, and mapping structural racism. Structural racism is embedded in political, economic, medical, legal, and social institutions, and this manifests in large racial inequalities." 
"Structural racism is insidious as it currently manifests. It can be a little amorphous. A lot of people struggle to really define it, and that lack of not only definition, but rigorous measurement, enables skeptics to dismiss structural racism as a slippery concept for which we lack robust evidence. And so I think there is utility in adding some scientific rigor, trying to actually measure it." 
Michael Cohen-Wolkowiez, MD, PhD, Kiser-Arena Distinguished Professor of Pediatrics, Duke School of Medicine 
"Once you start looking at communities, you find that they're not the same, and data at the national level allows you to do that. So, for example, a Latino person that is of Mexican descent and is living in Southern California may feel very differently about COVID-19 testing, or even vaccines, than a Latina of Cuban descent that's living in Florida. There are over 500 tribal nations in this country, and obviously we can't think that they all behave, or think, or access health care in the same way. So there is a lot of interest in how strategies that were previously incorporated at a local level can now be expanded into a national program so that we can better understand the nuances of each community." 
On Equitable Academic-Community Partnerships
Corbie 
"We sit in academic health centers, but we have community partners that are part of this work, and we want to make sure they get what they need to be able to participate fully. Funding is needed for community organizations that are partnering with researchers. We need to actually get money into the hands of folks that are on the ground. And it cannot be overstated how important trust, and developing trust, and demonstrating trustworthiness, is. It's become clear how important those collaborations are to advance health equity and make sure the research is relevant to the communities it is hoping to serve." 
"We need to be looking at ourselves as investigators, and that's some of the really important work that Keisha [Bentley-Edwards] and the Center for Equity in Research is doing. Where are we on our personal journeys, what cultural narratives are we bringing into our work?" 
Randolph 
"It's known that often in research we go in and we take from communities and they never hear back from our work. If indeed the work that we're doing and the investments we are making in our research are effective, we need to make sure that we are able to sustain that. We have great interventions, but are they sustainable? If they aren't, I question as a researcher what I'm doing." 
Bentley-Edwards 
"We should be asking, 'Who is on my team? Who am I getting my information from? Who am I citing?' People have been doing this work for a long time, particularly people of color and LGBT people. We need to be citing them. If you're new to research, you need to bring in experienced people on your teams." 
"I'm hoping that we will see these changes from the outset of research projects all the way to dissemination, so that it doesn't stay in the ivory tower and it moves to the community. We have an opportunity to share our findings and get them to work." 
Meet the Experts 
Ebony Boulware, MD, (moderator) is vice dean for translational science, associate vice chancellor for translational research, director of the Duke Clinical and Translational Science Institute, and chief of the Division of General Internal Medicine in the Department of Medicine in the Duke University School of Medicine.  
Keisha Bentley-Edwards, PhD, is an associate professor of medicine and a member of the Duke Cancer Institute at the Duke University School of Medicine.  
Tyson Brown, PhD, is an associate professor of sociology, director of the Center on Health & Society, and the inaugural Presidential Fellow at Duke University.   
Michael Cohen-Wolkowiez, MD, is the Kiser-Arena Distinguished Professor of Pediatrics in the Duke University School of Medicine and the head of pediatrics research at the Duke Clinical Research Institute.  
Giselle Corbie, MD, MSc, is a Kenan Distinguished Professor in the Departments of Medicine and Social Medicine at the UNC School of Medicine.  
Schenita Davis Randolph, PhD, is an associate professor in the Duke University School of Nursing.  
---
Ben Miller is a communications strategist with the Duke Clinical and Translational Institute.