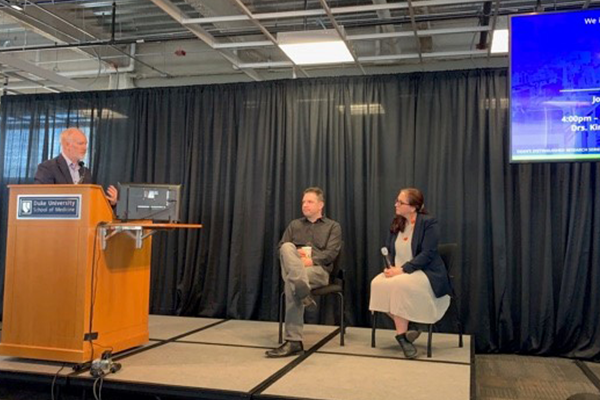 In the past eight years, more than a dozen new drugs have been approved to treat Parkinson's disease symptoms, but the brain disease, predominately affecting those over age 60, still cannot be slowed or cured.  
To help millions of older adults, a closer look at the fundamental biology of Parkinson's disease is taking place, said Colin Duckett, PhD, vice dean of basic science at Duke University School of Medicine who led a discussion with premier researchers at the March 30 Dean's Distinguished Research Series.   
The Duke Center for Neurodegeneration and Neurotherapeutics' Andrew West, PhD, professor of pharmacology and cancer biology, sees hope in interpreting genetic risks for neuroprotection targets, including the LRRK2 protein kinase, while Caglu Eroglu, PhD, professor of cell biology at Duke, is exploring the underlying dysfunction in brain circuitry that occurs before health diminishes.  
While most causes of Parkinson's disease which can lead to motor defects, tremors, and cognitive decline, are unknown, some cases of the disease are genetic, caused by an inherited mutation in LRRK2. 
Experiments underway in the Eroglu lab examine the potential for LRRK2 to alter the work of star-shaped cells called astrocytes that govern connections in the brain. Through mouse models, her team has discovered clues that astrocyte dysfunction drives Parkinson's progression.  
"I would argue that (Parkinson's) is not a disease of only the aged brain, but is caused by a derailment of circuit formation," said Eroglu, who is also Howard Hughes Medical Institute investigator. 
She views astrocytes as a cellular target in treating Parkinson's because of their role in neuroplasticity, the ability to build new neural networks – a process that is efficient in youth, but less efficient as the brain ages.  
"Even though a disease may be caused by a single genetic mutation that still makes it a very complex disease," Eroglu said. "Understanding the disease holistically is going to be important." 
West meanwhile is among those developing biomarkers and small molecule inhibitors to address LRRK2-linked Parkinson's disease.  
He has been on the forefront of investigating LRRK2, one of the most common genetic drivers of Parkinson's. This basic science research effort has led to recent clinical trials testing a small molecule inhibitor to block the activity of LRRK2, which is carried by about 10% of those with familial Parkinson's disease and 1-2% of sporadic (typical) late-onset Parkinson's disease.  
At Duke, West's lab has expanded its research into the diversity of disease origins, looking for links in gut exposures in the gastrointestinal tract and other exposures that may be risks for disease.  
The Research Series showcases groundbreaking research from the basic, clinical, and translational sciences. Formerly Research Week, the reimagined series concludes with faculty lectures presented 4-5 p.m. April 20 by Kimberly Johnson, MD, and Lisa McElroy, MD, MS.