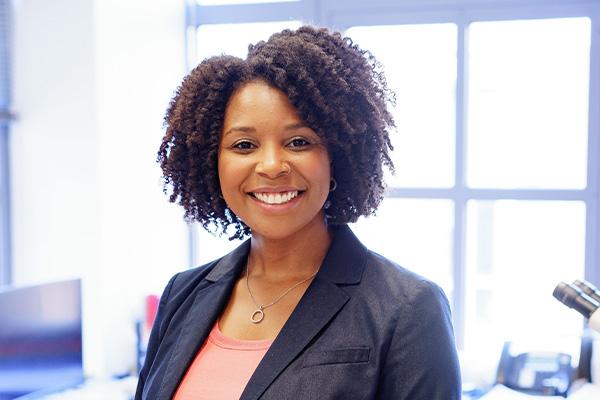 Chantell Evans, PhD, assistant professor of cell biology at Duke University School of Medicine, has been selected as one of the 31 inaugural Freeman Hrabowski Scholars by the Howard Hughes Medical Institute (HHMI). The five-year scholarship is renewable for a second five-year term and will provide up to $8.6 million over 10 years. It includes full salary, benefits, a research budget, and scientific equipment. 
The scholarship is named in honor of Freeman A. Hrabowski III, president emeritus of the University of Maryland, Baltimore County, and a major force in increasing the number of scientists, engineers, and physicians from backgrounds underrepresented in science in the US. HHMI announced the launch of the Freeman Hrabowski Scholars program in May 2022. 
Evans, who joined Duke in September 2021 as a Duke Science and Technology Scholar, investigates mitochondrial dynamics in neurons. With this scholarship, she will explore how neurons use quality control pathways to restore or sequester and eliminate damaged mitochondria. These clean-up processes are important for maintaining mitochondrial health and are implicated in Parkinson's disease and amyotrophic lateral sclerosis (ALS). By studying healthy nerve cells and cells from people with neurodegenerative diseases, Evans hopes to discover how neurons perform this important quality control and how these pathways may compensate for one another in disease backgrounds. 
"I am thrilled to be an inaugural Freeman Hrabowski Scholar," Evans said. "It is especially meaningful to get an award that honors Dr. Hrabowski, who has made exceptional contributions to the advancement of underrepresented scientists. With this funding, I will continue to cultivate an inclusive lab that investigates mitochondria and neurodegeneration. I look forward to continuing to work with HHMI, and I am encouraged by their commitment to diversifying science." 
Scholars will work toward becoming leaders in their field. HHMI believes that, by fostering equitable and inclusive environments in their labs, they will provide a strong foundation for their trainees' future success in science.  
"Chantell Evans's receipt of the HHMI Freeman Hrabowski Scholar Award is a remarkable achievement that speaks volumes about the type of person and researcher she is," said Scott Soderling, PhD, chair of the department of cell biology. "Her commitment to mentoring and inspiring underrepresented minority trainees is inspiring, and it's a testament to her dedication to making a positive impact on the lives of others." 
Scholars will receive the resources they need from HHMI to pursue scientific breakthroughs and empower others to ask critical research questions.  
"Chantell's hard work, innovative ideas, and exciting research program on neuronal mitochondrial dynamics are truly impressive," Soderling said. "I think everyone who meets Chantell is blown away by her contagious enthusiasm for her science." 
Over the next 20 years, HHMI expects to hire and support up to 150 Freeman Hrabowski Scholars – appointing roughly 30 Scholars every other year for the next 10 years. The Institute has committed up to $1.5 billion for the Freeman Hrabowski Scholars to be selected over the next decade.