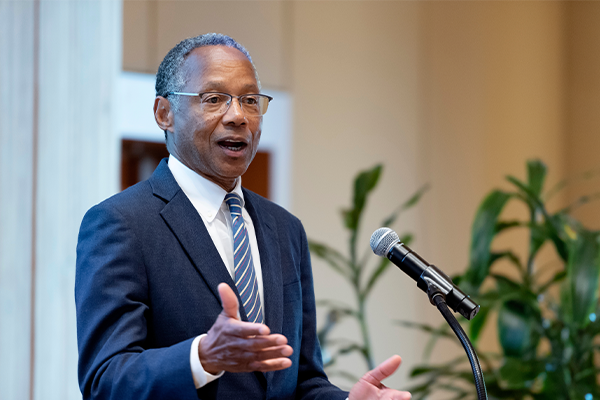 Graduate students at Duke University who are laying the groundwork for new health care innovations were honored March 1 at the Chancellor's Award for Research Excellence (CARE) ceremony. 
This year the School of Medicine and the Office of Biomedical Graduate Education awarded five students for basic science achievements in brain health and development, infectious disease, and gene therapy for a rare disease. 
"To all our young scientists I want to express my gratitude to you for helping us accelerate discovery and its translation through your relentless pursuit of scientific excellence," said A. Eugene Washington, MD, chancellor for health affairs at Duke University and president and chief executive officer of Duke University Health System.  
"Basic science research is an important part of our Duke Health mission, and the work that you do to advance our understanding of nature and living systems has the potential to enhance human health, lengthen life, and reduce illness and disability," Washington said during the gathering of award winners, their families, and School of Medicine faculty mentors.  
Advocating for graduate students is at the center of leadership by Beth Sullivan, PhD, associate dean for research training, whom the chancellor praised for nurturing and supporting graduate student research and education.  
The 2022-23 CARE award recipients include:  
Brooke D'Arcy, a Department of Cell and Molecular Biology and Department of Molecular Genetics and Microbiology doctoral student in the lab of Debra Silver, PhD. She uncovered a new function of radial glial cells that control neurogenesis during brain development. Cell divisions and newly identified gene transcripts dictate the structure and function of the adult brain during development.  
Rebecca Gibson, a doctoral student in the Medical Scientist Training Program and the Department of Molecular Genetics & Microbiology lab of Priya Kishnani, MD. Clinical trials are on the horizon for research conducted by Gibson and others to develop a long-acting gene therapy to treat GSD IX, a rare disease that causes life-threatening damage to the liver.  
Pia Rodriguez, a Department of Cell Biology doctoral candidate in the laboratory of Cagla Eroglu, PhD, who is investigating the roles of astrocyte mitochondria in regulating proper brain development. An advocate for inclusive research and academic environments, her scientific research shows promise for developing new treatments for neurodevelopmental diseases such as autism. 
Mollie Sweeney, a Department of Cell and Molecular Biology and Department of Molecular Genetics and Microbiology doctoral student in the lab of David Tobin, PhD, who began her academic career pursuing a journalism degree. Her disease-tracking work followed the evolutionary history of tuberculosis, the second-leading infectious killer behind COVID-19, which can move from the lungs, where it normally stays, to infect other organs and bones.  
Sebastian Wellford, a Department of Immunology doctoral student in the lab of Ashley Moseman, PhD. Wellford observed a new blood-olfactory barrier that might partially explain the prevalence of breakthrough COVID infections and why they are often associated with a loss of smell.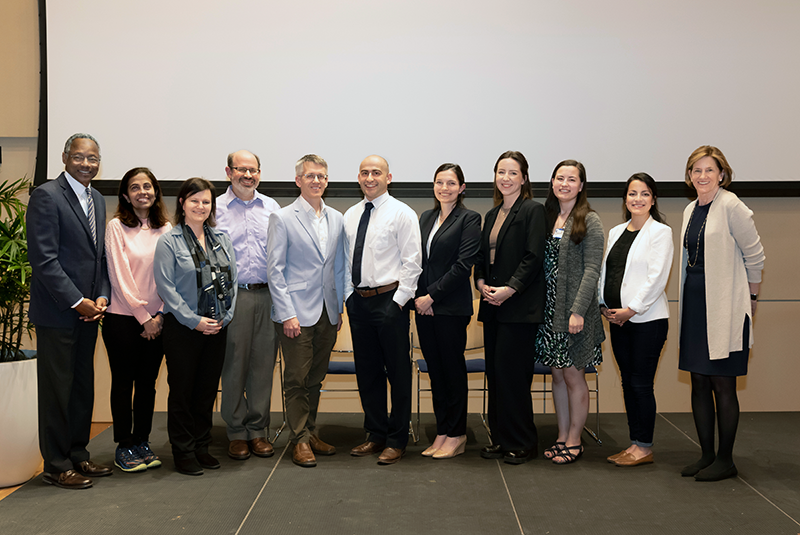 During the ceremony, which marked the fifth year of the awards, recipients were also praised for their commitment to mentorship and teaching. 
"To see what you've accomplished is extraordinary," said School of Medicine Dean Mary Klotman, MD. "This award recognizes excitement about your future and the promise we think you have. We're all counting on you to move science forward."  
The university community is welcome to take a closer look at trainee research, including the five CARE winners, on March 9 and March 30 at poster sessions during the Dean's Distinguished Research Series.