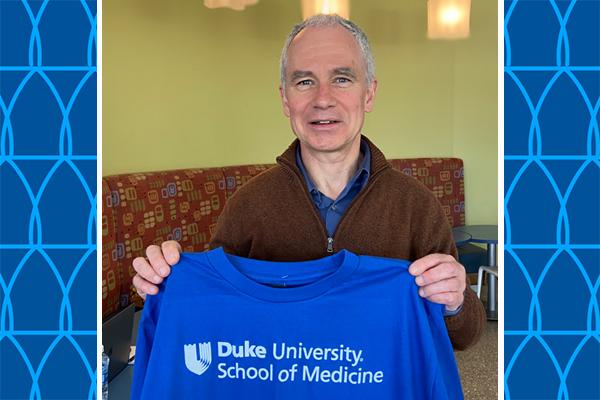 Congratulations to Hilmar Lapp, winner of last month's Duke University School of Medicine Black History Month quiz. Lapp was one of 422 people who took the quiz that tested the Duke community's knowledge of Black individuals from the past and present who made lasting contributions to the school. 
Lapp, who scored a perfect 10 out of 10, was randomly chosen as the winner of a swag bag that included a T-shirt, mug, and other School of Medicine-branded goodies. Only 45 other participants scored a perfect 10. 
The quiz included questions about trailblazers from early in the school's history, such as Delano Meriwether, MD, the first Black medical student at Duke, who would later lead the United States immunization program during the 1976 swine flu outbreak, to more recent history-makers, such as Jacqueline Barnett, DHSc, MSHS, PA-C, first African American program director of the Duke Physician Assistant Program.  
Lapp, who is director of informatics at the Center for Genomic and Computational Biology within the Department of Biostatistics and Bioinformatics, said he enjoyed the challenge of researching the answers and appreciated the chance to learn something new. He said the quiz was a great reminder of the importance of learning about the school's history.    
"Most of us want to take pride in where we work and want it to be meaningful in some way," he said. "Knowing about the history is part of that."