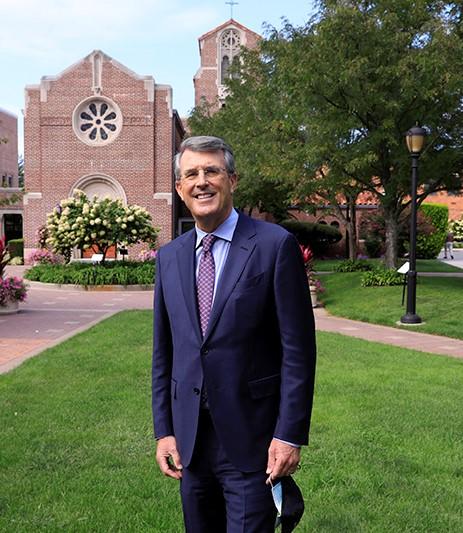 'Like a Tsunami'
When reports early last winter indicated that a mysterious new infectious disease had broken out of its point of origin in Wuhan, China, Charles Lucore, MD'83, P'17, MBA, began to prepare for its possible arrival in New York.
Lucore was one year into his new position as president of St. Francis Hospital, a highly rated hospital and cardiac care center on Long Island. Because New York is a hub of international travel, he anticipated the novel coronavirus would eventually show up.
"My feeling at first was that it would probably be somewhat similar to Ebola," says Lucore, referring to the 2014 outbreak that sparked widespread fear in the U.S. but produced only a handful of cases. "I thought we would probably see some cases. I certainly didn't imagine it would escalate into what it has escalated into."
During the first three months of 2020, as the severity and spread of the outbreak became increasingly apparent, Lucore and his team swung into action, effectively turning a cardiac care hospital normally focused on cardiovascular procedures and surgeries into a high-volume emergency respiratory care facility. They increased bed capacity by more than 50 percent; adapted the post-surgical suite and the cardiac catheterization lab into critical care areas; erected screening and triage tents outside the emergency room; gathered ventilators, PPE, and other essential supplies; provided training in critical care skills; suspended elective procedures; and made other changes to ready St. Francis to treat possible large numbers of COVID-19 patients.
All that advance work paid off, because when the pandemic arrived, it arrived fast.
"It hit like a tsunami," says Lucore. "We normally have about 60 critical care beds; now we were treating 95 to 100 critically ill patients. We normally have no more than 20 patients in isolation on a given day. But all COVID patients are isolation patients, and in three weeks, we went from 20 to 258."
INGENUITY AND INNOVATION
Although St. Francis never became "flooded" to the degree that hospitals in Manhattan did, certain supplies—N95 masks, face shields, couplings for oxygenation equipment—were in short supply. The staff crafted countless solutions, including 3-D printing face shields and other equipment, and the surrounding community came to the rescue as well, donating food and supplies.
"The ingenuity and innovation of our staff and physicians was extraordinary," says Lucore, who did daily rounds himself and held regular briefings to identify problems and come up with solutions. "And our neighbors appreciate the care we provide, and they really stepped up to the plate."
The weeks during the peak were exhausting and stressful for the roughly 3,000-strong staff, Lucore says, but they performed with enormous fortitude, professionalism, and compassion. Every patient death hit hard, and many staff members sought the counseling services the hospital offered. About 8 percent of the staff contracted COVID-19, and two members of the environmental service team succumbed to the disease.
"That was very difficult for everybody," Lucore says. "Many of our colleagues also lost family members. We put in a memorial garden dedicated to our staff and family members who passed away that was funded by the St. Francis Hospital Foundation."
By late May, the surge had died down, and St. Francis slowly resumed prior operations related to elective surgeries and procedures. As of early September, the hospital had just two COVID-19 patients in its care and was at approximately 90 percent of its 2019 patient volume.
All the while, Lucore and his wife, Paula, BSN'81, P'17, had to keep their family safe. Paula's mother normally spends summers with the family at their home in Montauk, New York, but because of concern about COVID-19's danger to the elderly, they cancelled this year's visit. Their daughter, Jordan, BS'17, was able to join them from Ann Arbor, Michigan, where she is doing her PhD work in anthropology. They had to cancel a planned family gathering to celebrate son Christopher's graduation from Hobart and William Smith Colleges; instead, Lucore said, Christopher's commencement was "basically an email with some testimonials."
A CULTURE OF CARING
Lucore and Paula, both originally from the Northeast, met on a blind date at Duke, where he was earning his MD and she was in the School of Nursing. He went on to build a successful career in cardiovascular care and administration, culminating as president and CEO of HSHS St. John's Hospital in Springfield, Illinois.
Two years ago, after almost four decades in the Midwest, he and Paula returned to their home turf, where he took the position at St. Francis. They have been active in Duke's alumni activities, giving generously to the Davison Club and the Duke Medical Annual Fund and attending Duke alumni events in New York.
When they arrived in New York in 2018, they could not have imagined that just a year later they would wind up in the midst of a battle against a deadly global pandemic.
"We have so much more advanced technology now than we did for the 1918 flu pandemic, the only comparable event in recent history," says Lucore.
"But what it came down to was people. And the St. Francis staff, bless 'em, have a tremendous culture of caring. They are committed to go the extra mile for the patient. It's all about the people. That's what made the difference last spring, and that's what will make the difference in the months ahead."