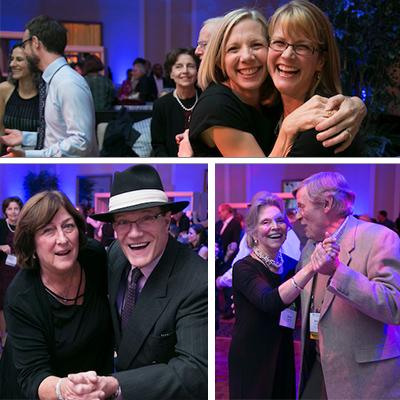 Last November, 240 Duke University School of Medicine alumni, along with more than 260 family members, arrived in Durham for the annual Medical Alumni Weekend.  Attendees traveled from as far away as Costa Rica to reconnect with friends, marvel at the changes unfolding on Duke's campus and in Durham, and dive headlong into an event-filled weekend celebrating their connection to the school and to each other. And, as part of their celebration, they gave. The reunion classes demonstrated tremendous generosity, giving more than $4 million to support Duke Medicine. 
The weekend kicked off with Thursday night's Awards Dinner. Duke University School of Medicine Dean Mary Klotman, T'76, MD'80, HS'80-'85, recognized the accomplishments of this year's Medical Alumni Association Awardees: David Ginsburg, MD'78; Diane Havlir, MD'84; Karen Winkfield, PhD'04, MD'05, HS'05-'06; Anna Mae Diehl, MD; Allan Kirk, MD'87, PhD'92, HS'87-'95; and Michael Merson, MD.
On Friday, attendees split their time between grand rounds, moderated talks, and luncheons. The 4th Annual Women in Medicine Panel, Mentors, Pivots, Balance, Burnout, and More: What Women in Medicine Can Learn from Each Other, moderated by Janice Gault, T'87, MD'91 featured alumni Madeleine Duvic, MD'77, HS'77-'84; Susan Weaver, T'83, MD'87, FACP; and Shannon Norris, T'93, MD'97 who spoke about opportunities and challenges facing female physicians and the ways in which they each have navigated their own careers. 
The afternoon educational event, Perspectives on Health: From the Lab, the Clinic, and the Community, featured talks by Diehl on her groundbreaking work to identity and treat fatty liver disease; Barton Haynes, MD, HS'73-'75 on progress toward the development of an HIV vaccine and his work with the Duke Human Vaccine Institute; Ginsburg on advances in genetics and precision medicine; and Winkfield on the prevalence of health disparities and the steps that can be taken to begin addressing them.
Duke University President Vincent E. Price joined Dean Klotman on Saturday morning for breakfast in front of a near-capacity crowd. They discussed the exciting opportunities inherent in being at Duke at this particular moment, when the theme of "One Duke" resonates with leadership across the board; the unique ethos of entrepreneurism and collaboration advocated strongly by Duke; and the potential that a commitment to solving significant challenges has to turn basic science into life-changing diagnostic and therapeutic discoveries.
Class reunion dinners and dancing continued late into Saturday evening, and Dean Klotman presided over the 1967 Medallion Ceremony, a particularly memorable occasion to honor the 71 alumni who have reached their 50th reunion.
Unofficially, the classes with the highest number of alumni in attendance were 1972, 1967, and 1987.  And, for the highest number of Duke designations on a nametag, there was a tie between Blake Long, T'82, MD'86, HS'92-95, MBA'15, P'09, P'12, P'14 and Bob Yowell, MD'61, HS'64-'69, P'88, P'90, P'92, P'00, P'06. They each have seven (for now).
Our next Medical Alumni Weekend will be held November 8-11, 2018.  We look forward to seeing you!