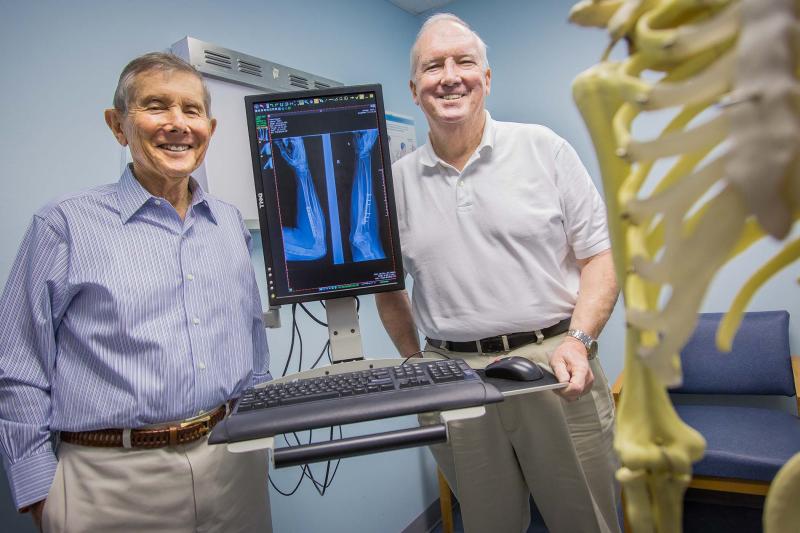 As an Air Force surgeon stationed at Wright-Patterson Air Force Base in Dayton, Ohio, during the height of the Vietnam War, Robert Green, AB'56, MD'60, saw a lot of badly injured servicemen cross his operating table. But one of them in particular stuck with him, a wounded young pilot whose journey from the skies over North Vietnam to Dayton was especially remarkable.
For the next 45 years, Green often wondered what had ever become of Capt. Tom MacDougall, whose right arm was shattered when he ejected from his crippled F-4 Phantom over the Gulf of Tonkin. Years later, Green tried to find MacDougall, but beyond verifying that a pilot by that name had been shot down that day in 1967, he got nowhere.
Several years ago the phone rang in Green's Florida clinic. Tom MacDougall was on the line.
"We spoke for an hour, and I'm not a phone person," Green said. "It was great. I was really flying when I got off the phone."
The two men were drawn into the war by very different paths. Green, who earned both his undergraduate and medical degrees at Duke, was pulled away from his young wife, their new baby, and the orthopaedic surgery practice he had just opened when he received his draft notice in June 1966. He was assigned to Wright-Patterson, where he joined a surgical team that treated an endless procession of grievously wounded servicemen.
MacDougall planned to go into medicine himself, but he fell in love with flying and instead joined the Air Force ROTC pilot training program at the University of Buffalo. On Memorial Day of 1967, during his second tour of duty in Vietnam, he had just completed an attack on a barge suspected of carrying munitions when his F-4 was hit first by machine gun fire and then by a missile.
MacDougall ejected as the burning jet spun toward the water. As the ejection seat blasted him free, his right arm got snagged in the plane's cockpit, shattering all three bones and damaging nerves. He landed on the beach, staggered into the water and began to swim, as best he could with one useless arm, toward an American destroyer he had seen several miles offshore.
He swam for over an hour, covering more than a mile, until a skiff launched by the destroyer found him and pulled him aboard, dodging fire from a North Vietnamese boat all the while.
MacDougall's arm was too badly damaged for either the doctors aboard ship or at the base in Da Nang to save. He was flown to the Philippines and then to the U.S. Incredibly, within less than 24 hours he was in Dayton, Ohio, on Green's table.
"I knew we could save the arm. It was a question of how much function he would have," Green said.
Over the course of six surgeries, Green repaired the massive damage to MacDougall's arm. He was able to restore enough motion that within a year MacDougall returned to full flight status. He became a flight instructor until he returned to civilian life, earning a law degree and practicing aviation law for nearly 40 years.
Over those years, even as Green wondered what had become of MacDougall, MacDougall wondered what had become of the doctor who saved his arm and his career. Like Green, he had tried without success to track the other man down. Then, one day in 2012 his daughter Caroline, who was doing research for a video biography of him for his family, asked him if he had ever found Dr. Green. No, he said, he never had. "Well," she said, "I think I've found him."
By coincidence, the two men now both live on the Florida coast: Green in Palm Beach and MacDougall in Port Orange. After that initial phone reunion, they and their families have gotten together several times.
"He's a wonderful man, a very genuine person," MacDougall says of Green. "What he did with his skills was just phenomenal. He's very modest; he keeps saying, 'Anybody could have done it.' But I really don't think so."
Green brushes off that kind of compliment. But he can't keep something like wonder, and maybe a little pride, out of his voice when he talks about shaking hands with MacDougall.
"He has great strength in that arm," he says. "He could break your hand."
The article was first published in the fall 2013 issue of DukeMed Alumni News.
For information on supporting basic science research at Duke,
please contact Sarah Nicholson.