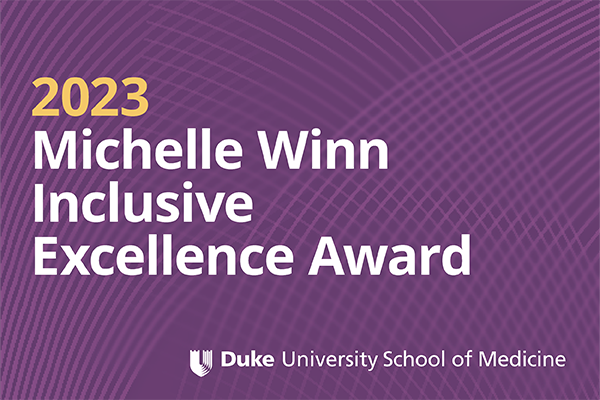 The Duke University School of Medicine has announced the 2023 Michelle P. Winn Awards honoring individuals and teams who exemplified inclusive excellence over the past year. Each year, Winn Awards are given to one staff member, faculty member, student, and team from across the more than 10,000 members of the School of Medicine. 
The recipients of the 2023 Winn Inclusive Excellence Award are:  
Rebecca Gibson, Molecular Genetics & Microbiology student (Student Award) 
Steven Shipes, Clinical Research Unit (CRU) Research Practice Manager, Department of Radiology (Staff Award) 
Tomi Akinyemiju, PhD, Associate Professor in Population Health Sciences and Associate Research Professor of Global Health (Faculty Award)  
Duke Clinical Research Institute (DCRI) Government Trials & Networks (GTN) Anti-Racism Working Group: Crystal Cannon, Felecia Cathcart, Princess Abbott-Grimes, Renee Pridgen, Susan Knox, Tedryl Bumpass, Todd Robbins, Toya Hobbs, Yashika Johnson (Team Award) 
Rebecca Gibson (Molecular Genetics & Microbiology) - Mentoring at BOOST and Beyond 
Since coming to Duke in 2016, Rebecca Gibson, an MD/PhD candidate in molecular genetics and microbiology, has committed herself to mentoring local middle, high school, and undergraduate students. Working in the lab of Priya Kishnani, MBBS, Gibson has mentored more than a dozen graduate, undergraduate, and high school students, most of them women, and many of them Latinx and first-generation college students.  
Gibson has built an advanced learning curriculum for her mentees, holds weekly meetings, and advocates for their work and inclusion in Duke projects. During the early days of the COVID-19 pandemic, Gibson created and hosted a weekly journal club so that her students who could not physically attend could continue to learn and participate. Several of the students Gibson mentored are now employed as research staff within the School of Medicine. 
"Rebecca will do whatever she can to make sure that she can help elevate her students along their academic careers," wrote Kishnani, professor of pediatrics, molecular genetics and microbiology, in her nomination. "I am so proud of Rebecca and the impact that she has had on our laboratory and the Durham community." 
Gibson's mentoring work also extends to the School of Medicine's Building Opportunities and Overtures in Science and Technology (BOOST) program, which helps Durham middle and high school students from underrepresented and financially disadvantaged backgrounds prepare for and gain interest in science. Gibson first joined BOOST as a coach in 2018. Later, Gibson founded BOOST Beyond, a program that helps graduated BOOST students prepare for and apply to college. BOOST Beyond has grown to include a cohort of 17 mentees supported by 38 mentors; nine of its graduates have gone on to top colleges with scholarships. 
Steven Shipes - Shaping a Stronger, More Equitable Department of Radiology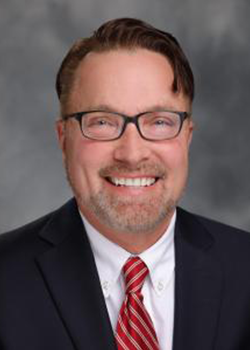 Steven Shipes received the 2023 Winn Staff Award for his leadership in building equity, diversity, and inclusion both within the Radiology Department's Clinical Research Unit (CRU) and the department as a whole. Shipes organized a series of monthly discussions that allowed the CRU team to learn and talk about microaggressions, historic and systemic racism, and other topics in an open, non-judgmental format. 
Shipes led a campaign to improve diversity within his team of clinical research coordinators within the CRU, which was composed entirely of white women when he arrived. The more diverse team he recruited has maintained its quality of work while also resulting in greater recruitment and participation among patients in the department's clinical research projects. 
In addition to his EDI efforts within the CRU, Shipes worked directly with Professor of Radiology Daniel Barboriak, MD, to shape the department's strategic plan to improve its work culture, which focused on improving belonging and engagement for all members of the Department of Radiology. 
"The consistency of his commitment and his willingness to do the hard work to change our work culture for the better makes him very deserving of the prestigious honor of the Winn Award," Barboriak wrote. "I am pleased to give him my highest recommendation for it." 
Tomi Akinyemiju, PhD - Commitment to EDI, Cancer Disparities Research, and Mentorship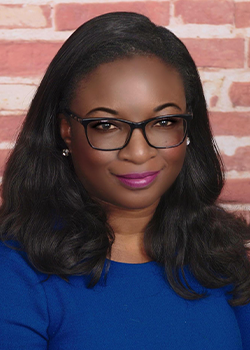 Tomi Akinyemiju, PhD, received the 2023 Winn Faculty Award for her commitments to improving EDI policy and resources, reducing disparities within cancer research, and mentorship. 
Among other accomplishments within the Department of Population Health Sciences, Akinyemiju led the creation of a comprehensive EDI-focused training series. This series has been paired with practical resources to help individuals resolve conflicts, report incidents, and respond when they witness microaggressions. Akinyemiju also led the revision of a standardized, equity-centered policy guiding hiring new staff within her department. This policy has since been developed into a staff hiring toolkit shared with more than 10 units across Duke.  
Within the Duke Cancer Institute (DCI), Akinyemiju has also been a leader in improving care for diverse patient populations. She heads the DCI's efforts to engage with and improve care for diverse populations covering 104 counties in North Carolina, South Carolina, and Virginia through outreach, educational events, navigation services, and participation in local and state health councils. 
The third pillar of Akinyemiju's nomination focuses on her personal commitment to mentorship. Akinyemiju has mentored more than 55 trainees and junior faculty in her four years at Population Health Sciences, more than half of whom are from underrepresented in medicine backgrounds. Akinyemiju provides guidance and support to her mentees while also advocating for policies such as additional protected time to allow instructors from underrepresented in medicine backgrounds apply for grants and assistant professor positions. 
"Dr. Akinyemiju has my highest recommendation for the 2023 Michelle Winn Inclusive Excellence Award," wrote Lesley Curtis, PhD, chair and professor of population health sciences, in her nomination.  "I have no doubt that her commitment to EDI, cancer disparities research, and mentorship will continue to impact our department, Duke University, and other academic institutions." 
DCRI GTN Anti-Racism Working Group (ARWG) - Building Inclusivity, Diversity, and Accountability Across the DCRI 
This year's Michelle Winn Inclusive Excellence Team Award was given to DCRI's Government Trials & Networks Functional Group's (GTN) Anti-Racism Working Group (ARWG) for working to create a culture of inclusivity, diversity, and accountability across the GTN. The ARWG's members are Crystal Cannon, Felecia Cathcart, Princess Abbott-Grimes, Renee Pridgen, Susan Knox, Tedryl Bumpass, Todd Robbins, Toya Hobbs, and Yashika Johnson.  
The ARWG's initiatives to improve EDI reach across the GTN include hosting education and trainings, strategizing with GTN leadership, and working to improve recruitment and retention. Specific projects include the release of an EDI-focused newsletter, EDI-focused interview questions that are now used to hire all new employees, a mentorship program within the GTN, and a recruitment and retention plan to improve participation among minority and marginalized populations in the GTN's research studies. 
"The ARWG is a collection of individuals with a common goal to sustain a structure for DEI education through consistent opportunities to learn, discuss, and grow," wrote Tyrus Rorick, head of DCRI research operations, in his joint nomination with DCRI Associate Director Phyllis Kennel. "Both Phyllis and I are incredibly proud of the work and recognition of the ARWG Team and know that their continued efforts educate us on how to be and do better." 
2023 Winn Nominees 
In addition to the four recipients listed above, the following individuals were nominated for Winn Awards this year:  
Deanna Adkins, MD (Associate Professor of Pediatrics) 
Ernestine Briggs-King, PhD (Associate Professor in Psychiatry and Behavioral Sciences) 
Emmanuel Chan (Clinical Research Coordinator, Emergency Medicine) 
Anita Disney, PhD (Assistant Professor of Neurobiology) 
Neville Eclov, PhD (Medical Physicist, Radiation Physics) 
Charles Gerardo, MD (Professor of Emergency Medicine) 
Leon Herndon, MD (Professor of Ophthalmology) 
Larry Jackson II, MD (Associate Professor of Medicine) 
Nancy Knudsen, MD (Professor of Anesthesiology) 
Anivarya Kumar (Medical Student) 
Alexandria Mullikin (Medical and MBA Student) 
Kenyon Railey, MD (Associate Professor in Family Medicine and Community Health) 
Kristen Rezak, MD (Assistant Professor of Surgery) 
Dana Reubenstein (Medical Student) 
Kevin Saunders, PhD (Associate Professor of Surgery) 
Jacob Scherba (Graduate Student) 
Sadie Wilson, MD (Assistant Professor of Psychiatry & Behavioral Sciences); Susan Reif (Research Associate, Duke Global Health Institute); and Sara Legrand, PhD (Associate Research Professor, Duke Global Health Institute) 
About the Winn Awards 
The Office of Equity, Diversity, and Inclusion established the Michelle Winn Inclusive Excellence Award in 2016 to recognize individuals who have made significant contributions to diversity and inclusion within the Duke University School of Medicine community. The award is named for Michelle Winn, MD, associate professor of nephrology in the Department of Medicine, who passed away in July 2014. Winn was respected and beloved by her colleagues and deeply committed to diversity and inclusion and to the careers of younger physicians and scientists who orbited around her.