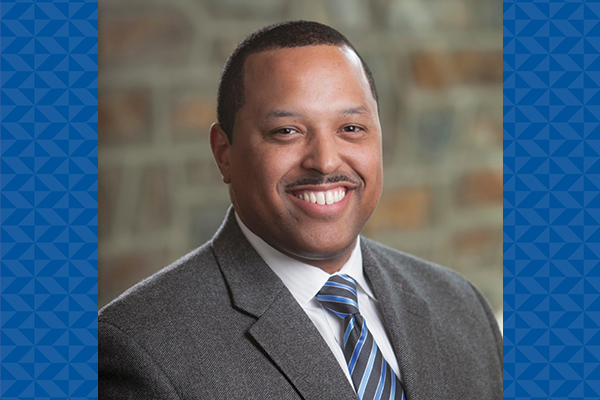 Kevin O. Saunders, PhD'10, is an associate professor in surgery, molecular genetics and microbiology, and in immunology. He is the faculty chairperson for the Diversity, Equity & Inclusion Committee and associate director of the Duke Human Vaccine Institute (DHVI).
Saunders is trained in molecular genetics and microbiology and is an international leader in vaccine design and viral immunity. He takes an interdisciplinary approach to understanding the molecular biology underlying antibody recognition of glycoproteins to produce protective vaccines against viruses. In 2022 alone, he received three research awards totaling $30 million.
During the COVID-19 pandemic, Saunders shifted his focus to the coronavirus. The discoveries he made working on HIV laid the groundwork for him and his team at DHVI to develop a pan-coronavirus vaccine that may protect against any SARS-related coronavirus.
His work on coronavirus and HIV vaccine research has resulted in 25 U.S. provisional patent applications since May 2017. He has authored over 80 peer-reviewed publications including first-authored papers in the journals Science and Nature, as well as a senior-authored paper in Cell.
Saunders's leadership transcends DHVI and the Duke campus. Over the last year, he has formed partnerships with North Carolina Central University and North Carolina A&T University to promote internships in vaccine research and manufacturing at DHVI for students from each institution. Additionally, he partnered with Meredith College to help develop curricula to teach vaccinology to students.
Saunders has been an invited speaker at the last four Keystone Meetings on HIV vaccines and presented the 2022 International Society for Vaccines Paper of the Year at the society's annual meeting. He was the 15th Marc J. Mass Memorial Distinguished Lecturer, an honor historically given to established leaders in their fields, and a recipient of the Outstanding Leadership Award from DHVI.
Education: Duke University School of Medicine
Current Title: Associate Professor in Surgery; Associate Professor in the Department of Immunology; Associate Professor in Molecular Genetics and Microbiology; Associate Director of the Duke Human Vaccine Institute
Watch Tribute Video   Other 2023 DMAA Awardees
---
Story originally published in DukeMed Alumni News, Summer 2023.
Read more from DukeMed Alumni News