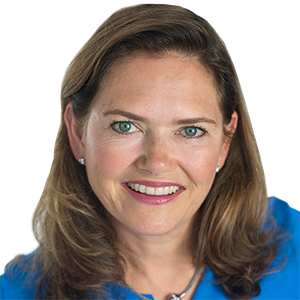 Amy P. Abernethy, MD'94, HS'94-'01, PhD, is an internationally-known oncologist, health data expert and digital health leader. Her >500 publications span real-world data & evidence, clinical trials, patient reported outcomes, clinical informatics, health policy and patient-centered care.
Abernethy is currently the President of Clinical Studies Platforms at Alphabet's Verily, where she has responsibility for the company's Baseline program and other initiatives to support clinical trials and real-world evidence (RWE) studies.
Before joining Verily, Dr. Abernethy was Principal Deputy Commissioner and Acting Chief Information Officer of the US Food & Drug Administration, serving from February 2019 to April 2021. Dr. Abernethy initiated multiple critical efforts during her tenure including FDA's technology and data modernization action plans and FDA's efforts to leverage real-world data & evidence to address critical questions during the COVID-19 pandemic.
Dr. Abernethy was previously Chief Medical Officer and Chief Scientific Officer at Flatiron Health from July 2014 to January 2019. Before joining Flatiron, Dr. Abernethy was Professor of Medicine at Duke University School of Medicine, and directed the Center for Learning Health Care in the Duke Clinical Research Institute and Duke Cancer Care Research Program in the Duke Cancer Institute.
For more than 20 years, she has pioneered the development of technology platforms to spur novel advancements in clinical care, including the development of systems by which linked clinical data can support tracking cancer care, drug development, personalized medicine and scientific discovery. She has served as an appointee to multiple National Academy of Medicine committees, as Chair of the Health Data Research UK International Advisory Board, on the Board of the Personalized Medicine Coalition, and President of the American Academy of Hospice & Palliative Medicine.
Education: University of Pennsylvania; Duke University School of Medicine; Flinders University

Training: Duke University School of Medicine

Current title: President, Clinical Studies Platforms at Alphabet's Verily