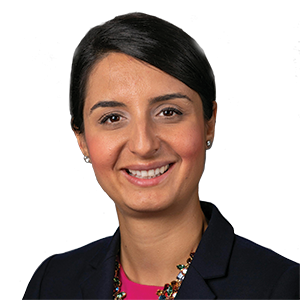 Lejla Vajzovic has established an international reputation as a rising star in vitreoretinal surgery, research, and teaching. She is an ophthalmologist and vitreoretinal surgeon with expertise in pediatric and adult retinal diseases and surgery. She is interested in cutting edge technologies and recovery of vision in hereditary retinal diseases with retinal implants and stem cell technology.
She is a co-director of the Duke Pediatric Retina and Optic Nerve Center, and she directs the Duke Center for Artificial and Regenerative Vision, where she implants the Argus II "bionic eye" to restore vision to individuals with total blindness.
An influential educator, she organizes and directs several highly successful national and international courses, including the first-of-its-kind Advances in Pediatric Retina Course at Duke and the international Duke Fellows Advances in Vitreous Surgery Course. She is director of Duke Eye Center's Continuing Medical Education program.
She has received numerous prestigious honors and awards for excellence in clinical care and ophthalmology research, including: the Retina Society Fellowship Research Award, the Heed Ophthalmic Fellowship Award and the Society of Heed Fellows Award, the Knights Templar Eye Foundation Career Starter Research Award, the PDC's Enhanced Academics in a Basic Laboratory Environment (ENABLE) Career Development Program Award, the American Academy of Ophthalmology Achievement Award, the American Society of Retinal Specialists Senior Honor Award; and the American Society of Retina Specialists Film Festival: Rhett Buckler Award.
Education: University of Missouri at Columbia; Mayo Medical School
Training: Bascom Palmer Eye Institute, University of Miami; Saint Louis University School of Medicine
Current Title: Associate professor of ophthalmology, Duke University School of Medicine