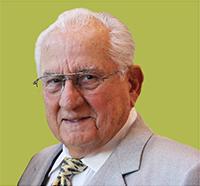 Arthur Palumbo is the 2019 recipient of Duke Medical Alumni Association's Honorary Alumnus Award. He is among the most dedicated friends of Duke University School of Medicine and the Department of Pediatrics. His philanthropic support for the school's students and faculty has touched the lives of thousands of patients.
Palumbo, 91, was born and raised in New Jersey and came to Duke as an undergraduate to follow in the footsteps of his older brother, Leonard Palumbo Jr., AB'42, MD'44, HS'44-50. After graduation, Palumbo spent a few years in the military and then moved to Chicago. He had a successful career in the residential construction industry and retired about 25 years ago.
Palumbo's generosity has provided 11 full-tuition scholarships to four-year medical students. In addition, in 1999 he established the Leonard Palumbo Jr., MD, Faculty Achievement Award, one of the most prestigious honors at the School of Medicine. This permanent endowment provides annual awards to faculty members who best exemplify the qualities of compassionate patient care and dedication to teaching and mentoring young physicians that were embodied by his late brother, Leonard, who served as a member of the Duke obstetrics and gynecology faculty from 1950-1952.
Palumbo has a true love of children and a desire to help pediatric patients and their families. In his estate plan, he has made an extraordinarily generous commitment to the Department of Pediatrics that will foster the department's missions of patient care, research, and education.
When his neighbor lost two children from Batten disease, an inherited disorder of the nervous system that begins in childhood, Palumbo supported the launch of a new clinical and research program on the disease.
As gracious as he is generous, Palumbo says he has received far more than he has given. In recognition of his generosity and loyal support, the School of Medicine has inducted Palumbo into the Pinnacle Society, which recognizes donors whose giving exceeds $1 million and presents an honorary alumni award from the Medical Alumni Association.
Education: Duke University
Current Title: Philanthropist and Pinnacle Society member, Duke University