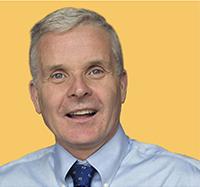 Donald McDonnell, PhD is a 2019 recipient of Duke Medical Alumni Association's Distinguished Faculty Award.
It's not particularly unusual for biomedical scientists to move from academia into the pharmaceutical industry. Donald McDonnell took the opposite route: before joining the faculty at Duke University School of Medicine, he worked for a number of years for the biopharmaceutical company Ligand Pharmaceuticals in California. This early exposure to pharma and drug development played a major role in his highly successful academic career.
McDonnell is a leader in the field of nuclear hormone receptors and a leading innovator in drug discovery. His laboratory is at the forefront in the development of strategies to improve the effectiveness of existing and emerging endocrine therapies to treat and prevent breast cancer recurrence in women whose breast cancer is ER-positive (estrogen receptor-alpha), the most common type of breast cancer. He developed the now-universally recognized model of ER pharmacology, which led to new ER therapies for breast cancer, and he developed a new class of drug that binds to and denatures estrogen receptors, which has shown considerable efficacy in patients with endocrine therapy-resistant disease. He has also defined biochemical links between obesity, elevated cholesterol, and increased risk of breast cancer and therapy failure in breast cancer patients.
In addition to his groundbreaking research, McDonnell is an influential mentor and educator and also plays an important administrative role at Duke Cancer Institute and as chair of the Department of Pharmacology and Cancer Biology.
A member of the National Academy of Medicine and one of the most highly cited scientists in molecular endocrinology, McDonnell has been honored with numerous awards for his work, including the Robert R. Ruffalo Career Achievement Award and numerous honors from the Endocrine Society. He is a Komen Scholar and recently was awarded the Breast Cancer Research Program Innovator Award by the United States Department of Defense Office of Congressionally Directed Medical Research Programs.
Education: National University of Ireland, Galway; Baylor College of Medicine
Current Title: Professor of pharmacology and cancer biology, Duke University School of Medicine; chair, Department of Pharmacology and Cancer Biology; Glaxo-Wellcome Professor of Molecular Cancer Biology; professor of medicine; core faculty in Innovation and Entrepreneurship Initiative; member of Duke Cancer Institute