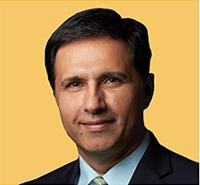 Mark Humayun, MD'89, HS'90-'93 is a 2019 recipient of Duke Medical Alumni Association's Distinguished Alumnus Award. He is an internationally known pioneer in vision restoration who has literally allowed the blind to see. He is a retinal surgeon, engineer, scientist, and innovator whose accomplishments have been so distinguished in his field that he is the only ophthalmologist elected to both the National Academy of Medicine and the National Academy of Engineering.
Humayun, inspired to pursue his career path by his grandmother's blindness, has dedicated 30 years to developing a bioelectronic artificial retina to restore sight to the blind. His perseverance, expertise, and leadership culminated in the Argus II retina implant, the first and only artificial retina approved by the Food and Drug Administration for restoring sight. The device allows patients who are totally blind to see large objects and letters and navigate their way, and was named by Time magazine one of the top inventions of 2013. Argus II is also approved in Europe, Canada, the Middle East, and Asia Pacific.
Humayun continues to develop technologies aimed at restoring color vision and higher-resolution sight to the visually impaired.
He has published more than 200 peer-reviewed publications and is among the most highly cited experts in his field, with a Google Scholar h-index of 82. He holds 114 patents and has trained more than 200 students in the area of science, technology, engineering, and mathematics as well as in the clinical care of eye diseases.
He has been the recipient of numerous awards for his extraordinary contributions to medicine, engineering, and humanity. He is a fellow of the National Academy of Inventors, and in 2015 President Barack Obama presented him with the United States' highest technological achievement award, the National Medal of Technology and Innovation.
Education: Georgetown University; Duke University School of Medicine; University of North Carolina at Chapel Hill
Training: Carilion Roanoke Memorial Hospital, Roanoke, Virginia; Duke Eye Center; Wilmer Eye Institute, The Johns Hopkins Hospital
Current title: Cornelius J. Pings Chair in Biomedical Sciences, Keck School of Medicine of the University of Southern California; professor of ophthalmology, biomedical engineering, and integrative anatomical sciences; director, Institute for Biomedical Therapeutics; co-director, University of Southern California Roski Eye Institute