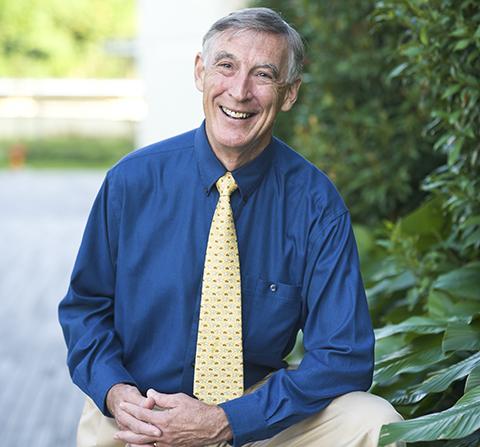 Over a Duke career spanning more than a half-century, electrical engineer and computational specialist Frank Starmer made pivotal contributions to an era of tremendous innovation at the interface of medicine, engineering, and computational sciences.
Even as a Duke undergraduate, Starmer was already applying his engineering studies to medicine. Later, that early work would evolve into major biomedical advances, including a partnership with the Duke Cardiac Catheterization Lab and thoracic surgeons to develop the electrical threshold of ventricular fibrillation as the basis for the national code for grounding in hospital critical care areas. Together with Joseph Greenfield, MD, HS'57-'59, and Andy Wallace, MD'59, HS'59-'64, he secured a National Institutes of Health grant to enable Duke University School of Medicine to buy its first digital computer for a study on myocardial infarction.
One of Starmer's most visible contributions at Duke was creating a system to capture data from patients undergoing coronary angiography, with the goal of using this information to improve the care of future patients. So was born the Duke Databank for Cardiovascular Disease, the forerunner of the Duke Clinical Research Institute. DCRI is now the world's largest database on the outcomes of cardiovascular care and orchestrates dozens of major clinical trials each year. While putting together the computational infrastructure for the databank, Starmer was asked to help start Duke's Computer Science Department—another of his many contributions to the growth of Duke University and its emergence as a top-tier research university.
In 2006, after eight years in Charleston, South Carolina, Starmer was enticed back to Duke—this time to undertake the herculean task of developing the IT infrastructure for the nascent Duke-National University of Singapore Medical School (Duke-NUS). As associate dean for learning technologies, he was instrumental in getting the school off the ground and spearheaded the implementation of a robust IT infrastructure necessary for the school's then-revolutionary decision to deliver the curriculum exclusively through team-based learning (TBL). Duke-NUS was the first medical school in the world to use TBL for 100 percent of its preclinical coursework; many other schools are following suit. He also created an anytime/anywhere learning environment for first-year students by packaging lectures on USB drives; leveraged smartphones and Bluetooth-enabled medical devices to build a real-time feedback loop between patients and care providers; and engineered a smartphone app for medication compliance and status monitoring.
Starmer regularly collaborated with colleagues throughout the world, with special emphasis on his beloved Greece and India. In Singapore, he mentored and trained medical students, especially those with an engineering bent. He even helped local Singaporean educators implement TBL in their classrooms. Starmer credits mentors Greenfield, and Wallace along with Eugene Stead, MD; Gus Grant, MD, PhD, HS'79-'80; James Wyngaarden, MD, PhD, G'06,; and Ranga Krishnan, MD, HS'81-'84, for much of his success. He has paid that inspiration forward as a mentor himself; brilliant, imaginative, and hard-working, Starmer is known for his ability to foster an environment for that kindles the joy of learning, whether in the classroom, clinic, or computer lab, and for motivating his team of IT and education specialists to push beyond perceived limits.
Education: Duke University; Rice University; University of North Carolina
Current Titles: Professor emeritus of computer science, Duke University