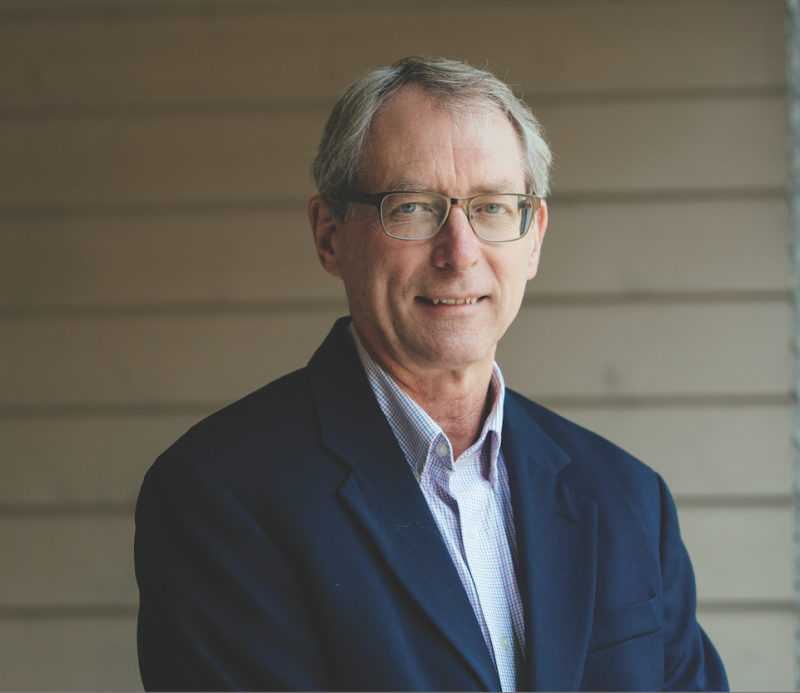 James Mold is a revered family physician, geriatrician, researcher, and leader who has helped to reshape our thinking about health and health care.
After spending 6 months in Ghana, West Africa, Jim returned to North Carolina to practice in Hillsborough and teach Duke medical students and residents.  After 6 years in private practice, he was recruited to the University of Oklahoma Health Sciences Center (OUHSC) where he spent most of three decades.
The field of practice-based research owes much to Mold, recipient of the field's first Pioneer Award.  Over a period of 20 years, clinician members of the Oklahoma Physicians Resource/Research Network (OKPRN), in collaboration with Mold's research team, completed more than 75 major projects resulting in more than 100 publications. Now an independent non-profit organization, OKPRN continues to support high-impact studies that transform primary care.
Early OKPRN studies focused on clinical care challenges such as treatment of spider bites, poison ivy, and night sweats and administrative issues including management of abnormal laboratory results, reduction of no-shows, and management of prescription refill requests. A longitudinal study of geriatric patients resulted in new information about the frequency, predictors, and consequences of peripheral neuropathy and a series of foundational analyses of a commonly used cognitive test panel. 
In 2000, the network began to study how to improve the delivery of preventive services, a field now called "implementation science."  Mold is widely credited with creating the professional role of practice facilitators to help practices improve, and for advocating for a primary care extension service modeled on agricultural extension—an idea authorized in the Patient Protection and Affordable Care Act. Many states are in the process of developing extension systems to support quality improvement in primary care.  For these contributions he was elected into the National Academy of Sciences' Institute of Medicine in 2008.
Perhaps his most important contribution, a reconceptualization of health and health care around patient-relevant goals rather than clinician-directed strategies, is only beginning to be recognized.  Since retirement he has written and published a book on the subject called, Achieving Your Personal Health Goals: A Patient's Guide and established a website at www.goaldirectedhealthcare.org, which includes case examples, a teaching video, and a list of relevant publications.
Throughout his career, Mold has contributed to undergraduate and graduate medical education. He has inspired many young family physicians to get involved in research while continuing to provide outstanding care to patients.  In 2014, the year he retired, the OUHSC established the James W. Mold Oklahoma Primary Healthcare Improvement Cooperative within its Center for Clinical and Translational Research, and he was named Family Physician of the Year by his clinician peers.
Education: University of Michigan; Duke University School of Medicine; University of Oklahoma Health Sciences Center
Training: University of Rochester/Highland Hospital; University of North Carolina
Current Titles: George Lynn Cross Professor Emeritus, Department of Family and Preventive Medicine, University of Oklahoma Health Sciences Center; consultant to the University of Oklahoma Health Sciences Center