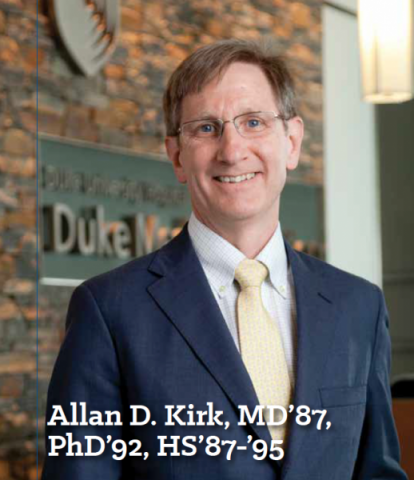 Allan Kirk is about as thoroughly steeped in Duke Blue as it is possible to be: the son of a Duke-trained biologist, he earned both his MD and PhD at Duke, did his residency in surgery at Duke (serving as chief resident), and eventually joined the faculty at Duke. He even married a Duke nurse, and his children were born at Duke. In all his roles at Duke, he has demonstrated the leadership, scientific and medical excellence, and vision that exemplify the institution's traditions and goals.
Kirk originally set his sights on a career in music; an accomplished tuba player, he earned numerous music scholarships and performed with groups including the Boston Pops and Virginia Philharmonic. But medicine beckoned him to Duke, where he began a career specializing in transplant surgery. After following his education and training here with a fellowship in multi-organ transplantation at the University of Wisconsin, he served in the Medical Corps of the US Navy, attaining the rank of commander, and in several roles in Washington, D.C, including director of transplantation research at Walter Reed Army Medical Center and chief of the Solid Organ Transplant Program and the NIDDK Transplantation Branch at the National Institutes of Health.
As a researcher, Kirk has focused on transplant immunology, especially on the development of novel therapeutic approaches to modulate immune responses to kidney transplants. His discoveries have led to improved strategies to manage immune responses and have proven enormously influential; he has received more than 50 grant awards from the NIH, he holds eight patents or patent applications, and he is one of the most frequently cited researchers in his field, with more than 200 articles in peer-reviewed journals.
Kirk has been recognized for his work with numerous awards and honors. He is the editor-in-chief of the American Journal of Transplantation, the leading journal in the field, and an elected member of many national and international societies and organizations, including the American Surgical Society, the American Society of Transplantation, the American Society of Clinical Investigation, and the National Academy of Medicine.
Prior to returning to Duke in 2014, Kirk was professor of surgery and pediatrics and vice chair for research in the Department of Surgery at Emory University.
Education: Old Dominion University; Duke University School
of Medicine; Duke University Graduate School
Training: Duke University Hospital; University of Wisconsin
Current Titles: David C. Sabiston Jr. Professor and chairman, Department of Surgery; professor in pediatrics; professor in immunology, Duke University School of Medicine; surgeon-in-chief, Duke University Health System