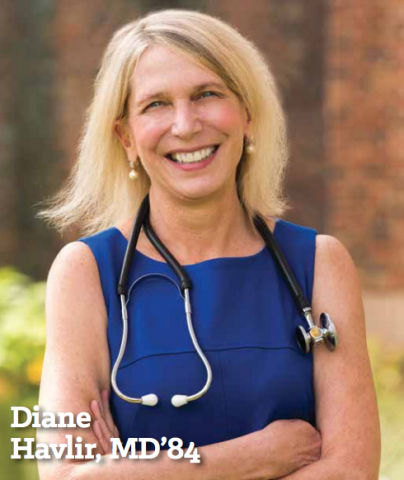 Diane Havlir is a pioneering leader in the fight against HIV/AIDS. She has developed groundbreaking studies of early treatments, including highly active antiretroviral therapy (HAART) to overcome HIV's ability to mutate and become resistant to individual drugs. She is a leader in a research field that has transformed HIV from a fatal disease to one that can be managed as a chronic illness. Her clinical trials have defined best practices for not only the treatment of HIV, but also for tuberculosis (TB) and other infectious diseases, and her work has impacted national and global guidelines.
Havlir was an internal medicine resident at the University of California, San Francisco, when AIDS emerged in the 1980s and has cared for HIV-infected patients for more than 25 years.
Through a research collaboration with Makerere University in Uganda and the AIDS Clinical Trials Group, she studies optimal treatment strategies for HIV and TB as well as how to reduce the burden of HIV and malaria in children and pregnant women. She is currently leading an innovative 320,000-person study in Uganda and Kenya, which is funded by the National Institutes of Health and aims to eliminate HIV through a multi-disease, community-health based approach that evaluates HIV and broader health, education, and economic outcomes.
Her international advocacy and engagement have transformed evidence-based medicine into new models of practice in resourced and under-resourced environments, and her commitment to mentoring and training has influenced a generation of HIV providers throughout the world.
Havlir has occupied many national and international leadership positions in the field of HIV research and treatment, including serving as a co-chair of the 2012 International AIDS Conference in Washington, D.C., chairing the World Health Organization HIV Drug Resistance Surveillance Program, and now serving as chair of the United Nations AIDS Science and Technical Advisory Committee.
Havlir is coauthor of the "Washington D.C. Declaration," a nine-point plan to end the AIDS epidemic. In 2013, she co-founded the San Francisco's Getting to Zero Coalition, which aims to make San Francisco the first jurisdiction with zero new HIV infections, zero stigma, and zero deaths by 2020.
Education: St. Olaf College; Duke University School of Medicine
Training: University of California, San Francisco; Case Western Reserve University
Current Titles: Professor of medicine at the University of California, San Francisco; chief of the HIV, Infectious Diseases and Global Medicine Division at Zuckerberg San Francisco General Hospital