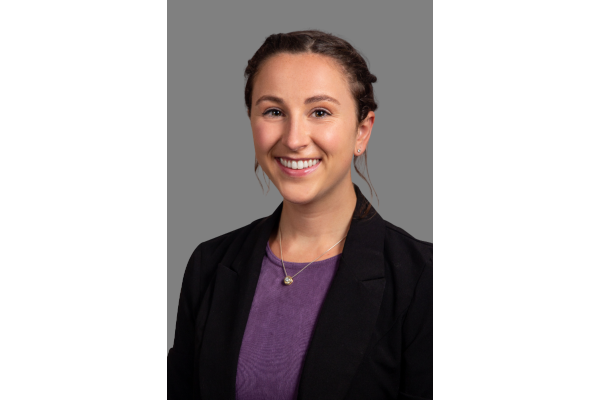 Duke Physician Assistant Program Student Organizations
Near-peer teaching, in which senior students provide instruction to students in the classes below them, has received growing recognition for its utility and efficacy in medical education. At the Duke Physician Assistant (PA) Program, three new student organizations are implementing near-peer teaching as a way to build student-learning opportunities: the Semi-Pro Seminars, the Duke Point-of-Care Ultrasound (POCUS) Society, and the Wilderness Medicine Student Interest Group (SIG). These student-led groups enable second-year PA students to deepen their understanding of complex medical topics, explore their areas of interest, and share topics they are passionate about with first-year students. Through near-peer teaching, individuals interested in pursuing roles in academia and/or leadership throughout their careers can practice teaching skills such as presenting case studies, organizing lesson plans, and networking to recruit guest speakers. For first-year students, these groups provide opportunities to supplement their didactic year curriculum, increasing their understanding and retention of information and providing insight into how their coursework prepares them for the clinical setting. PA training is rigorous and fast-paced; we hope that these near-peer teaching initiatives will challenge first and second-year students to strengthen their medical knowledge and clinical competencies, build teaching experience, and continue to foster the supportive, encouraging community at Duke's PA Program. It has been a pleasure to work alongside faculty and peers to help coordinate these exciting initiatives!
Individual group descriptions written by Helen Gaynes, Katherine Bullock, and Annie Tucker
Semi-Pro Seminars
The Duke PA Program's Semi-Pro Seminar is a student-led, near-peer teaching initiative founded in 2021 by Dani Kessler and Stevan Selle, students in the Class of 2022. The goal of the Semi-Pro Seminars is to share an approach to real-life clinical cases from a student perspective, bridging the gap between didactic and clinical spaces. Rather than instruct, the goal is to share experiences, exercise clinical thinking skills, learn as a team, and encourage bonding and networking between classes. It provides an opportunity for second-year PA students to practice teaching skills by presenting real-patient cases they have encountered during clinical rotations. For first-year students, these presentations share a glimpse of what the clinical year will be like through interactive presentations that correlate with their current clinical medicine unit (ie. Orthopedics, Cardiology, OBGYN). The presentations are interactive, with active discussions to help students develop differential diagnoses, decide what diagnostic tests should be ordered, and create treatment plans. This year, the program is led by Emily McEnerney, Katherine Bullock, and Helen Gaynes; a number of students in the Class of 2023 have delivered presentations on topics including Herpes Zoster Virus, syncope, catatonia, ankle dislocation, dextrocardia, and more. Seminars in Neurology, Gastroenterology, OBGYN, and Emergency Medicine are planned for the coming months. Students involved in this organization give special thanks to faculty advisors Betsy Melcher, M.S., ATC, M.H.S., PA-C, and Quincy Jones, M.S.W., M.H.S, PA-C, for their support in facilitating the Semi-Pro Seminars. (Helen Gaynes)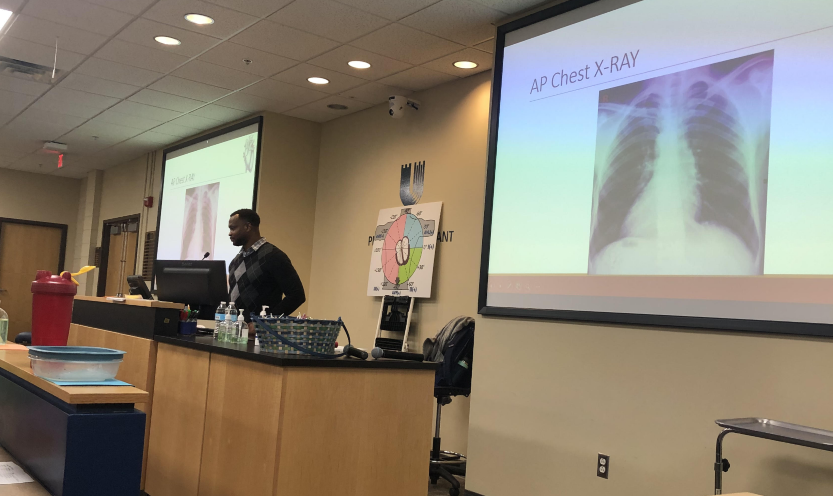 Point-of-Care Ultrasound (POCUS) Society
The Duke PA Program's Point-of-Care Ultrasound (POCUS) Society is a student-led organization founded in 2022 with a mission to provide early exposure to POCUS, foster collaboration between classes, and create teaching opportunities for students. POCUS is an increasingly important tool in the diagnosis and management of many injuries and disease states. After participating in the Society of Point of Care Ultrasound (SPOCUS) 2022 iScan conference at the American Academy of Physician Assistants (AAPA) Conference, three students - Katherine Bullock, Helen Gaynes, and Emily McEnerney - decided to start the Duke POCUS Society with the goal of empowering students to strengthen their POCUS skills throughout PA school. Through this group, second-year PA students with significant POCUS experience host teaching sessions for interested first-year students. Sessions begin with a brief presentation introducing the day's scan, including proper scanning technique, what to expect on a healthy exam, and the identification and implications of pathological findings. First-year students have the remainder of the session to practice hands-on scanning with feedback and additional teaching from student facilitators. In their first year as a student organization, they have held sessions on topics including the Renal, Hepatic, Lung, Ocular, and Aortic scans. They are planning additional meetings to introduce the Cardiac, DVT, and Musculoskeletal scans. At the end of the year, students should be able to perform a complete eFAST exam used in emergent or trauma scenarios. In the future, student leaders hope the group will continue growing to include new scans and host guest teachers, such as ED and ICU providers who use POCUS regularly. Kat, Emily, and Helen have enjoyed sharing their enthusiasm for POCUS and they appreciate the support and encouragement of their faculty advisor, Janelle Bludorn M.S. PA-C, and the Duke PA Program in establishing this group. (Katherine Bullock)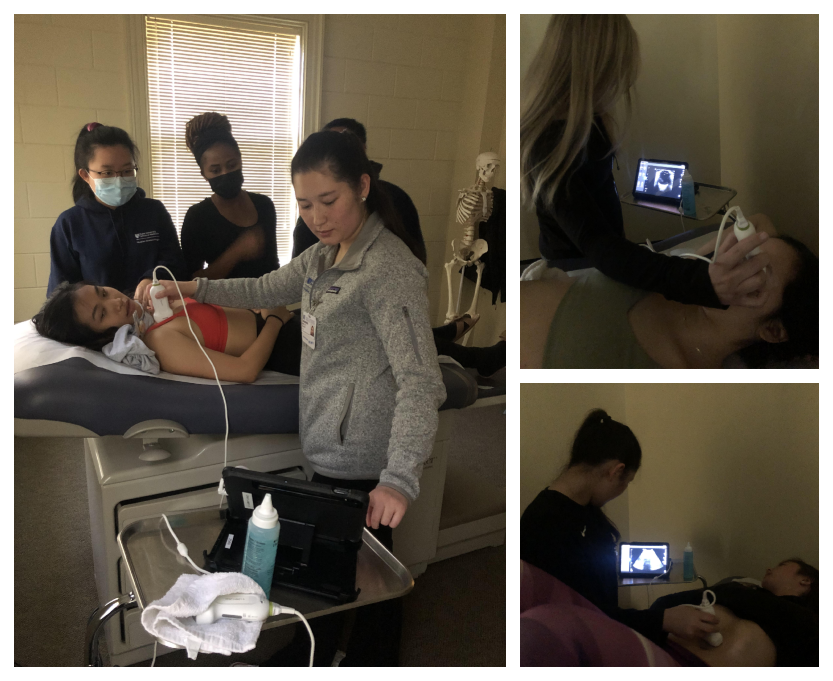 Wilderness Medicine Student Interest Group
The Duke PA Wilderness Medicine Student Interest Group (SIG) was started to engage students interested in austere medicine and a passion for the outdoors. There was demonstrated interest in wilderness medicine among Duke PA students after many signed up for the elective Yale Wilderness Medicine virtual course last year. To further support this interest and explore wilderness medicine opportunities for the Duke PA Program, three students from the class of 2023, Jenna Turner, Kroger Schwartz, and Annie Tucker, founded the Duke PA Wilderness Medicine SIG. The mission of the group is to improve student knowledge of wilderness medicine practices through lectures and hands-on education activities and to encourage students to seek out the many opportunities for participation in these efforts as future PAs. The first event hosted by the Wilderness Medicine SIG was a journal club discussion focused on the rescue and medical care employed at Mount Everest following the 2015 earthquake in Nepal. Following this discussion, the group organized a lecture by Dr. Tracee Metcalfe on her experiences as a wilderness medicine physician during expeditions on Denali, Everest, Makalu and more. Dr. Metcalfe shared case studies of some of the many patients she treated during her expeditions and discussed the unique challenges she faced while providing care on each of the mountains. Currently, the Duke Wilderness Medicine SIG is collaborating with a local search and rescue team with the goal of hosting more hands-on events where students can learn and practice skills necessary for a range of wilderness medicine scenarios. Although not currently affiliated with the national Wilderness Medicine Society (WMS), the leaders hope to pursue this opportunity in the future as the SIG grows at Duke. The student leaders thank their faculty advisor, Lorraine Anglin, MHS, PA-C, and the Duke PA Program, for their support with bringing wilderness medicine to the Duke PA Program. (Annie Tucker)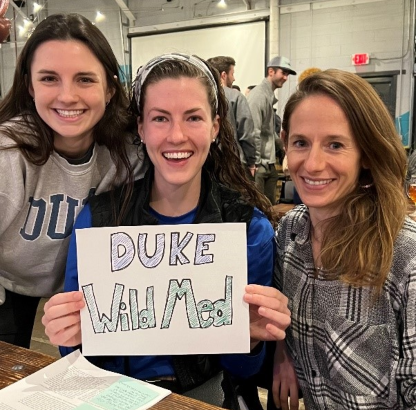 ---
Katherine Bullock is a second-year student with the Duke Physician Assistant Program. Email katherine.bullock@duke.edu with questions.
 
Editor's note: Duke Physician Assistant Program students blog monthly. Blogs represent the opinion of the author, not the Duke Physician Assistant Program, the Department of Family Medicine and Community Health, or Duke University.
Return to Duke Physician Assistant Program
---