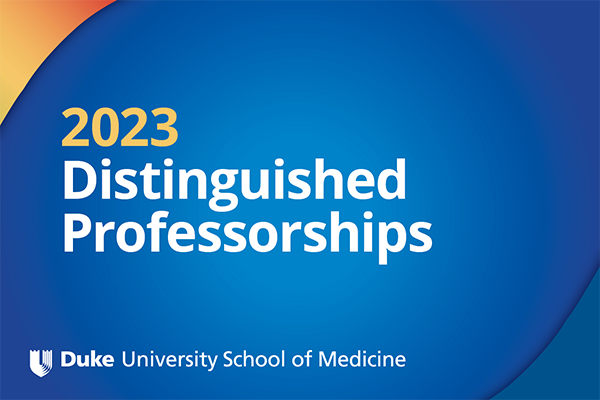 This spring, five faculty members in the Precision Genomics Collaboratory have been awarded distinguished professorships. The new distinguished professors were honored at the annual distinguished professorship event on May 4.  
In total, Duke University awarded distinguished professorships to 44 faculty members from seven Duke colleges and schools this year.  
Distinguished professorships are awarded to faculty who have demonstrated extraordinary scholarship in advancing science and improving human health.   
The 2023 recipients from the Precision Genomics Collaboratory are:  
W. David and Sarah W. Stedman Distinguished Professor in the School of Medicine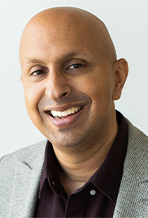 Rana Gupta, PhD 
Rana Gupta, PhD, is a professor in medicine in the Division of Endocrinology, Metabolism, and Nutrition, and a professor in cell biology. He is internationally known for his expertise in metabolic regulation and adipose tissue biology. His discoveries of genetic factors and specialized subpopulations of adipose tissue precursor cells open the door to translational implications in metabolic diseases. He has received honors including the Searle Scholar Award, the Hartwell Foundation Individual Biomedical Research Award, and the Richard E. Weitzman Outstanding Early Career Investigator Award from the Endocrine Society. 
James B. Duke Distinguished Professor of Molecular Genetics and Microbiology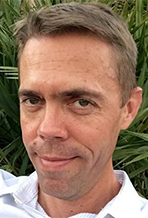 John Rawls, PhD 
John Rawls, PhD, is a professor of molecular genetics and microbiology and cell biology. He also is a professor in medicine. Rawls studies the influence of the gut microbiome on vertebrate host physiology and is a world leader in using the tractable zebrafish model for such studies. He has used both zebrafish and mouse systems to yield insights about host-microbe interactions relevant to development, homeostasis, metabolism, and disease. The work impacts many areas, including gut motility, fat absorption, effects of diet, visceral adipose tissue, obesity, gut immune responses, diabetes, and neural development.  
Ursula Geller Distinguished Professor of Research in Cardiovascular Diseases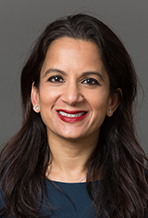 Svati Shah, MD, MHS 
Svati Shah, MD, MHS, is a professor of medicine and of biostatistics and bioinformatics. She is the associate dean of genomics and director of the Duke Precision Collaboratory, as well as vice chief of translational research and director of the Adult Cardiovascular Genetics Clinic in the Division of Cardiology. She brings expertise in biostatistics, bioinformatics, genetics, translational biology, and molecular discovery tools to her research into genetic and metabolic pathways in cardiovascular diseases. She has advanced both the understanding of underlying genetic risk for atherosclerotic disease and the biologic metabolic underpinnings of obesity and heart failure. Currently, her lab studies metabolic and genetic pathways of cardiometabolic diseases, integrating diverse genomic, metabolomic and proteomic techniques for identification of novel mechanisms of disease and biomarkers.  
James B. Duke Distinguished Professor of Molecular Genetics and Microbiology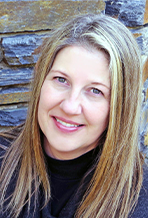 Beth Sullivan, PhD 
Beth Sullivan, PhD, is a professor of molecular genetics and microbiology, professor of cell biology, and associate dean of research training. She studies epigenetic and genetic mechanisms of centromeres, specialized chromosomal sites involved in chromosome architecture and movement, kinetochore function, heterochromatin assembly, and sister chromatid cohesion. Dysregulation of chromosomal segregation underlies many human genetic disorders. Among Sullivan's major accomplishments have been to define the functions and roles of telomeres. She has made important discoveries regarding the functions of centromeres, mechanisms of chromosomal segregation, and has contributed to the final full sequence of the human genome.  
Wolfgang Joklik Distinguished Professor of Global Health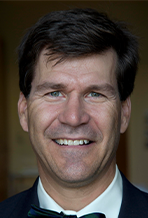 Christopher Woods, MD 
Christopher Woods, MD, is a professor of medicine, pathology, and global health. He is the executive director of the Hubert/Yeargan Center for Global Health and associate director of the Duke Center for Applied Genomics and Precision Medicine. His research crosses multiple disciplines, including innovative diagnostic platforms, clinical trials, and clinical testing in infectious disease diagnosis. He has used genomic approaches of the host response for diagnosis of infectious disease, which has established him as a leader in diagnostic innovation. His research impact spans the globe and has facilitated projects in 33 countries and student‐led projects in 17 countries.  
---