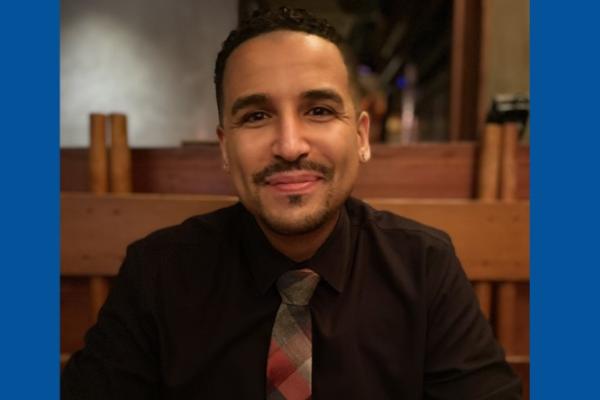 When Anthony Fuller MD, MScGH, came to Duke as a medical student nine years ago, he hit the ground running. He co-founded the first division dedicated to improving global care for neurology and neurosurgery in the United States. Since then, the Division of Global Neurosurgery and Neurology (DGNN) has provided care for thousands of patients, built infrastructure for sustainable care in multiple countries, and published more than 100 peer reviewed manuscripts. Fuller, meanwhile, has joined the faculty of the Department of Neurosurgery as the Division's associate director, as well as five other official titles. 
For this month's EDI Spotlight interview, Fuller talks to us about what he's most proud of in the DGNN so far. He also shares how equity, diversity, and inclusion shape his work in the United States and abroad, his hopes for "bending the arc" of moral justice in an exponential rather than linear fashion, and enjoying learning, time with family, and traveling in his fleeting spare time.
What are your responsibilities within the Division of Global Neurosurgery and Neurology and Department of Neurosurgery?
During my time in medical school, I helped found DGNN in 2014 as the first division in the U.S. dedicated to improving access to and quality of neurosurgery and neurology care globally. I've been part of DGNN from day one and am currently the Associate Director. I oversee our research, service, and training activities worldwide in this role. DGNN has over 125 people, from high school students to faculty, engaged in improving neurosurgery and neurology care. I help coordinate our team's efforts which span multiple countries and over 50 active projects.
What does a typical day for you look like?
Working in global health necessitates flexibility with the timing of meetings and working with colleagues in different time zones. Thus, my typical day starts around 4 or 5 am to respond to messages on WhatsApp and emails or to join a Zoom meeting. From there, my days are a mix of meetings with students, DGNN faculty, and our collaborators. 
When not in meetings, I work on our active projects, moving things forward from IRB submissions to data analysis and editing manuscripts or briefs. Given the nature of our work, every day presents new opportunities and challenges, and I enjoy delving deep to find solutions to ensure that something is incrementally better each day.
How did you get involved in the Department of Neurosurgery's global health efforts? What's one accomplishment in this area that you're especially proud of?
When I applied to medical school, I knew two things: I wanted to work in neurosurgery, and I wanted to work globally. In my interview with Dr. Brenda Armstrong, she told me about the work at Duke in neurosurgery and global health, which made Duke an easy choice when it came time to choose where I would attend medical school. 
So, during my first week of classes, I emailed Dr. Micheal Haglund, who at that time had been working in neurosurgery and global health in South America and Uganda, and let him know that I would like to work with him. We eventually had our first meeting at the Starbucks in Duke North, and we've been working together ever since.
I'm proud to be part of such a fantastic group of people. Together we've provided care to thousands of patients, tripled the number of neurosurgeons in Uganda, established a clinic for patients with epilepsy, published over 100 manuscripts, and created the environment for the next generation to continue building upon this foundation.
Do you have an official EDI-related title within the Department of Neurosurgery, and if so, what is it? If you have a role like this, how does it complement your other responsibilities?
I am part of the department's diversity, equity, and inclusion committee, but I do not have an official title. Outside the department, I am the founding Director of the Center for Pathway Programs (CPP) and a Co-Director of the Multicultural Resource Center (MRC) in the School of Medicine. My work in the CPP and MRC allows me to engage in domestic EDI work, which complements my global work perfectly. In addition, my international and domestic perspectives on EDI provide me with a unique lens when engaging in this work.
When and how did you begin working to improve equity, diversity, and inclusion within Duke?
EDI has always been at the core of what drives me. Thus, I've been engaged with EDI work from the first week of medical school at Duke until now, and I plan to continue this work throughout my entire career.
What are some of the current issues relating to equity, diversity, and inclusion within the field of neurosurgery, and how do they compare to the same issues within academic medicine in general?
EDI issues such as workforce diversity, differential access to care, and differential patient outcomes are all important in the field of neurosurgery, but are not unique to the field. From my perspective, EDI issues permeate everything we do in academic medicine because the practice of medicine is embedded within the social framework. It is impossible to escape from that social framework; thus, all areas of medicine must pay careful attention to how that social framework is manifested by inequities in health.
How is the Department of Neurosurgery working to address those issues?
Since joining the neurosurgery faculty in 2018, the department has had an intentional approach to EDI. This is evidenced by the different speakers that have been invited to talk or supported by the department, the increased work by the committee in the department, publications from faculty about EDI, financial support for EDI efforts such as the Future Leaders In Neuroscience Symposium for Undergraduate Students conference, and the recent appointment of a EDI Vice Chair. In combination, these efforts have centered EDI in the department and have become regular discussion topics in faculty and grand round meetings.
What's the biggest change you've seen in the School of Medicine's approach to equity, diversity, and inclusion since you came to Duke as a medical student?
The most significant change came after the events of 2020 and Duke's Moments to Movements initiative. From that moment on, I've seen the school invest time and resources into deliberating focusing on EDI across campus, from hosting discussions to creating positions within leadership specifically dedicated to EDI. As a result, a palpable cultural shift has occurred, which, if continued resources are provided, has the opportunity to ensure EDI is centered in all of Duke's endeavors.
What's one change or area where you'd most like to see progress over the next five to 10 years?
One of my favorite quotes and one that provides me hope and persistent optimism is by Martin Luther King, Jr., where he stated "the arc of the moral universe is long, but it bends towards justice." I'd like for the "bending of the arc" to proceed in an exponential fashion rather than a linear fashion in the next five to ten years so that we are closer to justice and equity in all EDI spheres than we are today.
What passions or hobbies do you have outside of work?
Outside work, I enjoy spending time with my wife and daughter, traveling the world, learning about coding and machine learning, and reading as many books or articles as possible.
---