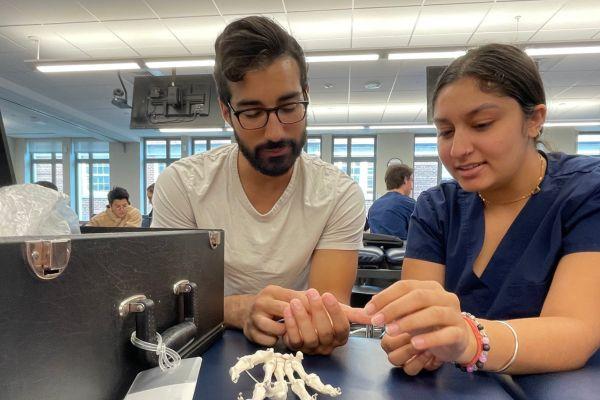 Duke University's Duke Doctor of Physical Therapy Division has signed an agreement with Northeastern University to expand its Faculty Development Residency program to help prepare more highly effective PT professionals for faculty and administrative roles.
Established in 2014, the Duke DPT program was the first program in the nation of its kind and the first to be accredited by the American Board of Physical Therapy Residency and Fellowship Education (ABPTRFE). The agreement will extend Duke DPT's rich academic expertise and leadership in credentialed residency and fellowship programs to prepare more PT professionals for academia. 
"We are proud to partner with Northeastern University and help to expand the scale and reach of our successful program," said Duke DPT Division Director W. Todd Cade, PT, PhD, FAPTA. "We share the same goals for building a more diverse and prepared faculty workforce and positively impacting the PT profession. We are excited to build on this innovative model together."
Nationally, there is a shortage of qualified faculty to teach the next generation of physical therapists.
"Our profession is also facing a tremendous challenge in preparing a more diverse workforce to expand access to PT services and to tackle health inequities across health care systems," said J. Kyle Covington, PT, DPT, PhD, co-founder, and director of the Faculty Residency Program. "Our program has an established track record for addressing these challenges by preparing innovative leaders who are serving and making a difference throughout academia and our profession."
The 24-month program provides tremendous hands-on teaching and mentoring experiences. Faculty Development Residents develop knowledge and engage in training around educational theory, methodology, academic service, scholarship, and academic governance. Residents spend at least 30 hours per week on instructional preparation, classroom, and laboratory teaching, and student assessment.
Faculty development residents are mentored by residency directors and DPT faculty to further develop specific areas of teaching interest, which can be clinical education, musculoskeletal PT, neuromuscular PT, or other standard components of the DPT program.  Residents also engage in curriculum development and assessment, admissions, governance, and student development and become key committee members throughout the DPT program.
An Infrastructure for Developing PT Faculty 
Through the agreement with Northeastern, Duke will provide the development and growth infrastructure for new faculty residents who apply and are accepted to the program. Duke DPT will facilitate orientation, mentoring, and assessment of Faculty Development Residents while collaborating with Northeastern faculty to deliver didactic modules that include classroom management, test writing, academic advising, higher education structure, educational assessment, accreditation, and academic service and scholarship.
Through collaborations with Northeastern and other universities, faculty development residents will have the opportunity to learn about how other university systems manage the same challenges. Dr. Covington said he also sees additional opportunities for university faculty members to engage in scholarly and educational collaborations.
"The faculty development residency provides an opportunity for a first-of-its-kind collaboration to create amazing learning opportunities for residents, students, and faculty. The partnership combines the expertise of the well-established Duke University Faculty Residency program with an opportunity to obtain a Doctor of Education degree at Northeastern University, said Eric Folmar, PT, DPT, associate department chair of the Department of Physical Therapy, Movement & Rehabilitation Sciences for Northeastern University. "The experiential training within two highly regarded Doctor of Physical Therapy programs moves us towards the goal of developing diverse, highly trained, terminally degreed faculty members."
Prospective faculty development residents can apply for placement at Duke or Northeastern beginning Oct. 15 through Dec. 31, for the residency program that begins fall 2024. 
Every Duke DPT Faculty Resident has successfully taken the next steps on their desired career path, with most serving as faculty or administrators within DPT or Rehabilitation Science programs at top universities and colleges across the nation.
For 80 years, Duke Doctor of Physical Therapy has educated many of the nation's best clinicians, leaders, and researchers in the field. It is currently ranked seventh among the 239 DPT programs evaluated by U.S. News & World Report.  
---