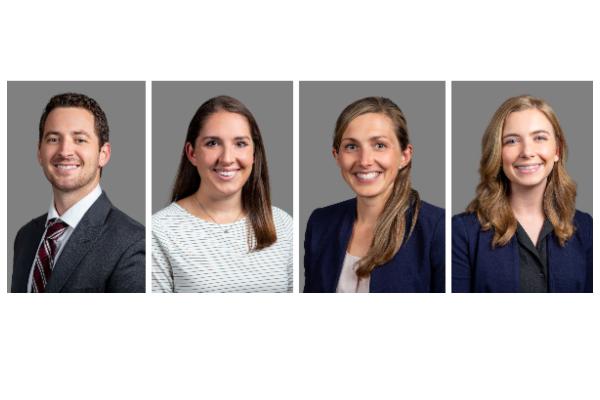 Duke Physician Assistant (PA) Program students Emily Campbell, Sami Moyer, Austin Graydon and Kay Burrows recently completed the 2022 Future Clinician Leaders College (FCLC) offered by the North Carolina Medical Society (NCMS).  
The Future Clinician Leaders College is a yearlong interprofessional leadership development program (IPL). The program selects health care students from across North Carolina to build leadership skills while tackling major health policy challenges.  
According to the program's website, the experience includes workshops for students from multiple healthcare professions and is designed "to build leadership that centers on self-awareness and fosters authenticity that allows each student to act in alignment with their core values as a leader, encourage and assess information from different perspectives, and balance transparency." 
Each student reflected on the program as a way to foster their leadership skills as well as work on real-world problems facing health care providers and patients today. 
In their own words

 
Austin Graydon 

 
Title: Quality Improvement in Smoking Cessation Treatment
My project with the Future Clinician Leadership College involved gathering data regarding smoking cessation in rural Eastern North Carolina with an affiliate health system called Carteret Health. Working with a PA at Carteret, my group and I reached out to patients via telephone and asked a series of questions regarding interest in and difficulties with smoking cessation. We got a lot of great feedback from patients and gathered some interesting insight into the social determinants that affect the health of rural populations, and the barriers to successful treatment of substance use disorder that patients of rural NC experience.   
I took part in the FCLC because it seemed like a great way to learn how to expand my skills as a leader and take part in a multidisciplinary, statewide program that would give us the resources to complete a healthcare project that would benefit North Carolina. It was hard at times to allocate time during clinical year, but leadership is, of course, such an important skill for a PA. I know the experience and education from FCLC and NCMS will serve me well in the future.  
Sami Moyer

 
Title: Enhancing Health Literacy: Development of Video and Print Education Materials for Paviol Dermatology. 
We had the great fortune of working with the newly opened Paviol Dermatology clinic in Charlotte, NC. Our goal was to create an innovative approach to patient education by organizing video and print material for the practice website. These materials, which covered a variety of common dermatology problems and visit types, provided pre-appointment education and post-appointment instructions that they can view at their leisure. The goal was for the information to provide patients with empowerment over their health conditions, peace of mind prior to appointments or surgeries, and to maximize in-office visit time.   
I chose to attend the FCLC to further my leadership development and improve my skills with working with teams. Healthcare is a continually evolving "team sport", and through the leadership training provided through the FLCL, I feel that I not only have a better understanding of my own personal leadership style, but also how I can improve and shape my interactions with others, whether that be my colleagues, patients, or even my loved ones, to better serve our collective goals. 
Emily Campbell

 
Title: Obesity within Robeson Pediatrics: a Single Practice Approach to Addressing a Lifelong Epidemic 
Though many factors contribute to the development and risk for childhood obesity, my team chose to focus on a solution that targeted affordable nutrition options and physical activity opportunities. We developed a series of affordable and nutritious meal options that were less than $6 a portion to be utilized by the Robeson Pediatrics website.  We also created an opportunity for physical activity through introducing the YMCA program "Girls on the Run" to the Robeson County School system.  Our suggestion was to initially start with one site within the school system with the hope for expansion to other schools as well as implementation of the male counterpart, Stride. 
One of my main goals as a PA is to improve access to high-quality, equitable healthcare. In order to make this happen, change will need to happen at the policy and institutional levels, requiring me to have effective leadership and communication skills.  Learning and working alongside students in other healthcare professions helped me better understand the viewpoints on certain issues from disciplines that are different than mine.  Participating in this course equipped me with the skills needed to better advocate for changes that will benefit my patients and help find collaborative solutions to health policy challenges afflicting the state.  
Kay Burrows

  
Title: Addressing Chronic Disease Management and Barriers to Healthcare Access in the Communities Served by Sentara Albemarle Medical Center.    
We partnered with Sentara Albemarle to identify barriers to connecting their community members to available resources for shelter, food, and wellness. Our project produced amazing county-specific resource packets to hand out to patients that are already in use by social workers at the hospital!  
I wanted to be involved with FCLC because I wanted to learn how PAs can show up in interprofessional spaces and make a difference in patients' health from a local and state level. The whole experience was so helpful in growing leadership skills— I especially loved working on professional development in simulation exercises and connecting with a practice in North Carolina to find real-world solutions. 
---
---