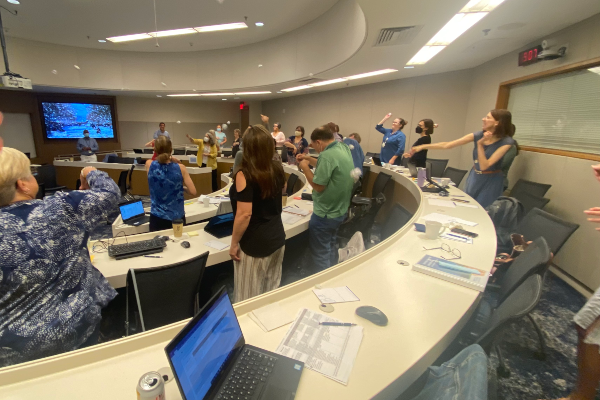 With an eye on the future, The Duke Physician Assistant Program (DPAP) recently held a faculty and staff event titled, "DPAP 2027: Disruptive Innovation for the Future of PA Education."   
In her opening remarks, Program Director Jacqueline Barnett, DHSc, MSHS, PA-C, said:   
There is no time like the present to bring our collective voices together not only to change our program, but to transform it through visioning, strategic planning, and effective implementation. DPAP 2027 is about laying the foundation to advance the mission and address the various curricular, student, and program needs through a framework of wellness, equity, and inclusion.
The three-day event was held at Durham's JB Duke Hotel and the program's Duke St. Building. It offered an equal playing ground for faculty and staff, regardless of seniority or rank, and allowed everyone to express even their wildest ideas of how to improve any aspect of the program.  
Strategic Vision

 
DPAP 2027 works to answer what seem on the surface to be simple questions. In reality, the questions are nuanced, and the answers are guided by current events, self-awareness, and increased discussion of systemic issues:   
What do we want to be known for?

 

Why will students, faculty, staff want to be here?

 

What will set us apart from other programs?

   
While the Duke PA Program was the first Physician Assistant program, this historical significance means little if the program does not continue in its role as a vanguard in medical education.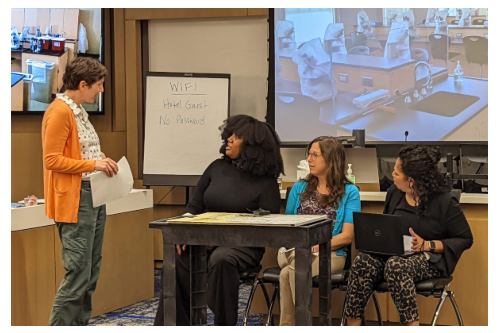 The event, led by Barnett, Medical Director Kenyon Railey, MD, and Senior Education Strategist Rachel Porter, PhD, took a holistic approach as they encouraged faculty and staff to consider the entirety of the program, from recruiting to alumni services.    
In her opening presentation, Barnett listed some of the successes the program has experienced in the last few years, such as its COVID-19 response, decreased reliance on paper, its dedication to addressing bias, and streamlining the curriculum.   
Faculty, staff, and outside speakers gave presentations, led activities, and facilitated discussions. While the team explored all corners of the program, there were three focus areas.   
Planning commission member, assistant professor Janelle Bludorn, MS, PA-C, said:    
I appreciated the mix of voices highlighted as presenters and participants. We had institutional and departmental leaders providing guidance, experts within our own program presenting concepts, and insights from the faculty and staff doing the everyday work, all thinking about big ideas in the areas of student support, JEDAI, and curricular innovation.   
Guest speakers included School of Nursing's Student Success Center director, Bernice Alston, PhD and vice chair of education & faculty development for the department of Family Medicine and Community Health, Gregory Sawin, MD, MPH.
Guests from a variety of departments participated in the Innovators Panel, including, Catherine Diederich, EdD, MMCi, Ashley Grantham, PhD, MA, Tiffany Hilton, PT, Phd, and Aditee Narayan, MPH, MD.
While some faculty and staff felt trepidation leading up to the meetings, in the end, they found the days useful and insightful.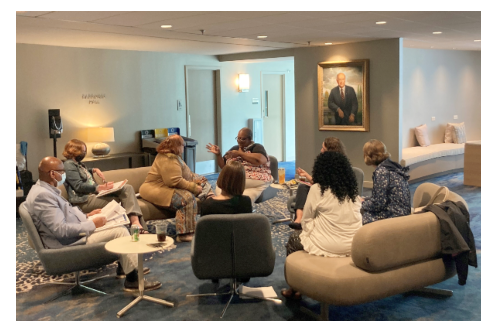 The planning committee planned for a mix of activities that rarely put any one participant on the spot. Instead, activities were varied and transitioned smoothly from seated lectures to group meetings to lighthearted fun that still aimed to further the goals of the event.
Bludorn said, "Creating the space and time to get everyone - staff and faculty alike - to evaluate where we are and envision where we want to be, and then work towards a shared mental model to get there was a unique and fulfilling experience."   
At the conclusion of their time together, everyone walked away with fresh ideas and specific goals for their part in the future of the Duke PA Program.   
Barnett said that coming together as a full team for the first time in over two years was a wonderful experience. "We engaged in thoughtful dialogue and intentional activities aimed toward program growth and improvement. An amazing team effort and it just does not get much better than that!" 
---
---