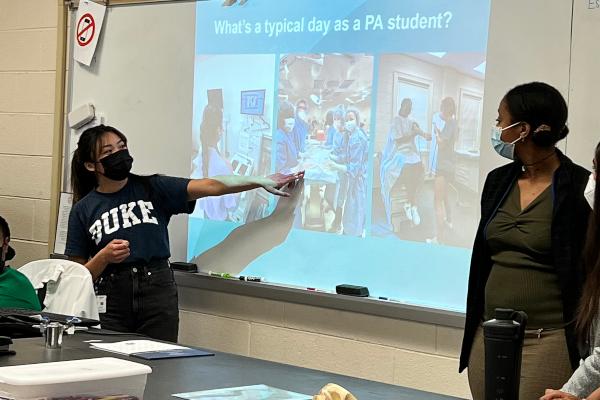 Last month students and faculty from the Duke Physician Assistant Program traveled to two local high schools as part of the Physician Assistant Education Association's (PAEA) Project Access initiative.  
Project Access is a national program designed to "make aware and encourage students from underrepresented in medicine groups to consider the PA profession as a health career."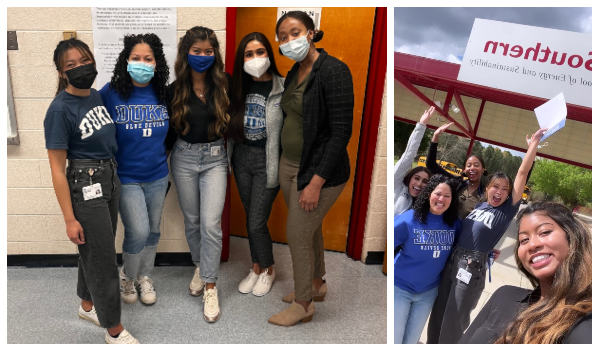 Alicia Bolden, DMSc., MPH, PA-C, who accompanied the students on the first of the two trips, describes the importance of the initiative, "A significant barrier to recruitment of URiM students into the PA profession is lack of representation. I have participated in Project Access since 2013 so students who look like me and come from similar socioeconomic backgrounds as myself, knows they can be a PA also." 
Project Access integrates a student-run approach -- a different model than the typical faculty and staff-led college recruitment activities. Duke PA students and faculty traveled to local high schools to talk with students about the PA profession. Faculty member Lovest Alexander Jr., MHS, PA-C, DFAAPA, accompanied students on the second visit.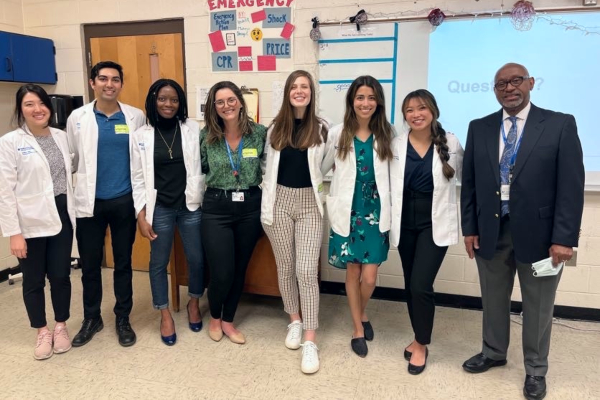 Abby Lau, the student lead on the project, says, "These opportunities are vital for diversifying and encouraging more people to join the PA profession. Through this project, I strive to encourage the next generation of diverse students to become healthcare providers so that they may continue to give back to underrepresented communities." 
While visiting Northern High School and Southern High School in Durham, Duke PA students presented information on the path to becoming a PA, what day-to-day life as a PA student entails, and why the healthcare system needs them as a provider. 
---