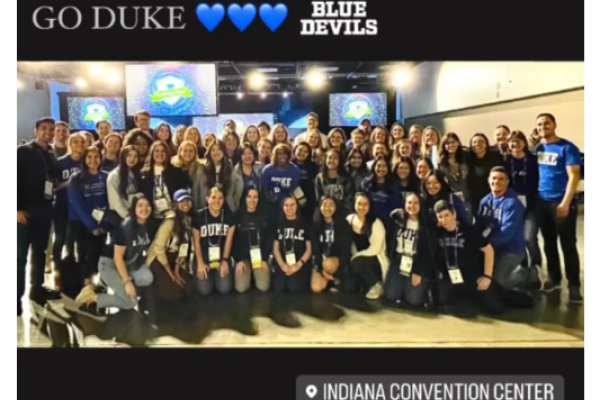 The Duke Physician Assistant (PA) Program was well represented at the American Academy of Physician Assistants' (AAPA) 2022 conference, the first in-person conference since the beginning of the COVID-19 pandemic. 
As the conference hit full swing, first-year Duke PA student Scout Gregerson took the stage. As a student delegate to the AAPA House of Delegates, she worked on an amendment to the language of the recruitment and retention policy to create a more inclusive, diverse, and accessible profession. 
"We expanded the demographic categories explicitly named within the policy," Gregerson said. "We also added a line that acknowledged AAPA's support for reducing undue barriers to application in an effort to increase the diversity and accessibility of our profession." 
In addition to being represented in the House of Delegates, Duke PA students and faculty participated in the National Medical Challenge Bowl, competed in a student ultrasound competition, gave presentations and participated in panel discussions.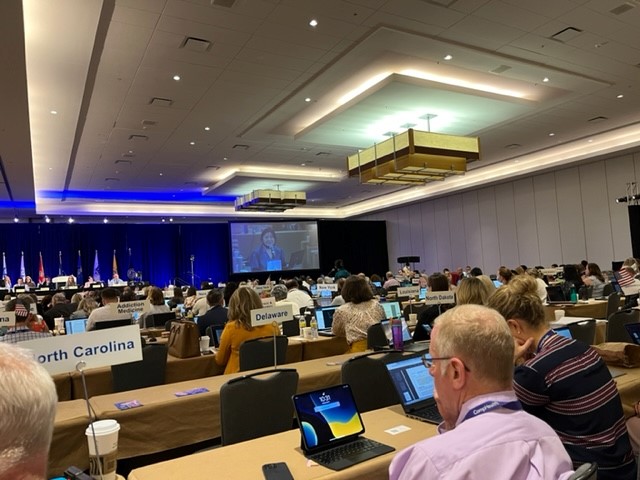 The AAPA has encouraged students to take an active role in the academy since its founding in 1968
Other Student Academy-authored policies included: 
A policy in support of cost-free or low-cost healthcare services or coverage for PA students while pursuing a PA education

 

A policy recognizing the role that PAs can have in pre-hospital care settings in collaboration with EMS

 

A policy allowing certain credentialed student members to vote in the AAPA general election

 
 All of the presented policies passed in the HOD. 
Recent graduate Mariah Leroux also attended as she finishes out her time as the president of the Student Academy.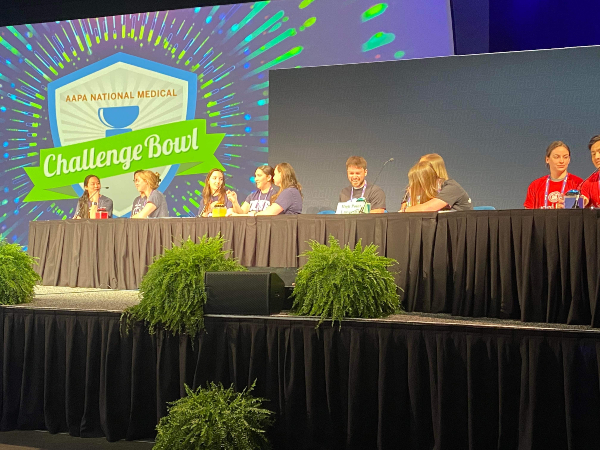 The National Medical Challenge Bowl is an annual competition where 66 teams of students go head-to-head to answer questions testing their medical knowledge. The team's faculty coach, Academic Coordinator Mara Sanchez, MMS, PA-C, RD, said Duke students Christina Kohlmann, Michelle Douglass, and Sami Moyer made it past the first round of questions and had the opportunity to go up on stage for the second round.  
Moyer said that the Duke team has not made it to the main stage in many years. "It was such an honor to represent our class and program, and I know I can speak for all three of us when I say that we were so grateful for the opportunity," Moyer said. 
In the second round, Sanchez said, "as the Duke family in the audience cheered them on, they went up against three other teams and were asked some very difficult medical trivia questions." Unfortunately, the Duke team did not advance to the semi-final round.  
While students enjoyed the free food and conference swag, they also attended sessions to expand their clinical knowledge. First-year student Lily McWilliams said they particularly enjoyed the talks on "how to be a compassionate, considerate, inclusive PA to all kinds of patients, particularly ones who have been historically marginalized [including] talks on race, LGBTQ+ and weight stigma in health care."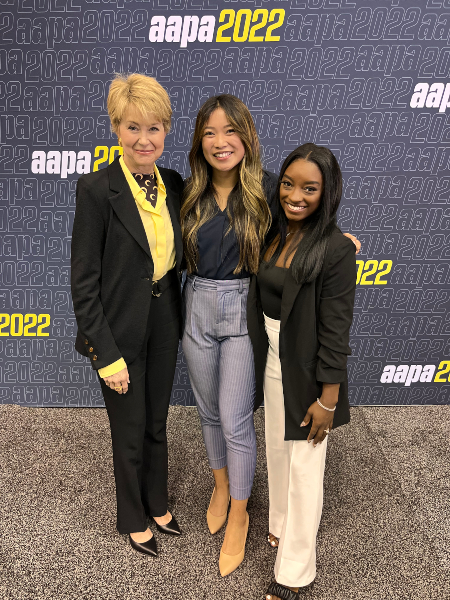 During the general session, gymnast Symone Biles and journalist Jane Pauley presented "Journeys of Courage: Simone Biles and Jane Pauley on Mental Health." First-year student Abby Lau had the opportunity to meet them and said, "They were both so nice, and I told them I was a big fan. I even had Simone Biles sign my conference name tag."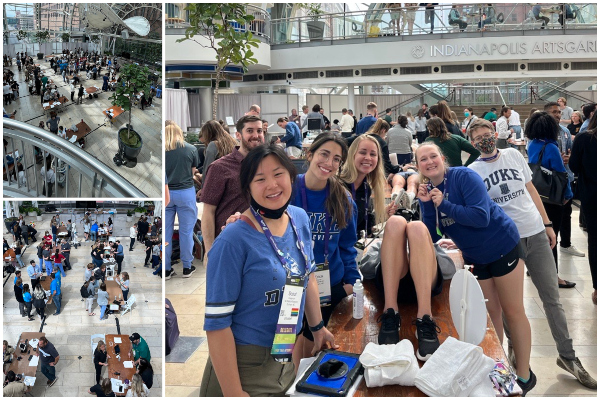 Another student favorite was the iScan Student Ultrasound Competition, where 36 teams competed in scanning with ultrasound and answering clinical reasoning questions related to the anatomic structures they were scanning.  
Though the Duke students did not make it into the final round, the team's faculty coach, Assistant Professor Janelle Bludorn, MS, PA-C, said, "Several of the iScan faculty let me know that they were very impressed with our students' scanning skills and medical knowledge. […] I was so impressed with our students' level of interest and excitement and willingness to spend so much time learning and scanning when they have such busy schedules as first-year PA students. This type of learner engagement and feedback is the reason why I love what I do as an educator!" 
 

Behind the scenes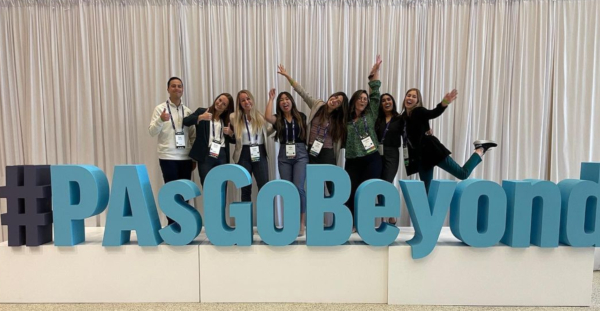 The American Academy of Physician Assistants (AAPA) held its first annual conference in 1973 with 235 attendees gathering at Sheppard Air Force Base in Texas.  
As the profession grows, so does the annual conference: The 2022 conference drew thousands of attendees in Indianapolis, including nearly 100 Duke PA students, alumni, and faculty. 
While that first conference only had one exhibit, the 2022 version took over the entire Indiana Convention Center and several surrounding hotels and included dozens of exhibits, presentations, conversations, competitions and opportunities for continuing medical education (CME). 
Gina Benedicto and Shubh Dhruv, the Duke Stead Society representative and alternate, respectively, of the Student Academy of the American Academy of Physician Assistants (SAAAPA) were busy even before the beginning of the weekend. They assisted with registrations and hotel bookings and organized social events during the conference.  
While the Duke PA program does not schedule classes during the conference and helps fund trips for the students who would like to attend, there are still a lot of moving pieces in planning the trek from Durham. 
Dhruv said, "The hardest part of the conference was probably organizing fun activities for 58+ students from our program, but after everything came together, it was the most rewarding." 
Getting a head start on next year, Dhruv is also working with the 2023 Challenge Bowl team to organize practices and review sessions.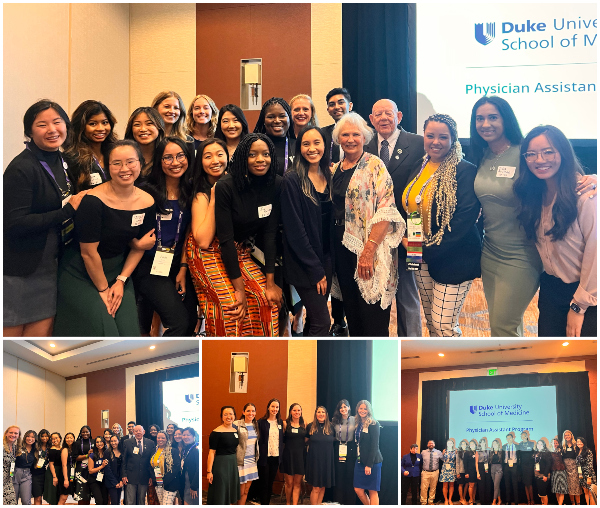 With everyone moving in different directions all weekend, the annual alumni reception is a conference highlight. Senior Alumni Program Coordinator Jennifer Pennington said approximately 90 Duke PA faculty, students, and alumni came together to meet and share a meal. During the event, students got to meet the alumni who paved the way for them over the past 55 years, including the profession's early graduates, collectively known as the "pioneers." 
 After officially welcoming everyone to the reception, Program Director Jacqui Barnett, DHSc, MSHS, PA-C, passed the mic to any other attendees who wished to speak to the room.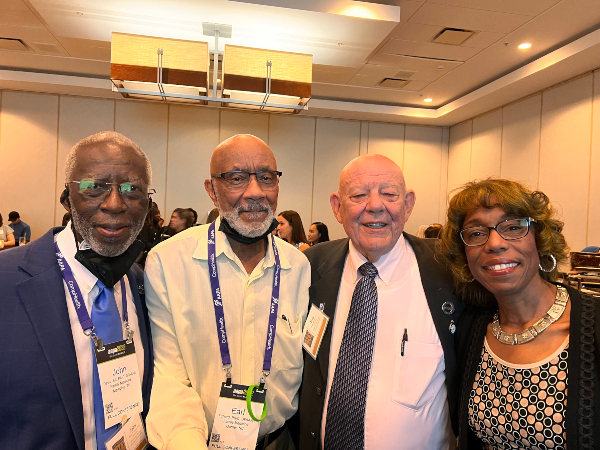 While students competed and learned, faculty presented on various topics 
Program Director Jacqueline Barnett, DHSc, MSHS, PA-C presented "Untold Stories of John Henryism: Being Black in the PA Profession." 
First-year student Kendra Ireigbe watched the presentation and said, "Having Dr. Barnett present on this topic was eye opening and reassuring. Many of us relate to the feelings/situations that were discussed in this presentation. It was comforting to have someone we hold in high regards validate our thoughts and emotions. I loved the presentation and look forward to applying these techniques in my clinical year and after graduation." 
In addition to her work with the iScan competition, Bludorn gave two presentations and served as a panelist. Her first presentation, "Zooper Hero: An Overview of Zoonotic Exposures for Emergency Medicine PAs employed a superhero theme as a fun framework to discuss several common zoonotic conditions.  
She said, "I really hate encountering creepy-crawlies like snakes, spiders, and ticks in the wild, but I really enjoy managing patients who do encounter these critters as well as the pathophysiology and epidemiology associated."  
She also presented, "Three Little Words: The Power and Struggle of Saying I Don't Know." This session was geared towards students about to go out on clinical rotations and addressed why saying "I don't know" is so hard for anyone. "This was the talk that I was most excited for/proud of during the conference," Bludorn said. 
Bludorn also served as a panelist for "Which Area of Practice is Right for You?"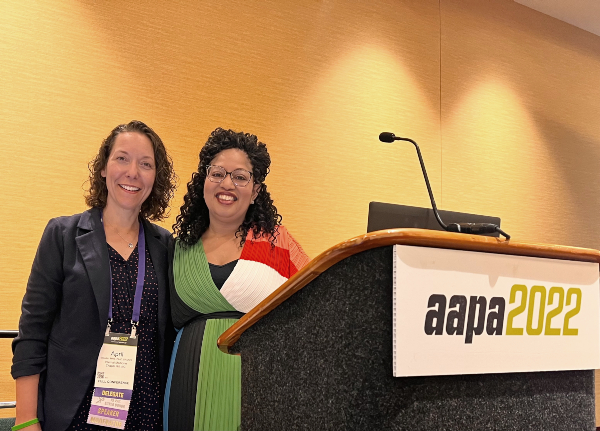 Associate Program Director April Stouder, MHS, PA-C, and Director of Clinical Education Alicia Bolden, DMSc., MPH, PA-C, presented "Ready to Educate? Demystifying the Transition to Academia."  
According to Stouder, it was "geared towards clinically practicing PAs who are considering transitioning into a teaching role. We provided practical tips and information about faculty roles & responsibilities and made a strong case for recruiting a diverse faculty workforce." 
Director of Assessment and Evaluation Melinda Blazar, EdD, MHS, PA-C, and Clinical Coordinator Nick Hudak, MPA, MSEd, PA-C, presented an e-poster called "Physician Assistant Program Mistreatment Policies: A Descriptive Analysis from a National Survey." 
Sanchez, Academic Coordinator Lorraine Anglin, MHS, PA-C, and Professor Perri Morgan, PhD, PA-C, along with other PA and Nurse Practitioner colleagues, presented "Identifying Successful Strategies for New Nurse Practitioner (NP) and Physician Assistant (PA) Onboarding Programs." 
While not physically present at the conference, Clinical Coordinator Quincy Jones, MSW, MHS, PA-C, participated in a poster presentation with colleagues from the University of Utah and Yale PA programs entitled "Promising Practices in Sexual Orientation and Gender Identity Curriculum Inclusion. " 
The 2023 AAPA conference is planned for May 19-24 in Nashville, TN.  
To see more photos from the conference, check out our Facebook album.
---
Return to Duke Physician Assistant Program
---