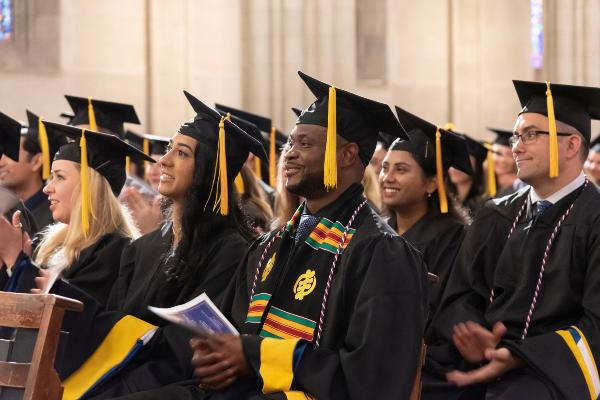 On August 4th, the Duke Physician Assistant (PA) Program held a ceremony for its 56th graduating class, celebrating the class of 2023.  
With relaxed COVID-19 guidelines and increased capacity, more than 600 loved ones watched as the program's 90 students walked beneath the Gothic arches and stained glass of Duke Chapel to receive their certificates.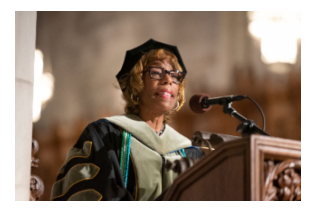 In her welcoming remarks, Division Chief and Program Director Jacqueline S. Barnett, DHSc, MSHS, PA-C, said, "Your class was the first in the history of the Duke PA program to engage in virtual admissions interviews, and somehow, while this was our first time at virtual interviews, we definitely got it right."  
Barnett also highlighted the dedication to advocacy displayed by the graduating class, saying, "Class, during your time at DPAP, you truly embraced the humanity and the mission of the program. […] You were vocal, displaying an unwavering commitment to equity and justice, and you invested your precious time and resources advocating and supporting efforts to address poverty, public health, access to health care, housing and food insecurity, and so much more."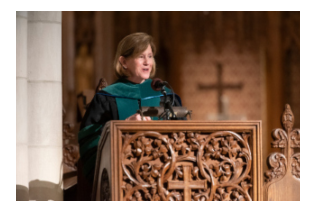 School of Medicine Dean Mary Klotman, MD, spoke about the challenge of entering PA school during the COVID-19 pandemic and encouraged graduates to ask themselves how this chapter of their lives will define who they are.   
She said, "I really don't want us to miss the opportunity to be reflective of what we experienced and how that experience can make us better; make us better as an institution, make us better as individuals, make us better as individuals that are responsible for delivering health care."  
Stead Society President Rebecca Shepherd addressed the audience, saying she grew up in a village with only about 20 people and a deep sense of community and belonging that she feared she would never get again until she found it with her classmates at the Duke PA Program.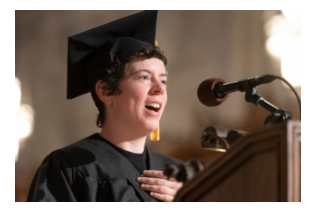 Shepherd said, "The thing that really impressed me about this class is your level of kindness."  
She spoke of the many ways the class has supported each other, their friends, and their families, sometimes putting the needs of others over themselves.   
Looking toward the future, she said, "And while I will truly miss this community that we've all built together, I know that all of you are moving on to spread this kindness, compassion, and the sense of community to the places that it's needed the most."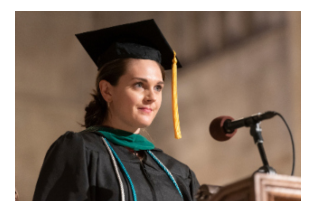 Before leading the class through the PA Professional Oath, Academic Coordinator Janelle Bludorn, MS, PA-C, said, "As full-fledged clinicians, you will be making real difficult decisions in this very real world of medicine. And by difficult decisions, I don't mean like how to correct hyponatremia without overcorrecting. I actually mean really hard decisions that call into question things like ethics, legality, and morality. But thankfully, there are tenants that can help you in this navigation."  
The class of 2023 then recited the professional oath before joining their friends and family for a reception at the JB Duke Hotel.  
Congratulations to the Duke Physician Assistant Class of 2023!  
---
Awards

  
Pi Alpha

 
This year, the following PA students were inducted into Pi Alpha, the national PA honor society:   
Palmer, Erica 
Laughon, Ruth 
Afari, Emmanuel 
Rowan, Kayla 
Schwartz, Kroger 
Butz, Kendall 
Lau, Abigail 
Wood, Shianne 
Flora, Elizabeth 
Couse, Zoe 
McWilliams, Lillian 
Kim, Allison 
Ireigbe, Kendra 
Bullock, Katherine 
Nwodo, Joy  
In addition, Senior Education Strategist Rachel Porter, MEd, Ph.D., was inducted as a faculty member. 
Scheele Award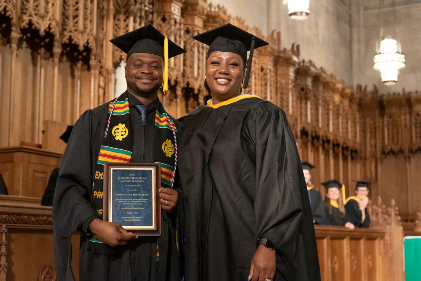 Clinical Year Director Jacquetta Melvin, MPH, PA-C, announced Emmanuel "Parker" Afari as the Scheele Award recipient for the class of 2023.     
Established by the Duke PA program in 1970, the Scheele Award recognizes alumnus Richard J. Scheele.  Scheele pioneered the PA profession, becoming an early leader before his death at 31.  The award is given to students who have exhibited leadership, professionalism, and academic excellence during their PA education.  
Melvin recognized Afari for his demonstrated record of community and class service, strong academic performance, leadership, and steadfast professionalism.   
She said he "selflessly supported his classmates across both preclinical year and clinical year cohorts in the learning environment through informal tutoring and academic engagement." 
Afari is known for his calm presence and positive attitude towards everyone. One clinical preceptor said, "This student embodied compassionate and effective clinical care. He even came in on a day off to provide company and a small token of appreciation for a patient who had been struggling with a complex medical illness and had to spend his birthday in the hospital."   
He also volunteered his time to serve as the PA student representative on the School of Medicine Committee for the Appropriate Treatment of Learners. He was recognized at the 2023 American Academy of PAs conference, winning the Printice L Harrison scholarship, awarded by the African Heritage caucus, in honor of Printice L Harrison, the first African American PA. 
Joyce C. Nichols Award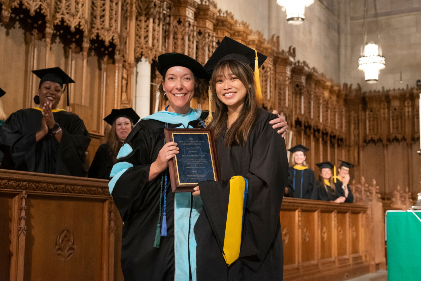 Associate Program Director April Stouder, MHS, PA-C, announced Abby Lau as the Joyce C. Nichols Award winner.  
Joyce Nichols, the first woman, and first Black physician assistant, tirelessly advocated for the poor and underserved. The Durham housing authority recently named a new affordable housing community, "The Joyce," in honor of Nichols.    
In her honor, the Duke University PA program established the Joyce C. Nichols Award in 2015 to honor a member of the graduating class who has displayed exemplary qualities of service, advocacy, and humanitarianism during their training.  
Stouder said that Lau has demonstrated exemplary commitment to the program's mission and the PA profession through her advocacy work and passion for the community. She was the Stead Society outreach co-chair, where she helped coordinate service opportunities for her classmates in Durham County. She was a member of the Duke Hot Spotting Initiative, which pairs students with patients experiencing barriers to health care to provide comprehensive support to access their medical appointments. She was a member of the AAPA service committee and spearheaded multiple Project Access events at underserved high schools in Durham.   
Henry "Buddy" Lee Treadwell Award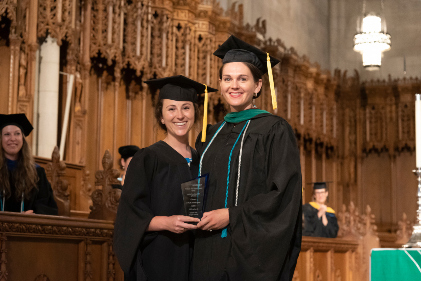 This award, presented from the graduating class to a program faculty member, is named after Treadwell, who greatly influenced the vision of Eugene A. Stead Jr., M.D., for PA education and function. Stead founded the Duke Physician Assistant Program and the profession.   
Class of 2023 student Katherine Bullock presented the Treadwell Award to Academic Coordinator Janelle Bludorn, MS, PA-C.    
Bullock called Bludorn a "supportive, energetic, and creative mentor who cares deeply about providing quality education. Her teaching is engaging, thorough, and memorable."  
She said that when students went to Bluedorn with the idea of starting a student-led ultrasound group, her immediate response was, "How can I help make this happen?"   
With the help of Bludorn and the founding of the student group, both of Duke's student teams were finalists in this year's national ultrasound competition, iScan.   
Bullock also said, "Janelle modeled for us what it means to be an effective and inspiring mentor and demonstrated what a profound impact this has on learning. My training at Duke would not have been the same without her, and I am just one of the many students here today who are better prepared to become PAs because of Janelle."  
Staff Award

 
Earlier this month, the class presented the Staff Award to Multimedia and User Services Specialist Mike Connery, BS. The award acknowledged Connery for his work in supporting the IT needs of 180 students, even when the problem was coffee on a keyboard. 
---
---