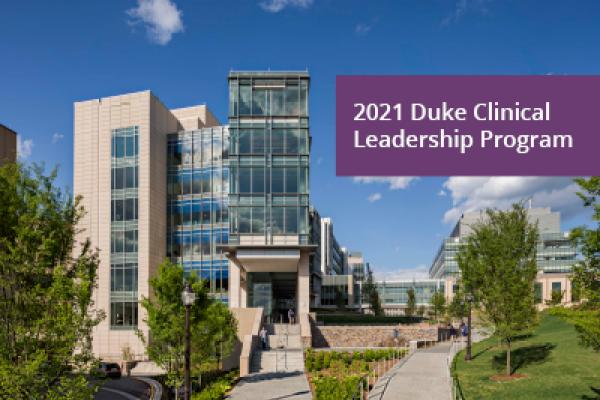 Congratulations to the 28 School of Medicine and Duke Health faculty who graduated from the 2021 Duke Clinical Leadership Program (DCLP) on 6/24/21!
DCLP was founded by the Chancellor for Health Affairs in 2010 to help expand leadership capacity within Duke Health. Program fellows participate in a 6-month curriculum designed to deepen awareness of healthcare operations and develop individual leadership skills.  The program is supported by the Chancellor Eugene Washington and run by the School of Medicine Office for Faculty. Due to the effects of COVID-19, the 2021 program was held remotely.
The Duke Clinical Leadership Program (DCLP) aims to increase leadership capacity within Duke Health. Participants:
Gain institutional knowledge to help them succeed in clinical leadership roles
Expand their awareness of clinical strategy and operations
Develop personal leadership skills 
Create a professional development plan by working with a certified executive coach
Improve team collaboration skills through high-impact institutional group projects
Connect with senior clinical leaders through networking and mentoring opportunities
Program fellows were assigned to one of four institutional projects sponsored by Duke Health leaders. Group work and project deliverables were evaluated by a selection committee and the highest rated team was presented with the annual Thomas Gorrie Clinical Leadership Impact Award.
The winning team's project focused on improving wayfinding at DUHS in order to enhance the patient experience.  Group members were Adam Devore, MD (Medicine), Jay Doss, MD (Medicine), Steve Melton, MD (Anesthesiology), Manisha Palta, MD (Radiation Oncology), Lisa Parnell, MD (Pediatrics), Tara Spector, MD (Medicine), and Julius Wilder, MD, PhD (Medicine).
The other project topics were:
Impact of Maestro Care Personalization on Provider Wellbeing
A Model for the Transition to Value Based Care
Implementation of a Mortality Prediction Tool
All participants presented their projects to health system leaders at the Graduation Celebration on June 24th and engaged in robust discussion of these topics.
2021 DCLP cohort:







See the DCLP cohort list here.
Applications for the 2022 Duke Clinical Leadership Program will open this fall. Visit the DCLP webpage for more information or contact the Office for Faculty at facdev@dm.duke.edu.
---