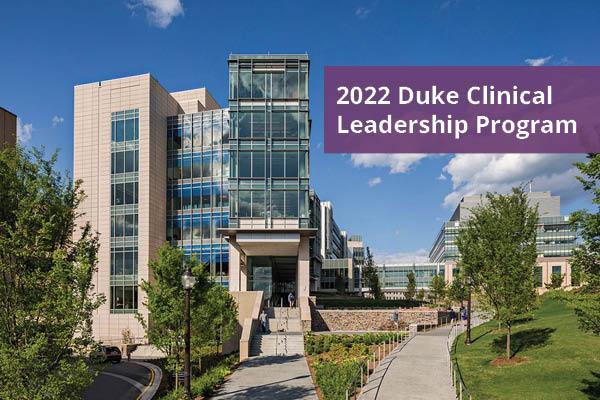 Congratulations to the 28 School of Medicine and Duke Health faculty who graduated from the 2022 Duke Clinical Leadership Program (DCLP) on 6/21/22!
DCLP was founded by the Chancellor for Health Affairs in 2010 to help expand leadership capacity within Duke Health. Program fellows participate in a 6-month curriculum designed to deepen awareness of healthcare operations and develop individual leadership skills. The program is supported by the Chancellor's office and run by the School of Medicine Office for Faculty.
In addition to a didactic curriculum, fellows engage in group projects that address current challenges within Duke Health. The Thomas M. Gorrie Clinical Leadership Impact Award recognizes the project team which best meets the project objectives of cultivating strategies for effective team management, engaging in a thorough and collaborative discovery process, and developing a plan to effectively move their project through a complex and matrixed organization while considering institutional goals such as equity, diversity, and inclusion. The 2022 winning project was "We Need Each Other: A Restorative Strategy for Shaping Duke Health's Workplace Culture." Please see below for the four teams' written reports.
All participants presented their projects to health system leaders at the Graduation Celebration on June 21st and engaged in robust discussion of these topics. Dean Mary Klotman spoke about this year's participants in the Message for Friday, June 24, 2022.
Congratulations to all the DCLP graduates!
---