Image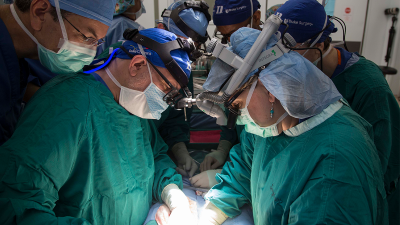 Young Lives Transformed by Groundbreaking Intestinal Transplants
Nine-year-old Hwee Suan, born with a faulty small intestine, endured a challenging journey from tube feeding and constant discomfort to a life-transforming intestinal transplant that involved a globe-spanning medical collaboration.  
The girl's path to recovery was forged in part by a master surgeon at the Duke University School of Medicine.  
Hwee could only swallow small sips of soup or little bites of dumpling at a time, and often the food would come right back up. The rest of the nutrition the growing child needed came through a feeding tube. 
While tube feeding—total parenteral nutrition—had kept her well enough to attend school, Hwee Suan still had to wear a colostomy bag and be ready to vomit the contents of her mostly empty stomach several times a day. 
Not only was this uncomfortable, it was an unsustainable path. Total parenteral nutrition puts a lot of wear and tear on the liver and Hwee Suan's was already showing signs of scarring. She was also running low on veins that could accept the needle for the procedure.  
Although intestinal transplants are quite rare, this little girl was going to need one to make it much further in life. 
Fortunately, a team of Singapore physicians had begun to develop a program in this rare and difficult surgery years before she needed it and had reached out to a Duke surgeon to help.  
Years of training, video conferences and rehearsals later, Hwee Suan and another nine-year-old girl have undergone successful transplantations performed by the multidisciplinary team, and both girls are doing well. 
Intensive Preparation 
The story begins in 2015, when clinical assistant professor Chiou Fang Kuan, MBBS from the SingHealth Duke-NUS Paediatrics Academic Clinical Programme, a gastroenterologist at KK Women's and Children's Hospital, and clinical associate professor Jeyaraj Prema Raj, MBBS, with the SingHealth Duke-NUS Surgery Academic Clinical Program (ACP), recognized a need to develop an intestinal transplant scheme.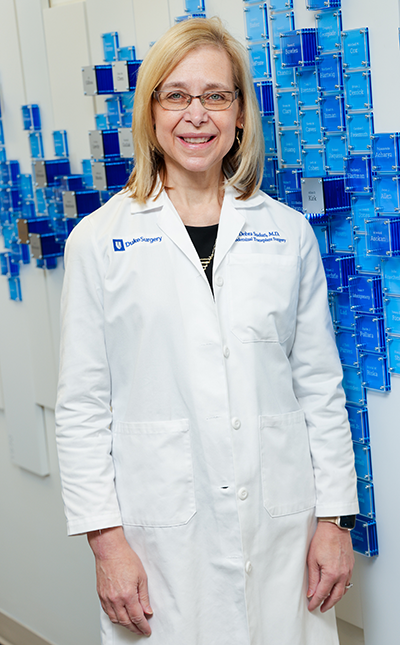 The Singapore doctors also connected with Debra Sudan, MD, professor of surgery and pediatrics at Duke, while she was presenting cases at a conference in Hong Kong.  
Being "in the neighborhood," she swung by the SingHealth Duke-NUS Academic Medical Centre to meet the team and talk about bowel transplants. Sudan, chief of the Division of Abdominal Transplant Surgery, had trained at the University of Nebraska and performed about 300 bowel transplants before coming to Duke, where she has done about 50 more transplants. 
She returned for a transplant symposium a couple of years later, and rounded with the team, meeting three or four young patients with short bowels who had been hospitalized for complications.  
"At the end of the day, I had given four or five talks," Sudan said while in her book-lined Duke office. "They made the most of my time there. We talked about intestinal failure, intestinal transplants, pediatric liver transplants, all kinds of things. 
"And I got to know Prema Raj, his team, and some of the pediatric surgeons." 
Raj's teammate and colleague from the SingHealth Duke-NUS Surgery ACP clinical associate professor Koh Ye Xin, MBBS also went to Britain for a year to work at Cambridge University Hospital, the world's leader in bowel transplants. 
In addition to training Kuan and Xin, the team spent a lot of time developing a protocol for bowel transplant care. 
"They ironed out exactly what would be in their protocol for preoperative evaluation and perioperative/postoperative management," Sudan said. "They were very organized and very meticulous about reviewing the published literature and consulting experts in the field to establish and subsequently in following their protocol." 
They identified a dietitian, pathologist, radiologist, anesthesia team members, and the entire GI team to be involved in the care of patients undergoing bowel transplants. The team also prepared by attending lectures from bowel transplant experts.  
"We discussed doing a bowel transplant in January of 2020, but sadly, that child died of sepsis before the date of her transplant," she added. 
Transplant Time 
Finally, in March of 2022 — after more than 10 rehearsal surgeries and approvals from the Singapore Ministry of Health — the team felt ready to attempt transplants. Unlike the British cases, where donor organs come from cadavers, both cases used a length of gut from the girls' fathers. 
The transplanted tissue is more than just a length of gut; it includes several other kinds of tissue, including the supportive blood vessels and a section of the superior mesenteric artery.  
Sudan sketches on a drawing of the digestive tract: a triangular piece of the small bowel and the arteries were harvested after the team carefully measured the entire length of the donor's gut to determine how much could be spared for Hwee Suan.  
"We measure 20 centimeters to leave the distal ileum in the father, and then we measure the entire length," said Sudan. "We don't want to take more than a third." In this case, the transplanted tissue was about 150 centimeters of the gut with its attached blood vessels in a web-like sheet.  
Koh removed the donor section of intestine from Hwee Suan's father, while Sudan was the lead surgeon for the transplant into Hwee Suan at KKH. Sudan stayed in Singapore for a week after Hwee Suan's surgery in early April to monitor recovery, manage complications, and teach the team what to watch for in the perioperative period.   
"Although it was a large commitment of time, I was happy to perform the implants for both of the bowels," Sudan said. "After these two successful transplants, we have talked about my returning perhaps one or two more times to assist Dr. Koh, who will do the next one."   
Watchful Waiting 
Rejection rates for transplanted intestines are much higher than for liver or other organs, and there is no reliable lab test to measure for rejection as there is for kidney or liver. A weekly biopsy through an ostomy is the only way to watch for trouble. But the doctors are watching their patients carefully. 
"The Singapore team has a good foundation," Sudan said. "They were really well prepared. I think that's why they were so successful, because, you know, just having me come over for a couple of weeks and help with the surgery doesn't make it a success." 
For now, Hwee Suan's small bowel still ends in a colostomy bag outside her abdomen, but if she can go about a year without any signs of organ rejection, the surgeons will do another procedure to connect it to her large intestine, and she can be just like any 10-year-old. 
---
Karl Leif Bates is the Director of Research Communications at Duke University. 
Main photo: (File photo) Surgeon Debra Sudan, MD, (at right, seen here doing a surgical procedure at Duke) traveled to Singapore to perform groundbreaking intestinal transplants.