Image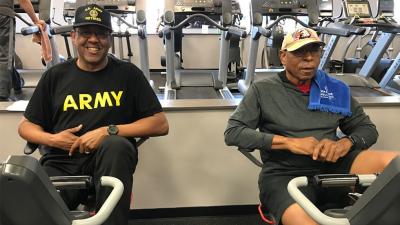 Mind, Body, and Soul: Warrior Wellness for Older Vets with PTSD
Katherine Hall remembers the moment she first knew she wanted to spend her career working with older veterans.
She had recently arrived in Durham to begin a postdoctoral fellowship at the Durham VA Medical Center after earning a PhD in kinesiology with a specialization in exercise psychology. At the time, her interest was in older people in general, not veterans in particular. But that soon changed.
"I remember distinctly going to my first Gerofit class and falling in love with this population," she says. Gerofit is a long-running supervised outpatient exercise program for older veterans run by Hall's postdoctoral advisor, Miriam Morey, professor of medicine in the Division of Geriatrics at Duke University School of Medicine.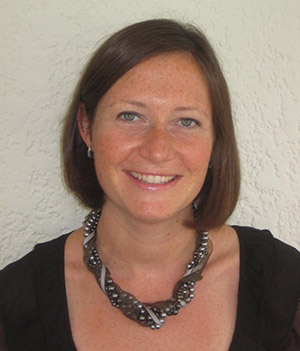 Ten years later, Hall, who is now an associate professor of medicine in the Division of Geriatrics at Duke and a researcher at the Durham VA Geriatric Research, Education, and Clinical Center, says, "I haven't found a more committed or generous group to work with. They are really motivated by the mission of giving back to following generations."
Today Hall is pioneering a new area of research: using supervised exercise to reduce the symptoms of PTSD (post-traumatic stress disorder) in older vets. Up to 30% of veterans have PTSD, but many interventions focus on younger veterans. Older veterans with PTSD may have suffered for decades with little support. PTSD was not even an official diagnosis until 1980, five years after the Vietnam War ended.
Hall recently completed a pilot study called Warrior Wellness, in which participants followed an "exercise prescription" in a gym three times a week, with Hall supervising. Her vision is that a tailored and compassionate supervised exercise program can improve both physical functioning and PTSD symptoms.
"It's two birds and one stone," she says. "Initially, my primary motivation was—and still is—to address those functional deficits, but I always think of multiple benefits of exercise, both above and below the neck: self-esteem, happiness, quality of life, body image, anxiety."
The results of the pilot show that the strategy has promise.
One of the participants in Warrior Wellness, James Richmond, who is a veteran of the U.S. Air Force, will attest to that. "To think of where I was and where I am now!" he marvels. "The transformation has been nothing short of amazing."
Richmond didn't want to participate in Warrior Wellness at first. "I was not interested," he says. "I came in here with a lot of doubt and anxiety. I thought, 'I don't know if I want to do this.' I didn't do well in crowds."
At the time, he felt he was declining and would continue to do so. He had so much trouble with the stairs at home he was considering moving his bedroom downstairs. He knew he needed to exercise, but wasn't sure how to get started.
After his initial hesitation, he decided to give the program a try. "They were able to assure me, 'It's going to be fun and you can do it,'" he says.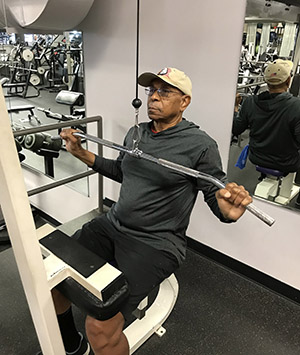 Although Richmond missed a few sessions early on, the positive atmosphere kept him coming back. "They showed me how to use the equipment," he says. "They instilled a certain level of confidence that I was not old and worn out. They'd say, 'You're stronger than you look.' I began to buy into that. I began to get some alleviation of anxiety. I thought, 'Maybe I'll just keep coming.'"
As the program progressed, he noticed the stairs at home were getting easier. At the gym, he began interacting with the other participants instead of keeping to himself as he had at first. "It helped me not only physically but emotionally and even my communication," he says. "I've been able to learn how to communicate and socialize."
Avoidance and social isolation are common symptoms of PTSD, as are intrusive memories and flashbacks, hyper-vigilance and hyper-arousal, and negative feelings such as hopelessness and numbness.
Using exercise to treat PTSD might seem like an unexpected strategy, especially considering that Warrior Wellness doesn't include talk therapy. But Hall says older vets are not as likely as younger ones to participate in psychotherapy. And exercise has been shown to have beneficial effects on mental health issues like depression and anxiety.
Besides, older vets with PTSD often desperately need to improve their physical fitness. PTSD is a chronic condition that negatively impacts many other health conditions, from heart disease to diabetes. In an earlier study, Hall showed that vets with PTSD were aging faster than their compatriots. "Compared to age-matched vets without PTSD," she says, "they were functioning at a much lower level, with loss of lower-body strength and endurance."
As a group, the 36 participants in Warrior Wellness showed gains in physical fitness, including aerobic endurance and strength, and emotional measures, including PTSD symptoms, sleep, and quality of life. In fact, 93% reported improvements in their mental health.
"Exercise in and of itself is unlikely to be the panacea for PTSD," Hall says, "but they are seeing changes in domains of their lives that are salient for them. We're helping them live a more socially connected life and they are seeing improvements that are clinical and personally meaningful."
The pilot—designed to test feasibility—was too small to definitively prove efficacy, but Hall has received funding from the Department of Veteran Affairs for a larger version of Warrior Wellness to begin next fall. It will enroll approximately 200 participants and last for six months. "Seeing the physical and social transformation of these veterans over the course of the pilot was inspiring and is the fuel for me to continue this line of research," she says. "The new study will allow us to get numbers that we need to test the effects on PTSD and physical function in older vets."
The pilot project lasted 12 weeks and consisted of a routine of hand weights, stretching exercises, and cardiovascular activity that was customized for each participant based on initial physical assessments.
Hall located the program in a local gym instead of the VA hospital for two reasons: to evoke ideas of health and wellness rather than disease and treatment, and to foster growth by gently challenging the participants. "One of the interesting features of PTSD is this overwhelming desire and urge to avoid social situations and unknown situations," she says. "Supervised exercise provides a way to turn that on its head and force people to get out in society and come into an environment where they can't control the sights and sounds of people."
To help reduce PTSD triggers, Hall conducted Warrior Wellness in "the pit," a recessed area of the gym somewhat removed from the general hubbub. Three mornings a week, Hall and another exercise physiologist would be at the gym to encourage and guide the participants, who exercised in the same space and at the same time, but at their own pace.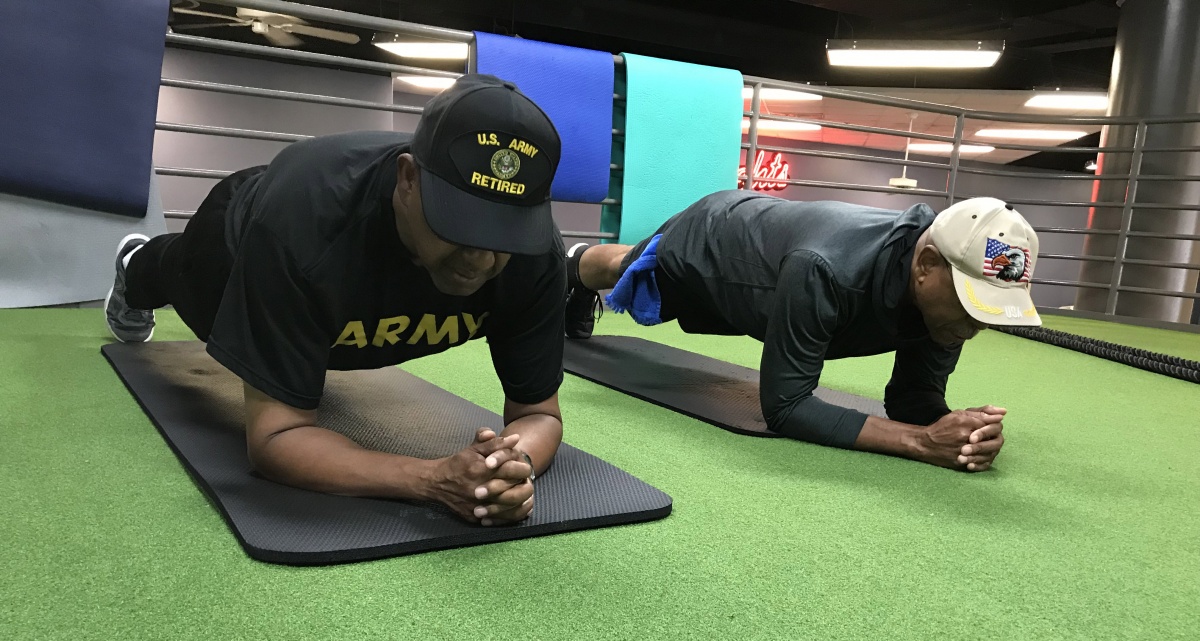 At the outset of the program, Hall discussed potential stumbling blocks and solutions with each participant individually, including strategies for coping with general barriers, like being too depressed to leave the house, and specific PTSD triggers,like the sudden noise of weights being dropped or obstructed views in the building. She also educated the other trainers to be mindful of potential triggers.
Hall says older vets with PTSD have unique needs and challenges, and she designed Warrior Wellness to address those. "One size fits all wouldn't work with this group," she says.
For a program intended to reduce PTSD symptoms, it's notable that PTSD was not an ongoing topic of conversation. In fact, some of the vets were up front in saying they wouldn't participate if they had to talk about their trauma beyond the initial discussions of triggers and coping strategies.
In "the pit," Hall and the other trainers kept their talk focused on the task at hand: explaining how to do the exercises, encouraging participants to push themselves physically, and praising progress. At first, the participants themselves didn't talk much at all, but after a few weeks they began greeting each other, exchanging fist bumps, and engaging in good-natured ribbing. Hall says these kinds of seemingly superficial interactions can be deeply meaningful to people who have been socially isolated for decades.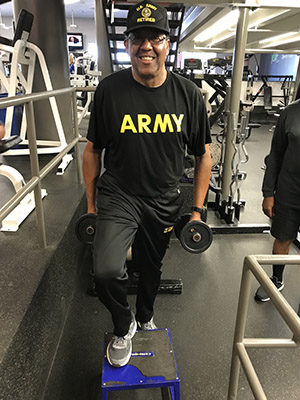 Retired U.S. Army Colonel Larry Campbell, describes the feeling: "The other people in the program, when you see them you realize you are not alone. Other people are going through the same things you are. I met one World War II vet, he's 90 years old, and he comes to the gym. He's my inspiration. Every time he looks at me, he smiles. It makes me feel good and makes him feel good. It's little things like that—that spirit, that positive reinforcement, seeing everybody talking and doing their exercises. You can feel it."
Campbell believes the emotional and physical benefits of Warrior Wellness are intertwined. "Your mind, body, and soul are all working together," he says. "Building up your muscles and trying to stretch yourself to go beyond what you're doing affects your mind and brain and everything else along the way."
After Warrior Wellness ended, both Richmond and Campbell transitioned into Gerofit, an ongoing program that takes place in the same gym, but with more attendees, less one-on-one support, and more commotion.
Richmond says he wouldn't have been ready to join Gerofit without going through Warrior Wellness first. "Before [Warrior Wellness], I would have my back to the wall. I couldn't stand someone being behind me, and I couldn't stand all this," he says, referring to the busy-ness of the gym. "I'm able to acclimate and adjust [now]. I've realized I'm not in the battle zone anymore."
Mary-Russell Roberson is a freelance writer in Durham. She covers the geriatrics and aging beat for the Department of Medicine in the Duke University School of Medicine. Photos courtesy of Dr. Katherine Hall.