Image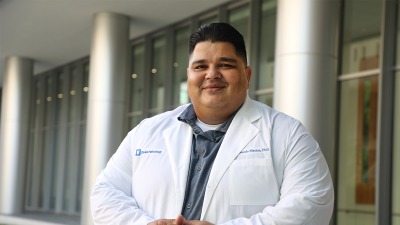 From Migrant Farm Worker to Duke Scientist, Everardo Macias Tackles Prostate Cancer 
Everardo Macias, PhD, assistant professor of pathology at Duke University School of Medicine, explores the complexities of prostate cancer, the second leading cause of cancer death in men.   
His quest to find innovative cancer treatments mirrors his own incredible journey – from a migrant farm worker to a groundbreaking scientist.  
Years ago, the future he envisioned for himself was entirely different. A first-generation high school graduate working in the fields of Minnesota as a migrant farm worker, he never even planned to go to college.   
Today he leads cutting-edge research, using human cancer genetics and advanced gene testing, to tackle one of prostate cancer's trickiest players: cancer cells that dodge usual treatments. In lab studies, his method of targeting a protein called NUAK2 successfully slowed down the lethal spread of these cells.
Although still in its preliminary stages, with one in eight men facing prostate cancer in their lifetime, every breakthrough counts.   
"It still baffles me how traveling in the back of a pickup truck one summer in high school got me all the way to Duke," said Macias, a member of the Duke Cancer Institute and an assistant research professor in the Department of Cell Biology.   
A harrowing ride across the country, inadvertently set him on a course for higher education and a career in science.
Beyond academia, he celebrates his roots with a renowned food truck, Evelyn's Tex Mex BBQ, named after his daughter and operated with wife Lucia Collado and stepson Frank. ("Smoking good food with a little bit Tex, y un poco de Mex.")
"As a Hispanic of Mexican American descent with roots in a small Texas town, my journey to becoming an independent investigator has been enriched tremendously by great mentorship and programs geared toward increasing diversity in biomedical research." 
His career researching druggable targets for prostate cancer illustrates the power of education and mentorship. 
Long Truck Ride Leads to Duke   
As a child, Macias moved back and forth between the United States and Aguascalientes, Mexico. But after his parents separated, he and his four siblings settled with their mother in Sabinal, a small town in Southwest Texas.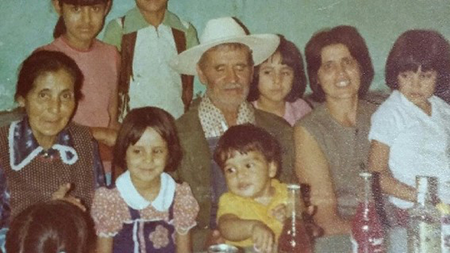 In the summer prior to his senior year in high school, Macias traveled to northern Minnesota in the back of a pickup truck for three days with another family to work as a migrant farm worker on sugar beet farms.   
Although it was far from home and the work was back-breaking, the pay was better than working on local farms in Texas. For decades, a predominantly Mexican workforce has migrated around the United States, harvesting the country's food.   
The jobs can offer government-backed benefits to address job training and seasonal unemployment, but it's a way of life that's rife with labor rights violations, poor housing, and financial instability.  
When he returned for senior year, his guidance counselor mentioned an opportunity in Austin, Texas, at St. Edwards University: a College Assistance Migrant Program (CAMP) Scholarship that would pay for the first year of college.    
At the time, he wanted to be an accountant, but when he started taking general chemistry and science classes, his professors said he had a knack for it.     
"Although I worked on farms in Mexico and Texas, I only worked one summer as a true migrant farm worker. When I met other students in the CAMP program who were bona-fide migrant farm workers for as long as they could remember, they told stories of what they went through and how much work and suffering it took. I knew I couldn't squander the opportunity," Macias said.    
As an undergraduate at St. Edwards, he held summer internships at Monsanto, the St. Louis-based manufacturer of agricultural and biochemical products.  
"I realized that my life had taken a 180-degree turn, that I was now conducting research on transgenic seed varieties for a company whose products I was working with in fields just three years before," he said. "It hit me how powerful higher education is. It was an 'ah-ha' moment for me."    
He earned a Bachelor of Science degree in chemistry from St. Edwards, but graduate school wasn't on the radar for Macias until his advisors recommended it. He would eventually earn a PhD in comparative biomedical sciences from North Carolina State University.   
After refining his expertise during postdoctoral fellowships at the University of North Carolina at Chapel Hill and the University of Texas-Austin, he made a significant transition, trading his Tar Heel blue for the Blue Devil spirit.   
From 2013-2015, he served as a project scientist in the Department of Surgery at Duke. After a stint as an assistant professor at Cedars-Sinai in Los Angeles in 2015, he rejoined Duke in 2018 as a cancer researcher. 
"Everardo is working at the cutting edge of prostate cancer research," said Jiaoti Huang, MD, PhD, professor and chair of the Duke Department of Pathology and member of the Duke Cancer Institute who collaborates with Macias. 
His trajectory "demonstrates his personal quality, perseverance, determination, and the opportunities this great country affords people of different backgrounds. His story is an inspiration to us all."   
Tackling the Neuroendocrine Challenge  
From diagnosis to treatment, the prostate cancer journey is fraught with challenges, chief among them is the task of distinguishing between deadly and less severe cases. 
Very rarely, prostate cancer starts in neuroendocrine cells. Some prostate cancers become resistant to treatment and turn into neuroendocrine tumors, which are more aggressive and have a poorer outlook.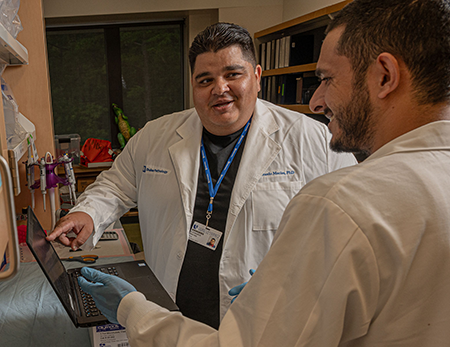 In 2022, Macias earned a Department of Defense Prostate Cancer Research Program (PCRP) Idea Development Award to pursue new treatments for neuroendocrine tumors. The DOD recently committed to funding Macias' research for three more years.   
He's principal investigator of the DOD grant that includes Huang and co-investigators, Ming Chen, PhD, associate professor in pathology; and Jung Wook Park, PhD, assistant professor of pathology.   
Macias' lab delves into the genetics behind tumor growth, focusing on targets with tangible clinical implications. Through functional genomic screens, he has identified lesser-known protein kinases that are critical to prostate cancer tumor growth. Kinases are high-value targets because they are potentially susceptible to drug treatments.  
In lab experiments, Macias and colleagues discovered that blocking NUAK2, a protein kinase prevalent in prostate cancer cells, curtailed neuroendocrine tumor cell growth.  
"In human cancer samples, NUAK2 gene levels were found to be highest in the lethal neuroendocrine prostate cancer subtype," Macias said. "NUAK2 may be a key factor in taking on these tough tumors."  
Using his research as a starting point, he collaborates with medicinal chemists and structural biologists to pinpoint pharmacological molecules in cancer cells to target with medicines, aiming for an approach that could save lives from prostate cancer.  
Mentoring Tomorrow's Scientists  
In a career backed by major grants and teamwork with top-notch scientists, he ranks mentoring his first graduate student, Amelia Schirmer, PhD, a skilled cancer researcher, as one of his proudest achievements.  
"He took a chance on me as his first student," said Schirmer who credits Macias for a productive graduate experience at Duke. "I learned a lot and I will always be grateful for Dr. Macias and his mentorship."
Macias is one of nearly 40 Duke faculty mentors in the Duke Preparing Research Scholars in Biomedical Sciences Post-Baccalaureate Research Education Program (PRIME-PREP).
READ MORE: Duke University PRIME-PREP
Additionally, Macias has mentored two undergraduate Duke University students who graduated with first-author publications. The students, Peter Nam and Megan Zhao, are now applying to medical school. 
"When I joined the Macias lab, I had little idea of what research entailed, (but) Dr. Macias took me under his wing and showed me all that it could be," Zhao said. 
"He readily spent hours each week sitting with me, drawing diagrams and explaining figures," she said. "Not only did he take the time to explain the purpose of each experiment we were doing, but he also trusted me to explore on my own, whether through designing next steps or troubleshooting new lab protocols." 
Under his direction, Zhao went from washing glassware and taking inventory to conducting mouse studies and presenting at conferences.  
"Beyond the tangibles of posters and papers, Dr. Macias taught me that research comes to life in the form of a compelling story," she said. "Along the way, he gave me the courage to tell my story as I work towards my dream of becoming a clinician." 
The experience of working in the Macias lab for three years was just as enriching for Nam, who said "Dr. Macias went out of his way to make me feel like a valued part of the research group. He ensured that I had meaningful experiences that supported my career path, from experiment design to manuscript preparation."
Macias said he has a deep commitment to mentoring aspiring researchers, especially from rural and underrepresented backgrounds, and he's actively involved in graduate admissions, summer research programs, and lab mentoring.
"I believe it's as simple as having a mentor of similar heritage, or who may have had a comparable upbringing as you, to make seeking guidance in academia much more approachable," he said. 
---
Jamie Botta is a communications strategist for the Department of Pathology at the Duke University School of Medicine.     
Photos by Jim Rogalski and Steve Conlon.   
Main Photo: Everardo Machias, PhD, assistant professor in the Department of Pathology, assistant research professor in the Department of Cell Biology, and a member of the Duke Cancer Institute.