Image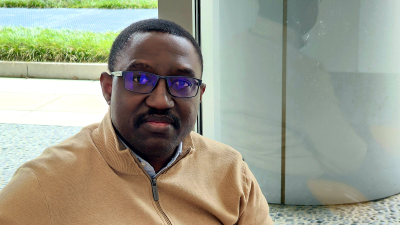 Improving Suicide Prevention Among Head and Neck Cancer Patients 
In 2013, shortly after Nosayaba Osazuwa-Peters, PhD, MPH, BDS, had begun work on his doctorate degree in cancer epidemiology at St. Louis University, he gave a talk to a support group for patients with head and neck cancer. He drew on his experience as a dental surgeon in his home country of Nigeria to speak about managing side effects of head and neck cancer treatment, such as dry mouth and tissue damage from radiation.  
Afterward a patient approached him, thanked him for the talk, and said, "Doc, do you know how it feels when everything you eat tastes like cardboard?"  
Osazuwa-Peters had not heard it put that way before. 
Another patient at the talk said to him, "Every night I go to bed, and I just pray I don't wake up in the morning." 
As he continued to talk to these patients, it struck him that "this is the reality of a patient with head and neck cancer." Treatment often involves surgery and radiation that makes daily activities painful or difficult.  
"Their food doesn't taste well, they can't swallow, they can't chew properly, they can't speak properly, they can't smile properly," he said. "We take for granted how important these things are. But most of the things that we do as humans, our social selves, revolve around talking or eating."   
Those conversations brought about "a moment of shock and clarity" for Osazuwa-Peters. "I was telling myself, 'How did I not see this?' I could see on these patients' faces how much it meant to them to share this information."   
So, he asked them, "Have you ever had this conversation with your providers?" 
The answer was no.  
For his PhD dissertation, Osazuwa-Peters had been planning to focus on the epidemiology of the human papillomavirus (HPV), which is associated with cancers that develop in the throat; the HPV vaccine; and head and neck cancer, a topic he had studied while earning his master's degree in public health. But after his conversations with those patients, he changed his focus to the epidemiology of suicide among head and neck cancer survivors. 
"I saw a group of people who were willing to talk to me for whatever reason, but they hadn't had this kind of conversation with their providers," he said. "We need to mainstream these kinds of conversations. I have been working on this ever since."  
Osazuwa-Peters, who is known as Dr. Nosa Peters or just Nosa to most of his colleagues, is now an associate professor in the Department of Head and Neck Surgery & Communication Sciences in the Duke University School of Medicine. With funding from a National Institutes of Health training grant, he is conducting a three-part study to assess suicide risk among these patients at Duke, with the goal of implementing a systematic suicide screening process in the head and neck cancer clinic and ultimately across all cancer sites.  
Alarming suicide risk  
In 2018, a few years after Osazuwa-Peters changed his focus, while he was an assistant professor of otolaryngology at St Louis University, he and colleagues examined suicide rates among cancer survivors using the National Cancer Institute's Surveillance, Epidemiology, and End Results (SEER) database.  
They found that patients with head and neck cancer were two times as likely to die by suicide as patients with other types of cancers. "Then when we compared it to the general United States population, we saw numbers that were almost four times that of the U.S. population," he said.  
That study, published in 2018 in the journal Cancer, "solidified my interest in this topic and my desire to keep investigating it," he said.  
Recently, he and colleagues at Stanford University published a study in JAMA Otolaryngology Head and Neck Surgery that showed suicide risk is similar among patients with HPV-positive head and neck cancer and those with HPV-negative cancer, despite differences in prognosis. This study points to the need for mental health interventions among all patients with head and neck cancer, he said.  
With his current training grant, Osazuwa-Peters is interviewing head and neck cancer surgeons, radiation oncologists, medical oncologists, nurses, and advanced practice providers to document their experiences with patients having distress or thoughts of suicide. "I want to establish a baseline from the provider perspective," he said. 
Next, he will interview patients with head and neck cancer about their experiences when they were under stress or felt depressed after their diagnosis or during their care. Then he will administer a specific screening tool — the Columbia Suicide Severity Rating Scale — to 250 patients. This scale is "very highly regarded in the suicide screening space, but it's not mainstreamed in oncology," Osazuwa-Peters said. "Our clinical providers may not have the tools they need to discuss the topic." 
Dispelling a Common Myth 
After patients take the screening assessment, Osazuwa-Peters will conduct second interviews with a smaller group of 30 patients, to find out how the screening made them feel.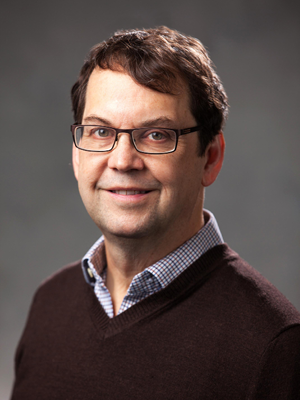 Medical providers may feel reluctant to ask about suicidal thoughts for various reasons, including a myth that asking the question may cause stress for the patient or somehow plant the idea, said David Goldston, PhD, an associate professor in Duke's Department of Psychiatry and Behavioral Sciences and a mentor on Osazuwa-Peters' training grant.  
There have been multiple studies assessing the effects of suicide screening, Goldston said.  
"There's no evidence that asking about suicide makes things worse. But people who are thinking about it can feel very heard and validated if somebody's actually asking that question. The fact that someone is asking means that somebody really understands the distress that they're experiencing and are trying to really understand where they're coming from."  
"Nosa is a leader in this area and in trying to draw attention to the risk for suicidal behavior and mental health needs of individuals who have survived head and neck cancer," Goldston said.  
Osazuwa-Peters contacted Goldston before he arrived at Duke to talk about possible collaborations. He found him through the website of the Duke Center for the Study of Suicide Prevention and Intervention, which brings together people to partner on research to better understand and prevent suicidal behavior.   
Duke Cancer Institute is well known for its Supportive Care and Survivorship Center. Cheyenne Corbett, PhD, LMFT, co-director of the center, has been a champion of this project since Osazuwa-Peters first talked to her, he said.  
"When I was scouring Duke looking for a social worker who would be available should anybody express distress during my screenings, Cheyenne just said, 'Put my name there.' She has been absolutely amazing," Osazuwa-Peters said. 
Walter Lee, MD, MS, chief for the Division of Head and Neck Surgical Oncology, has been extremely supportive as well and serves as a mentor on the training grant, Osazuwa-Peters said.  
As a young dentist, Osazuwa-Peters had conducted some public health research, but he decided to pursue it more in depth after his move to the United States. His wife was pursuing a PhD in biology at the University of Missouri-St. Louis. But there wasn't a dental school in St. Louis.  
"If you are not trained in the U.S. or Canada, when you come to the U.S. you have to go back to dental school. I didn't want to split up the family, so I made a decision to go into public health," he said. "Even though I don't practice as a dentist right now, my work continues to take me closer and closer to these patients that I have treated and that I care about a lot."  
---
Angela Spivey is a senior science writer and managing editor for the School of Medicine's Office of Strategic Communications.   
Main Photo Nosayaba Osazuwa-Peters, PhD, MPH, BDS, associate professor of head and neck surgery & communication sciences, assistant professor of population health sciences, and member of the Duke Cancer Institute.