Image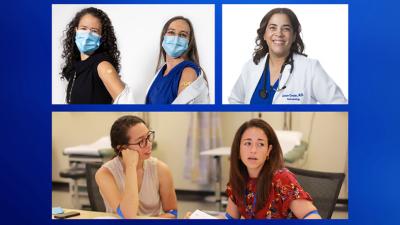 Duke Faculty Fight for Latinx Communities Hit Hard by COVID-19
The COVID-19 pandemic has wreaked havoc in every part of American life, but it has taken a disproportionately heavy toll on people of color, including the Latinx community. By June 2020, Latinx people in North Carolina accounted for more than 40 percent of the state's cases, despite comprising just 10 percent of the population, and they continue to be over-represented at the start of 2021, accounting for 23 percent of new cases, according to the North Carolina Department of Health and Human Services.
Last March, concerned local physicians, nurses, researchers, educators, and community advocates formed a group—"Latinx Advocacy Team & Interdisciplinary Network for COVID-19," or simply LATIN-19—to address these disparities and support the Latinx community.
A diverse team has driven LATIN-19 from the beginning, including four Duke faculty members: Dr. Viviana Martinez-Bianchi, Dr. Gabriela Maradiaga Panayotti, Dr. Leonor Corsino, and Dr. Rosa Gonzalez-Guarda. They are swift to point out that many others from inside and outside of Duke have been vital leaders and contributors. "LATIN-19 exists not just because of our efforts," says Martinez-Bianchi. "We would not be successful without our colleagues and the community, without the people who show up at our meetings each Wednesday."
The group has been meeting weekly ever since March, with an average attendance between 70-100, hearing from the community about their lived experience with the pandemic and drawing on their collective knowledge, energy, and influence to create change.
Among other accomplishments, LATIN-19 encouraged the state of North Carolina to distribute coronavirus information in Spanish, alerted health officials to a lack of accessible testing sites in Durham and has built an online forum for community members to safely and frankly express their concerns. LATIN-19's multi-sector, interdisciplinary collaboration is now seen as a model to replicate around the country, according to Martinez-Bianchi.
Meet four Duke faculty members who have been instrumental in this effort as they talk about how their backgrounds, expertise, and passions positioned them to fight for Latinx health equity in a time of crisis.
Activism Through Medicine: Viviana Martinez-Bianchi, MD, FAAFP
Associate Professor of Family Medicine & Community Health, Duke University School of Medicine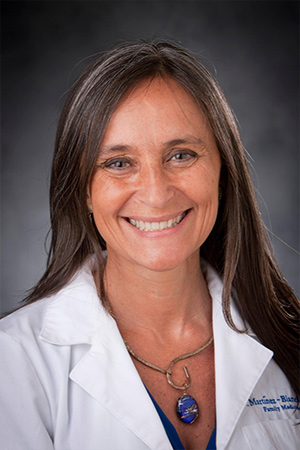 Viviana Martinez-Bianchi's father was a vascular surgeon, not a primary care physician, but he still took his doctor's bag with him wherever he went, tending to people in need. When their family went sailing on the river near their home in Argentina, local fishermen would often paddle out to ask for his help with ailments and injuries.
"He taught me that you have to take care of your people," she says, "and no matter your specialty, you should never forget your primary care skills."
Her mother, a biochemist, volunteered her time in the public hospital system.
Martinez-Bianchi grew up amidst upheaval in Argentinian society: When she was 11 years old, a military coup ousted the Perón government and installed a dictatorship. Under a regime that suppressed political dissent, her parents' doctoring to the poor was a small but meaningful subversive act. Martinez-Bianchi has carried on their values in her own way: "My activism has been through medicine at local, national, and international levels, not partisan politics."
As a teenager she participated in a hunger strike to protest the dictatorship's restrictions on medical school admission, which resulted in a shortage of doctors and limited healthcare access. Finally admitted to medical school at the National University of Rosario, she battled an entrenched culture of sexism, and remembers some professors creating a hostile environment for her and other women. Upon coming to the United States in 1990, she says she felt respected as a physician and colleague for the first time, and fell in love with Family Medicine.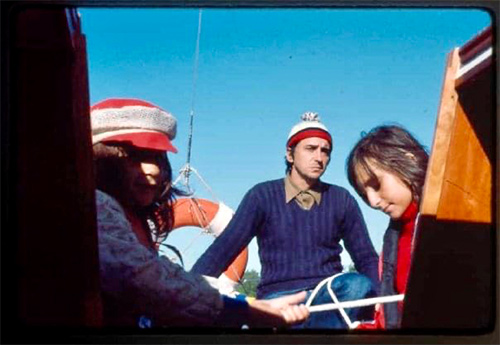 "I couldn't imagine not practicing Family Medicine," she says. "I love taking care of families, and I'm so proud of my colleagues. They're the ones taking the pulse of their communities and making a positive difference. Family Medicine is my vehicle for social justice."
Martinez-Bianchi is highly attuned to the needs of people who live in what she calls the "interstitial spaces" of our society, performing vital work that often goes unnoticed. She recalls going out to dinner with a group of doctors in Illinois who told her sincerely that they didn't have Spanish-speaking patients in their community—meanwhile, she could hear torrents of Spanish conversation from the restaurant's kitchen.
Just as the space between tissues in the human body allows circulation, Martinez-Bianchi has long felt that Hispanic and Latinx people occupying these "interstitial spaces" are crucial to the functioning of the country. The COVID-19 pandemic proved her right, as the nation became utterly dependent on essential workers in the healthcare, agriculture, manufacturing, and service industries, who have in turn been exposed to the virus at disproportionately high rates.
Martinez-Bianchi and other clinicians foresaw how hard the pandemic would hit the Hispanic and Latinx communities. In May, as infection rates soared and their fears became real, she and several of her colleagues sent a letter to Mandy Cohen, MD, MPH, secretary of North Carolina's Department of of Health and Human Services, expressing their concern about a lack of information flow to those communities, highlighted by a complete absence of COVID-19 briefings or literature in Spanish.
Secretary Cohen responded swiftly, arranging a call with LATIN-19 by the end of the week. In June, Martinez-Bianchi became an advisor to the state, including giving televised briefings in Spanish. "My patients and community told me so much about what was going on," she says. "They have expertise and ideas on how to manage the problem. This time the decision-makers noticed."
"My patients and community told me so much about what was going on," she says. "They have expertise and ideas on how to manage the problem. This time the decision-makers noticed."
That kind of community-engaged, multi-level collaboration is at the heart of LATIN-19. "We're solving problems together with the community. The pandemic showed the patterns that aren't inclusive of historically marginalized communities. We need to use a health equity lens with all of our decisions."
A Spirit of Service: Leonor Corsino, MD, MHS
Associate Professor of Medicine and Associate Dean of Student Affairs, Duke University School of Medicine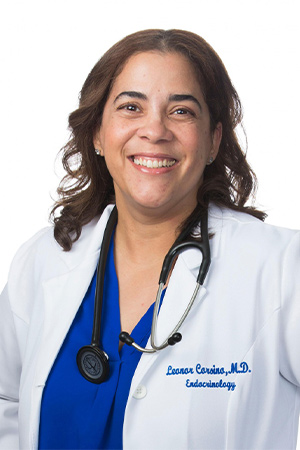 "I was always that kid playing doctor," says Leonor Corsino. "As early as I can remember, I wanted to do this."
The year that Corsino was born, her father was diagnosed with diabetes. Her earliest memories are colored by his battle with that disease, an experience that shaped the direction of her entire life.
"My main motivation for becoming an endocrinologist was working with people with diabetes," she says, though her professional portfolio has grown to include that and much more.
In addition to a fascination with medicine, her parents helped instill a powerful sense of civic duty. They were active in their community, and her mother funded an organization that provided legal aid to incarcerated people. She sums up their lessons with a proverb from the Bible: "To whom much is given, much will be required."
Corsino, born and raised in the Dominican Republic, came to the United States in 2002 after earning her medical degree in her home country. Under the mentorship of Dr. John Flack at Wayne State University, she got involved with research on health disparities affecting the African-American and Latinx communities in Detroit, sparking an interest that was in keeping with her family's spirit of service.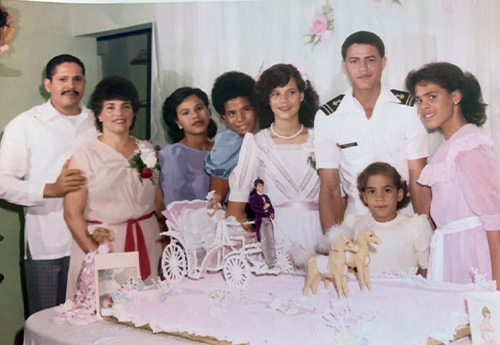 She brought that interest with her to Duke in 2006, and has helped drive a growing culture of community-engaged research and Latinx representation. She founded the Latino Faculty Group at the Duke School of Medicine, has served as the advisor to the Latino Medical Student Association since 2009, and is deeply involved in community-engaged initiatives such as Durham Health Innovations and Project Access of Durham County.
"Now there are more people like Rosa [Gonzalez-Guarda] doing studies with high enrollment in the Latinx community."
Asked if anything about the effect of the COVID-19 pandemic on the Latinx community has surprised her, Corsino says, "Unfortunately, no. Existing disparities have become more obvious."
The blessing in disguise, however, is that crisis has finally spurred action on longstanding issues. "We've accomplished a lot, things we've been fighting for since I came to North Carolina."
Looking to the future, Corsino, like Martinez-Bianchi, says the pandemic has highlighted how essential Latinx communities are to keeping the nation running, and she wants a fundamental shift in how they are viewed.
"What I want to see is that people recognize the tremendous contribution Latinos make to this country. I want people to see us as an integral, critical part of the United States, not a burden."
"What I want to see is that people recognize the tremendous contribution Latinos make to this country. I want people to see us as an integral, critical part of the United States, not a burden."
Living an American Dream: Rosa Gonzalez-Guarda, PhD, MPH, RN, CPH, FAAN
Dorothy L. Powell Term Chair of Nursing, Duke University School of Nursing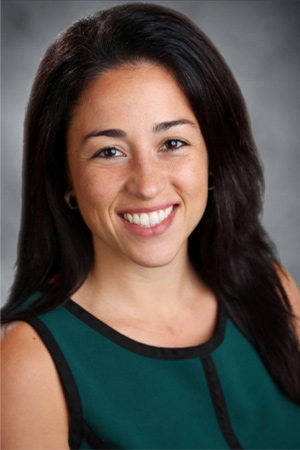 Rosa Gonzalez-Guarda hails from Miami, Florida, where she was raised in a Cuban-American cultural enclave. "I grew up as a majority in my community," she says, adding that Spanish is her first language.
Her parents, Cuban immigrants, came to the United States with very little, but built a family business making tools to detect counterfeit money. (As a child, she helped her father craft fraudulent-bill-detecting pens out of iodine and old highlighters.) "In a way," she says, "we lived the American dream."
Socio-economic stability opened doors for Gonzalez-Guarda to chart her own course. On a high school volunteer trip to the Dominican Republic, she saw the work that public health nurses were doing with Haitian immigrants in that country, where they often work as seasonal labor.
Wanting to address social injustices like those she'd witnessed among Haitians in the Dominican Republic, Gonzalez-Guarda went on to study at the Georgetown School of Nursing in Washington, D.C., which had an international health program. "I thought I needed to do health equity work internationally," she says.
But once she started working with Latinx communities in the D.C. area, she realized that massive health inequality could be found closer to home, and that in some cases "it seemed even more unjust [in the United States]."
Later, while Gonzalez-Guarda was studying at Johns Hopkins University Medical School, there was a syphilis outbreak in the Baltimore Latinx community. She dove into the literature to look for answers, only to find that there was no literature specific to that community. "I was appalled…there was so little research to base interventions on."
This observation ultimately drove her to become a nurse-scientist, so she could work on developing the evidence base for promoting health equity in the Latinx community.
At Duke she found an opportunity to enhance her research on health disparities in a more research-intensive environment. "The Latinx community in Durham is a relatively recent immigrant group, so there's lots of opportunity to do this kind of work," she says.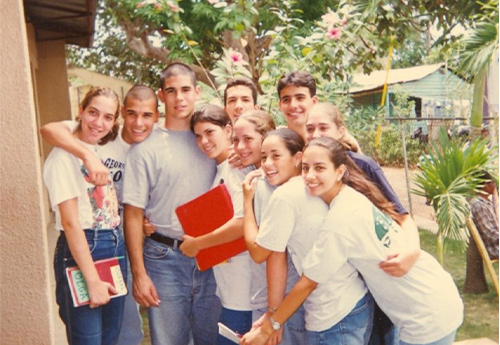 Gonzalez-Guarda was a natural fit to be part of LATIN-19, which she describes as "a diverse group of people that care."
The network involves not only healthcare providers and researchers, but faith leaders, community activists, government, entrepreneurs, and everyday people. The ability for these diverse stakeholders to listen to those most affected by the pandemic is the reason LATIN-19 has been able to make a difference, she says.
"It's about the lived experience of the community, the conditions where people live, work, and play. Often, solutions exist within communities, we just don't know about them and we're not supporting them. To really drive change we need the engagement of all those systems, formal and informal."
"It's about the lived experience of the community, the conditions where people live, work, and play. Often, solutions exist within communities, we just don't know about them and we're not supporting them. To really drive change we need the engagement of all those systems, formal and informal."
A Special Breed of Doctor: Gabriela Maradiaga Panayotti, MD
Associate Professor of Pediatrics, Duke University School of Medicine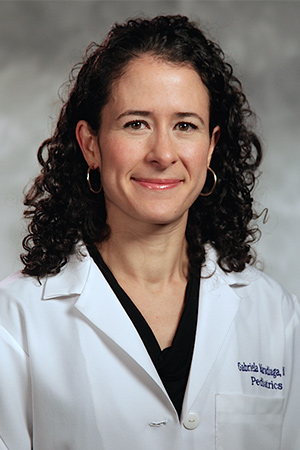 Gabriela Maradiaga Panayotti was born in Honduras, and grew up there and in other countries in Latin America, including Guatemala and Puerto Rico. She says extreme poverty was "obvious to me even as a little girl," and recalls seeing volunteer healthcare workers on the ground in nearby communities.
"Medicine was always a smoldering thought in my mind," she explains, but it wasn't until she came to the U.S. for college that the idea really caught fire. While a student, she volunteered as a Spanish-language medical interpreter in a hospital. It was an experience that opened her eyes to the great opportunities—and awesome responsibilities—of being a physician.
"Nobody really knows what it's like to be a doctor until you're in it," she says. "I was very humbled that you can jump into people's very private, personal issues."
Maradiaga discovered her true passion in working with infants, young kids, and their families. She spent years as the medical director of Duke's newborn nurseries. As a pediatrician she says she's part of a "special breed" of doctor.
"Kids are the best. They're honest, and they're very real. As doctors, we can't take ourselves too seriously."
"Kids are the best. They're honest, and they're very real. As doctors, we can't take ourselves too seriously."
Many of her patients are drawn from Durham's Spanish-speaking community. "We can connect on a different level. Patients from Honduras might recognize my name, and they'll ask me if I'm related to so-and-so. We could end up talking about my family's store back in Honduras. It's so fun, and it's nice for them to have a doctor who relates to them."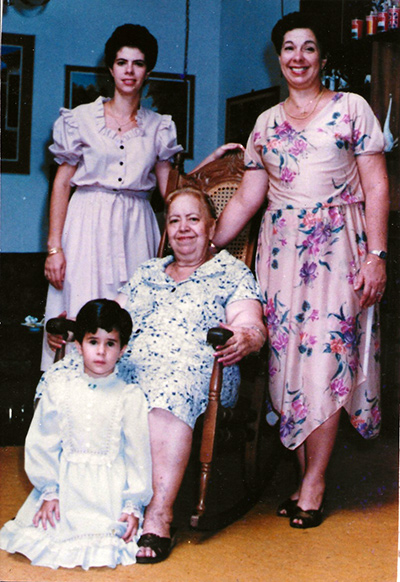 As a pediatrician, Maradiaga has had a window into how the COVID-19 pandemic has turned children's lives upside down. "What we're seeing in clinic is so much stress on the children, especially as it relates to virtual school."
For Latinx kids, "it's a double, triple whammy," she says. "Many of their parents don't speak English, and they live in a digital divide," meaning they often have less access to the internet and related technologies than some of their peers.
That stress is manifesting in a variety of ways, including depression, anxiety, poor sleep, and obesity. "We won't fully comprehend the magnitude of the pandemic for a long time. It will affect their whole generation."
Maradiaga sent an email in March that prompted the first meeting of what would become the LATIN-19 network, and she says collective determination has kept it going. "We just kept meeting. We went from crisis mode to being more strategic and lobbying decision-makers."
One of LATIN-19's key functions is pointing out gaps and blind spots in the pandemic response. The absence of COVID-19 information in Spanish was one such gap. Another was the location of testing sites: the early testing sites in Durham were all on the west side of town, whereas much of Durham's Latinx and Black population live on the east side.
"You need someone to point out what's missing," Maradiaga says, adding that once they do, "the speed of change is incredible. We have been able to hear a concern straight from the community, bring a decision-maker to a LATIN-19 meeting, and in two weeks make a change."
LATIN-19 is accepting donations to continue its work. To give, please visit this page. You can also follow LATIN-19 on Twitter.
Ben Miller is a communications strategist at Duke's Clinical and Translational Science Institute.