Image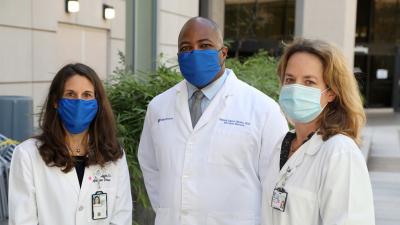 Clinical Researchers Seek Ways to Lessen the Severity of COVID-19
New studies are underway at Duke to test treatments that could help people with COVID-19 recover faster and avoid being hospitalized.
"The goal of interventional outpatient studies is to see if we can prevent people from developing more severe COVID disease requiring hospitalization," says Susanna Naggie, MD, associate professor of medicine (Infectious Diseases) and vice dean for clinical research in the Duke University School of Medicine.
Outpatient treatments could have additional benefits including shortening the course of the illness and reducing the likelihood of people spreading the virus to others.
Participants in these studies will be people who have tested positive for COVID-19 recently and have symptoms, but aren't sick enough to require hospitalization.
"This is the next stage [of COVID-19 research]—catching patients early before they are too sick, and keeping them out of the hospital," says Mehri Sadri McKellar, MD, associate professor of medicine (Infectious Diseases).
One outpatient study, called ACTIV-2, is a large trial at multiple sites across the country examining whether an intravenous infusion of monoclonal antibodies can help people mount a faster and more effective immune response to the virus.  Monoclonal antibodies are manufactured copies of antibodies discovered in the blood of COVID-infected people and shown to be effective in the lab against the new coronavirus, SARS-CoV-2. The trial is sponsored by Operation Warp Speed and administered by the NIH-funded AIDS Clinical Trials Group (ACTG).
Participants in ACTIV-2 will receive a single intravenous infusion of either a placebo or a monoclonal antibody that has already shown promising results in earlier studies elsewhere. "It looks encouraging in terms of decreasing hospitalization, decreasing severity, and shortening the length of illness, but we need more data to know for sure," says Nwora Lance Okeke, MD, assistant professor of medicine (Infectious Diseases), who is principal investigator (PI) of the study at Duke.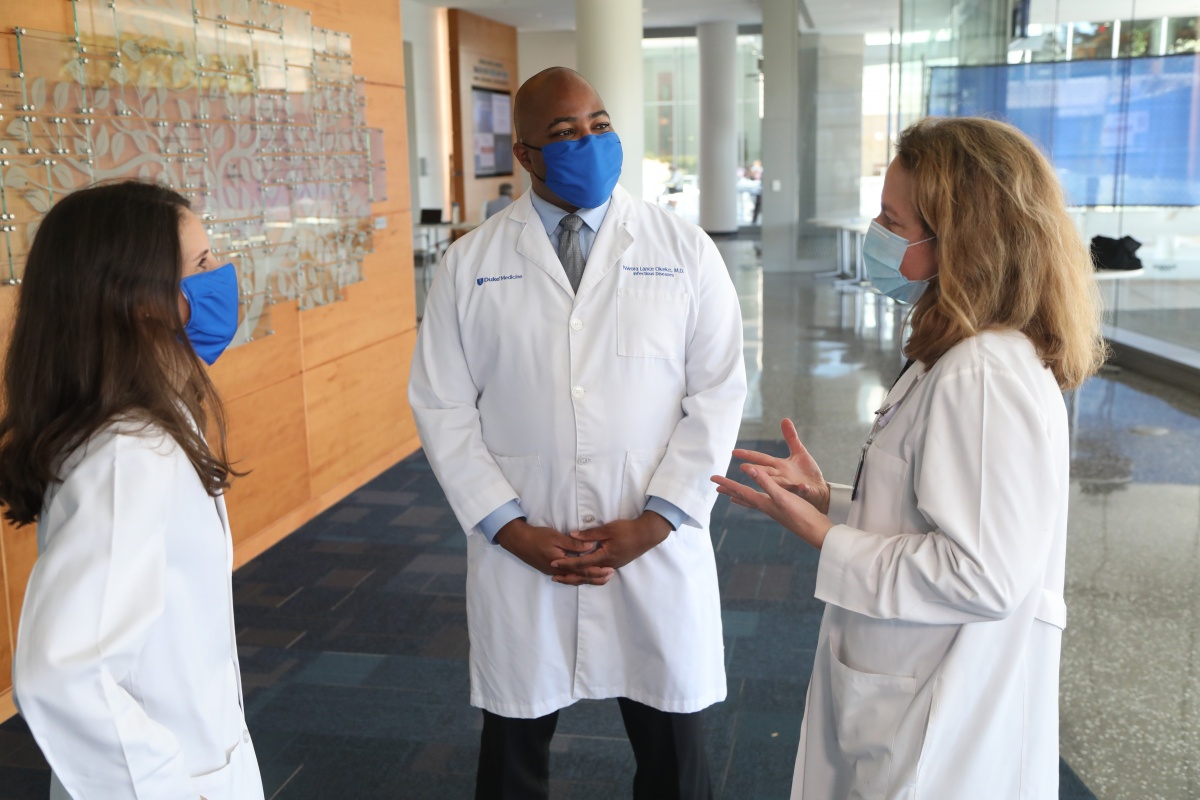 The ACTIV-2 trial is designed to be able to evaluate not just this one monoclonal antibody, but also others in the future.
"ACTIV-2 is not really a trial of a single agent," Okeke says. "It's setting up a platform. There are lots of monoclonal antibodies out there in development and ACTIV-2 will be the trial platform through which we will study each of these agents as they move through development." That means researchers can move more quickly. They'll still have to recruit participants for each antibody, but the trial design and infrastructure will be ready to go.
ACTIV-2 is flexible in another way as well. Traditionally, before being approved by the FDA, a drug or treatment is tested in three separate clinical trials (Phases 1-3), beginning with smaller trials that focus on establishing safety and the best dose, and ending with larger trials that focus on proving how well the treatment works. To increase efficiency, ACTIV-2 was designed to function first as Phase 2 and then as Phase 3, eliminating the need to create a new trial design between the two phases. If data from the 220 participants nationwide show positive results in Phase 2, the trial will transition directly into Phase 3, which will enroll 2,000 participants nationwide.
Two other upcoming studies for outpatients will evaluate drugs that can be taken by mouth rather than through infusion. Oral medicines would be easier for patients, and likely less expensive, than receiving an intravenous infusion of monoclonal antibodies.
These Phase 2 studies will test for the ability of the drugs to reduce the severity and shorten the course of COVID-19. As in ACTIV-2, participants will be assigned randomly to take the drug or a placebo.
McKellar, who is sub-investigator on ACTIV-2 and the oral medicine studies, says, "We have to make sure that participants understand that they may not get the study drug. This is the best science—a placebo-controlled study that is blinded, so we won't be able to tell if the participant is getting the placebo or the study drug."
One of the oral medicines, called Apilimod, has been tested in the past as a treatment for autoimmune diseases and cancer, but didn't deliver promising results. However, studies in the lab later showed that it had anti-viral qualities against the Ebola virus. After the current pandemic got underway, scientists tested Apilimod in human cell cultures and found it to be effective in protecting the cells from the new coronavirus, SARS-CoV-2. The drug inhibits an enzyme that appears to play a role in allowing viruses to enter and replicate in healthy cells.
The other drug is an antiviral called EIDD-2801 that works by blocking the process the virus uses to multiply. In human cell cultures and mice, it works to prevent and treat SARS-CoV-2 and other coronaviruses, such as Middle East Respiratory Syndrome (MERS), as well as influenza and Ebola.
Researchers say these are just the first of multiple clinical trials for COVID-19 outpatients that will be available to Duke patients and others in the community. "There are a host of antivirals coming down the pike for use in the outpatient setting," says Cameron Wolfe, MBBS, associate professor of medicine (Infectious Diseases).
The outpatient trials will be conducted at a newly leased and refurbished off-campus facility. Naggie says, "This is something that many of us at Duke have wanted for a long time—a dedicated space for clinical research that's less intimidating for participants and easy for our community participants to access."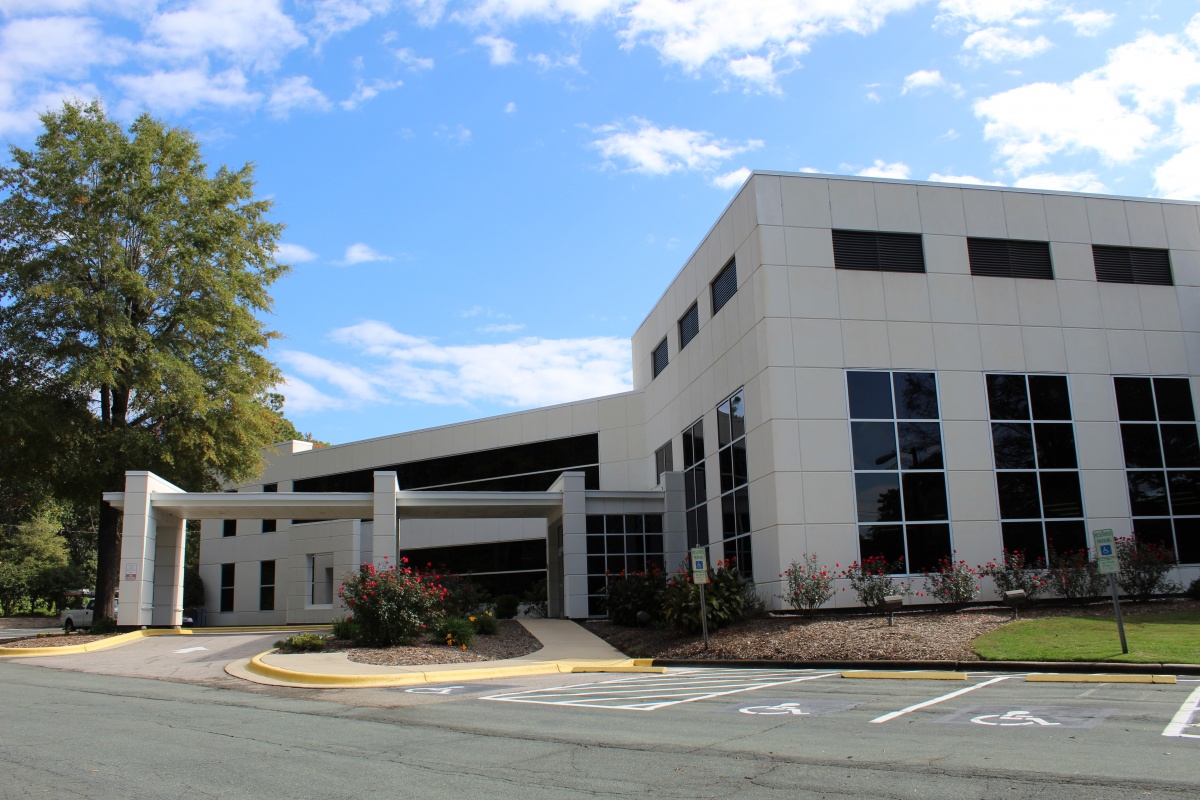 Lynn Sutton, assistant dean for clinical research initiatives and alliances, spearheaded the effort to find, lease, and renovate the space with state-of-the-art ventilation and other safety features—all at unprecedented speed. "I've never seen anything come together this quickly," she says. "People [in all departments] have been bending over backward to make this happen."
The free parking and relatively small building will make visits less cumbersome for participants than having to go to Duke Clinics or Duke Hospital. A welcoming location is an important component of recruiting a more diverse population of trial participants, a goal the investigators are actively pursuing.
"We understand the disparities of COVID-19 in our communities," Naggie says. "We understand that many of our communities of color are the most dramatically impacted from the perspective of rates of infection and from the perspective of mortality. We are committed at Duke to ensure we have adequate representation of all of our community in trials."
The COVID-19 pandemic has been particularly hard on people who are older, Black, or Latinx. All three of these groups are typically underrepresented in clinical trials, but Duke investigators want to make sure that's not the case with the outpatient COVID-19 trials.
"We want to design the studies to make them as acceptable as possible to the communities that need them the most," Okeke says. "We're working with people on campus who have the expertise to effectively engage communities of color."
Investigators are working with groups like the Duke Clinical and Translational Science Institute (CTSI), the Primary Care Research Consortium (PCRC), the Latinx Advocacy Team and Interdisciplinary Network for COVID-19 (Latin-19), the Duke Center for the Study of Aging and Human Development to engage and recruit diverse  participants from the community.
Jamie Roberts, senior staff director of clinical research networks and recruitment innovation at CTSI, says, "The only way we will know if a treatment works for a [particular] population is if they share that gift of participation with us." She works to increase participation by helping investigators think about study design and recruitment through the eyes of participants.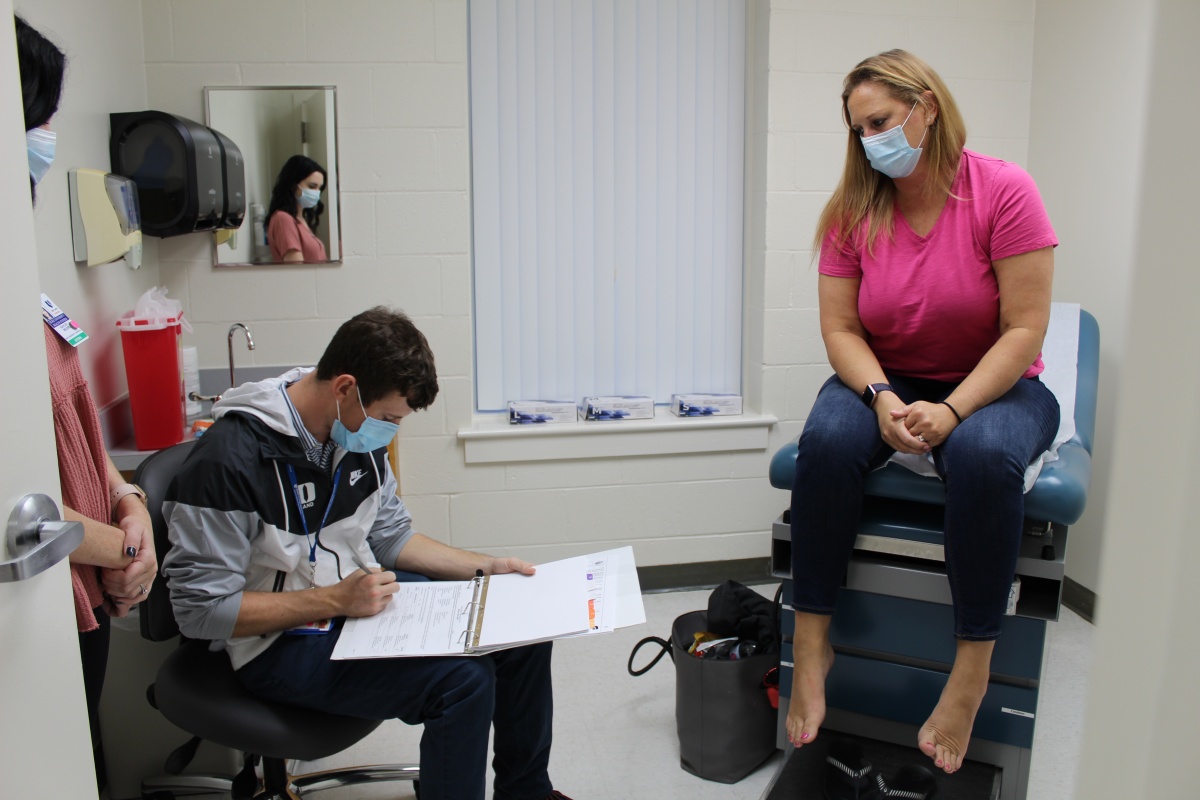 "Often we design research around the needs of science without thinking about the needs of the participants," Roberts says. "We need to be thinking about this from the perspective of the participant. How are we going to design a study that's feasible and easy for patients to participant in?" Offering free transportation, after-hours appointments, home visits, and information in Spanish are all choices that can widen the pool of potential participants.
The investigators and their partners at Duke and in the community are reaching out to potential participants through brochures, social media posts, information given out at testing sites and primary care clinics, and events with local groups such as La Ley radio station to ensure people are aware of the purpose and value of clinical research. Roberts and her colleagues have created a Discover Duke Research Facebook page, and a new user-friendly website about COVID-19 clinical trials at Duke.
As an infectious diseases clinician-scientist, Okeke is glad to be working on these trials to help evaluate treatments that could slow the global pandemic. But he says investigators can't do it alone. "We need the support and trust and engagement of the community to try to get through this together," he says. "This is an opportunity for us to bring all hands-on deck to move past this pandemic once and for all."
Mary-Russell Roberson is a freelance writer in Durham. She covers the geriatrics and aging beat for the Department of Medicine in the Duke University School of Medicine. Photos by Jim Rogalski and Lindsay Key.