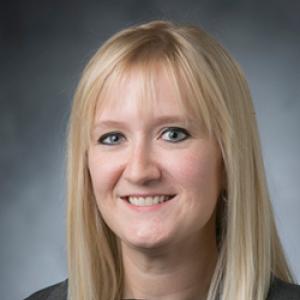 Senior Regulatory Affairs Scientist
Contact Information:
Stephanie Fraser, PhD, RAC is a Senior Regulatory Affairs Scientist in the Office of Regulatory Affairs and Quality (ORAQ) within the Duke University School of Medicine. In this role, Dr. Fraser provides FDA regulatory support and guidance to investigators and study teams throughout the Duke clinical research community, with a primary focus of providing regulatory support to the Duke Human Vaccine Institute. She performs a variety of services including regulatory education, regulatory consultation, and support for regulatory submissions. In addition, Dr. Fraser serves as an eCTD Publisher for ORAQ, with expertise in eCTD compliance, formatting, and submission.
Dr. Fraser received her undergraduate degree in biology from Central Michigan University while also completing the McNair Scholar Program. She conducted her graduate research at the University of Iowa, where she earned her PhD in Molecular Physiology and Biophysics. Her research focused on the role and regulation of the SK3 Channel in the myometrium throughout pregnancy. During her graduate training, Dr. Fraser was the recipient of an American Heart Association Predoctoral Fellowship. Dr. Fraser then accepted a position as a Postdoctoral Research Assistant at the University of North Carolina in the Cell and Molecular Physiology Dept. and was awarded the NIH Contraception and Infertility LPR through the NICHD.  Dr. Fraser then went on to complete her postdoctoral training at Duke University studying the role of Adrenomedullin in cigarette smoke-mediated protection from preeclampsia. Dr. Fraser holds the Regulatory Affairs Certification (RAC) from the Regulatory Affairs Professional Society.