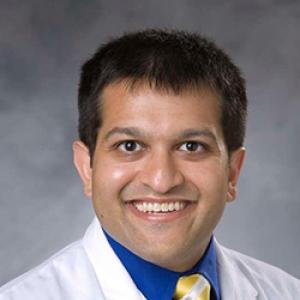 Assistant Dean for Clinical Education
Contact Information:
As Assistant Dean for Clinical Education, Dr. Chudgar oversees the clinical training of our medical students across all four years of their education, with a special focus on the second and fourth year. In this role, he works directly with the clerkship directors, elective directors, and interdisciplinary course directors to ensure the breadth and integration of clinical education. He also works with the Associate Dean for Curricular Affairs and Assistant Dean for Assessment to consider innovations in clinical education and assessment of our students.
Dr. Chudgar is Associate Professor of Medicine School of Medicine. He joined the faculty in 2008 after completing both medical school and Internal Medicine residency at Duke. He holds a Master of Science in Medical Education Leadership from the University of New England. He is also the course director for the Clinical Skills Course, the Effective Clinical Teaching elective, and a small group leader in the Clinical Skills Foundation course and the Capstone course. Before beginning the Assistant Dean role in 2021, he served as Director of Undergraduate Medical Education in the Department of Medicine for the seven years, directing the Internal Medicine Clerkship and leading medical student education and advising in the department.
Dr. Chudgar works clinically as a hospitalist and teaches medical students and residents in the care of inpatients at Duke University Hospital. His research interests include medical education, curriculum development, effective teaching methods, assessment of clinical skills, and simulation. The medical students have honored Dr. Chudgar with several teaching awards including the Golden Apple Teaching Award, the Practice Course Professionalism Award, and Thomas Kinney Distinguished Teaching Award.