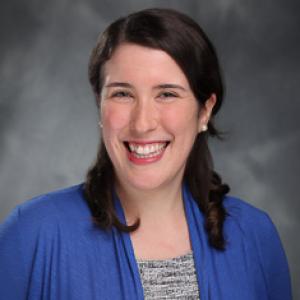 Assistant Professor of Occupational Therapy and Theological Ethics
Contact Information:
She/her/hers, white, cisgender, heterosexual, LGBTQIA+ ally, disabled
Occupational roles: hiking outdoors with my spouse and dog, trying new foods and wines, meditation and prayer, pilgrimage, playing board games and cards, watching Duke Men's Basketball, reading, and learning how to play the mandolin
Dr. Sarah Jean Barton is the Assistant Professor of Occupational Therapy and Theological Ethics. Dr. Barton holds a dual appointment in the Occupational Therapy Doctorate Division and the Divinity School at Duke University. Dr. Barton earned a B.S. in Biology from Seattle Pacific University, an M.S. in Occupational Therapy from Boston University, as well as an M.T.S. (Master of Theological Studies) and a ThD (Doctor of Theology) from Duke Divinity School. Her research focuses on the intersections of disability with theology, health, education, and religious participation. Dr. Barton's research methodology prioritizes partnerships with individuals experiencing intellectual and developmental disabilities. She has completed recent work on Universal Design for Learning and accessible pedagogy. Dr. Barton has published and presented in a wide variety of interdisciplinary settings on issues related to Christian theology and ethics, intellectual disability, spirituality, disability studies, and occupational therapy. In addition to her academic appointment, Dr. Barton works at Duke Health as a senior occupational therapist with a board certification in pediatrics.