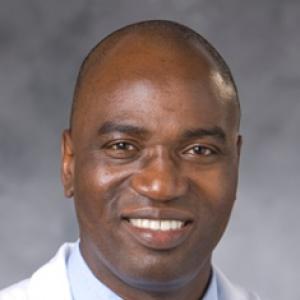 Associate Dean for Physician-Scientist Development
Rasheed Gbadegesin, M.D., is the associate dean for physician-scientist development and director of the Office of Physician-Scientist Development (OPSD) in the Duke University School of Medicine. OPSD is a school-wide initiative focused on the training and support of physician-scientists.  Dr. Gbadegesin has served as the inaugural faculty director of OPSD since 2018.  
In his role as associate dean and director, Dr. Gbadegesin will focus on the recruitment, retention and development of physician-scientists in the School of Medicine, in all departments, centers, and institutes. Only 1.5% of U.S. physicians today conduct research. Under his leadership, OPSD will continue to facilitate development growth areas and develop new initiatives related to research and training, including integrating programs from across the School of Medicine and campus and serving as a centralized resource aimed at growing and diversifying the pool of physician-scientists and promoting the success of their research programs. 
Dr Gbadegesin is a Professor of Pediatrics in the Division of Nephrology, Professor of Medicine, and a member of the Duke Molecular Physiology Institute. His research is focused on the molecular pathogenesis of nephrotic syndrome and other kidney diseases. He has published over 100 peer-reviewed original research papers and is the principal investigator (PI/MPI) on multiple NIH, industry, and foundation sponsored studies. 
In addition to his scholarly activities, Dr. Gbadegesin has also heavily invested in mentoring trainees and faculty, locally and nationally. He is the PI for the Duke Burroughs Wellcome Physician Scientist Institutional award, which provides support to address training gaps and increase the number of physicians conducting research. He is also director of the Department of Pediatrics Physician Scientist Training Program (Duke Pediatric Research Scholars (DPRS) program) and co-director of the Duke Clinical and Translational Science Award (CTSA) KL2 program, a mentored research career development program for junior faculty.