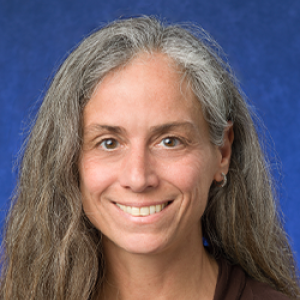 Associate Dean for Learning Environment and Well-being
Contact Information:
As Associate Dean for Learning Environment and Well-being, Dr. Jane Gagliardi serves as the academic leader ensuring that the School of Medicine's health professions education programs occur in professional, respectful, and positive learning environments, including the MD, Physician Assistant, Doctor of Physical Therapy, Occupational Therapy Doctorate, and Master of Biomedical Sciences programs. In conjunction with directors of the different programs, she will develop a cohesive plan for support services for students to include academic, disability and mental health support. She will be responsible for exploring the feasibility of establishing a School of Medicine Office of Student Services which would standardize the resources available to students and ensure equitable access across the school.  
Dr. Gagliardi is a 1998 alumna of Duke University School of Medicine and a 2003 Duke's combined residency training program in Internal Medicine-Psychiatry, as well as an alumna of the Clinical Research Training Program. She has been on faculty at Duke since completing residency training in 2003 and engages in clinical teaching on inpatient and emergency department Psychiatry and inpatient General Medicine and Medicine-Psychiatry services. She has a long history of educational administrative leadership, serving for a decade as clerkship director and director of undergraduate medical education in the Department of Medicine and later as residency director and vice chair for education in the Department of Psychiatry and Behavioral Sciences, and more recently as the director of the combined residency in Internal Medicine-Psychiatry. She is the founding course co-director for the medical student evidence-based medicine course and a longtime facilitator in the clinical skills course. She is a PACT program peer messenger, a facilitator for interprofessional health system Conversations with Colleagues, the quarterly debrief lead for the Department of Medicine Civility Champions project, and a trainer for the Department of Medicine's Stepping in 4 Respect and Inclusion workshops. Her scholarly work has included collaborations with multidisciplinary professionals toward improving patient safety, medical student involvement in electronic medical record workflow, and recognizing and reconciling systemic factors contributing to health disparities and injustices.
Dr. Gagliardi is a Distinguished Fellow of the American Psychiatric Association and a Fellow of the American College of Physicians. She is the Associate Director for the University of California, Irvine-based Train New Trainers Primary Care Psychiatry Fellowship. She is a past president of the Association of Medicine and Psychiatry and an inaugural member of that organization's Diversity, Equity and Inclusion committee.  She is a member of the Group for the Advancement of Psychiatry's inaugural Social Justice committee.