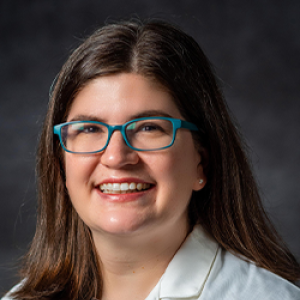 Associate Dean for Student Affairs
Dr. Elizabeth Malinzak is an Advisory Dean in the School of Medicine and an Associate Professor in the Department of Anesthesiology.  She is a North Carolina native, born and raised in Greensboro.  She graduated from Rice University in Houston, Texas (where she was the university mascot, Sammy the Owl) with a B.S.E. in Bioengineering, magna cum laude.  She is also a proud alumna of Duke University School of Medicine, where she received her medical degree.  She then completed her anesthesiology residency at Duke and pursued a pediatric anesthesiology fellowship at the University of North Carolina prior to joining the Duke faculty in 2014.
Dr. Malinzak previously served as the Director of Medical Student Education for the Department of Anesthesiology and Director for Anesthesia Services at the Duke Eye Center.  She is dedicated to undergraduate, graduate, and continuing medical education, as well as mentoring future generations.  On a national level, she is a champion for young physicians and gender equity.  She is an international and national speaker on these topics, and has successfully advocated for professional societal policy and cultural change related to parenthood and wellbeing.  Dr. Malinzak has served in leadership positions in many organizations including Women in Anesthesiology (Past President), American Society of Anesthesiologists (Past Chair of Committee on Young Physicians), the American Board of Anesthesiology (Oral Board Examiner, Question Author, and Maintenance of Certification in Anesthesiology committee member), Association of University Anesthesiologists (Leadership Advisory Board), Anesthesia Patient Safety Foundation (Associate Editor for OpenAnesthesia), and Society for Pediatric Anesthesiology (Women's Empowerment and Leadership Initiative Mentor).  She is a Fellow of the American Society of Anesthesiologists (ASA) and was honored in 2023 with the Distinguished Educator in Anesthesiology Award from the ASA and Society of Education in Anesthesia.  She was recently awarded a joint grant from the Foundation for Anesthesia Education and Research and American Board of Anesthesiology to study gender, race, and age confidence gaps in anesthesiology board certification processes.
Her other scholarship endeavors are related to leadership development and social media (you can find her on Twitter at @ebmalinzakMD), and as a pediatric anesthesiologist, her clinical interests include malignant hyperthermia, fasting guidelines, and adults with pediatric diseases.  Outside of the hospital, her greatest joys include spending time with her family (especially her two children) and traveling to new places.