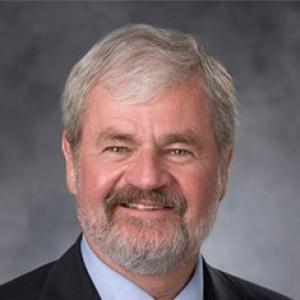 Vice Dean for Education, Vice Chancellor for Duke-NUS Affairs
Edward Buckley, M.D., is Vice Dean for Education. He also serves as Chair of the Department of Ophthalmology and Vice Chancellor for Duke-NUS Affairs.
As Vice Dean for Education, Dr. Buckley provides administrative oversight for all of the education and degree granting programs for the School of Medicine. These include all aspects of the medical student program, Physician Assistant Program, Doctor of Physical Therapy, Pathologists' Assistant Program, Clinical Research Training Program, Clinical Leadership Program and Master of Biomedical Sciences. He is also responsible for the Office of Curricular Affairs, Financial Aid, Registrar, Admissions and Library. He has been involved with the development of the Duke-National University of Singapore Medical School (Duke-NUS) education program since 2001, co-chairs the Duke-NUS Academic Committee, and leads the Duke-NUS effort at Duke.
Dr. Buckley is the James P. and Joy Gills Professor of Ophthalmology and the director of the pediatric ophthalmology fellowship program at Duke. He is a renowned expert in pediatric ophthalmology and strabismus and has trained over 60 clinical and 10 research fellows.
Dr. Buckley has served as president of the American Association of Pediatric Ophthalmology and Strabismus (AAPOS), chair of the American Board of Ophthalmology, chair of the Section of Ophthalmology of the American Academy of Pediatrics, president of the American Orthoptic Society, and is the current editor-in-chief of the Journal of AAPOS. He has received the Life Time Achievement Award from the American Academy of Ophthalmology (AAO) and AAPOS.
Dr. Buckley received his undergraduate degree in electrical engineering and his medical degree from Duke University. He completed an internship in medicine and a residency in ophthalmology at Duke before performing a two-year fellowship in pediatric ophthalmology and neuro-ophthalmology at the University of Miami's Bascom Palmer Eye Institute. He returned to Duke in 1983 as assistant professor in the Department of Ophthalmology.
Contact: Karen Tesoriero, Administrative Assistant