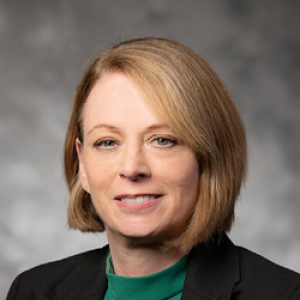 Associate Director, MMCi
Catherine Diederich is a healthcare leader and educator with over 20 years of experience. In healthcare, her organizational acumen includes experience in home care, hospice, mental health, and serving people who are blind or deaf. She led organizations through initial accreditations, including The Joint Commission and the Commission on Accreditation of Rehabilitation Facilities.
Her leadership in developing and expanding programs includes fostering strategic growth in extending education and digital innovations to people with disabilities from one county to 12 states. Over $9 million was raised as an endowment fund to ensure continuation of service for these individuals. She has authored/co-authored international, federal, state and private grants totaling over $10 million. Gannett Media selected the organization she led as an Excelsior Award Winner for Excellence.
Catherine received a doctorate from Northern Illinois University in Leadership and in Educational Administration. Her research focus on the restructured Illinois' state funded universities brought insight on the value of academic state-wide change. Subsequently she shared her knowledge in an educational setting. As lead faculty for healthcare administrative issues, including HIPAA, Meaningful Use, ICD/CPT coding. Students voted her as Faculty Member of the Year.  In 2015, she expanded her knowledge as a student in Duke University's MMCi program.
Catherine is currently the Associate Director of Duke MMCi program and has a unique view as an alumnus of the Program and previous faculty member. In her role, Catherine handles curriculum development, admissions, marketing, and student services.  She launched a short-course called MMCi 411 to educate new graduates and prepare them for entry into the MMCi program. 
She is recognized for exceptional listening skills, intuitiveness and creative approaches to problem solving. She is currently a member of HIMSS, AMIA, AHIMA, and holds licensures from AMT and NHA.