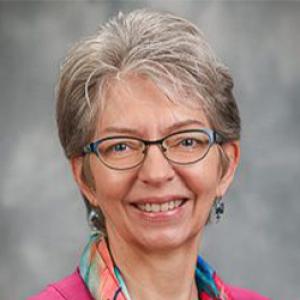 Founding Program Director and Division Chief; Professor in Orthopaedic Surgery
Contact Information:
female, she/her/hers, white, ally, LGBTQIA+, first-generation, rural background, contemplative spirituality
Occupational roles: shared activities with my spouse, cycling, walking, hiking, playing with my dog and two cats, reading, writing, meditating, learning, camping
Since 2008, Dr. Hooper has served as an Associate Professor and the Director for the Center for Occupational Therapy Education (COTE) at Colorado State University. She launched the Center to promote excellence in teaching effectiveness, curriculum design, and educational research in order to graduate occupational therapists who form community, create knowledge, use evidence and forge paths with clients toward satisfactory engagement in daily life. 
Dr. Hooper earned her Bachelor of Science in Occupational Therapy from the Medical College of Georgia, a Master of Science in Occupational Therapy from Western Michigan University, and her PhD in Higher, Adult & Lifelong Education at Michigan State University. She has published in the American Journal of Occupational Therapy, Medical Teacher, Advances in Medical Education, British Journal of Occupational Therapy, OTJR: Occupation, Participation & Health, Occupational Therapy in Health Care, and New Directions for Evaluation. She has also authored several book chapters and regularly consults with faculty groups nationally on designing curricula, courses, and teaching/learning activities for transformative learning.
Dr. Hooper's excellence as an educator and influence as an educational scholar has been acknowledged through distinguished teaching and scholars awards and admission to the American Occupational Therapy Association's Roster of Fellows.
"I am honored and thrilled to be joining Duke University as the founding director of the new occupational therapy program. Duke is known worldwide for its innovation, excellence, and leadership in many disciplines and endeavors. And I want the new occupational therapy program to be among those. I am excited to build a network of faculty, staff, service users, practitioners, and interprofessional and interinstitutional collaborators. Such partnerships will be key to creating an outstanding curriculum. Our aim will be to graduate therapists who effectively collaborate with clients to achieve meaningful participation in daily life—a key health mechanism addressed in occupational therapy," said Dr. Hooper.