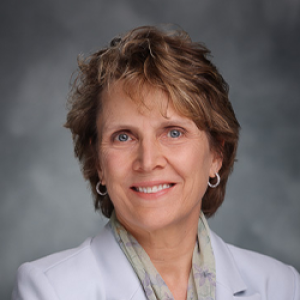 Senior Associate Dean for Faculty Professionalism
Ann J. Brown, M.D., M.H.S., is the Senior Associate Dean for Faculty Professionalism in the Duke University School of Medicine. In this role, she works with faculty and leadership to develop systems of support for upholding the values articulated in the School of Medicine Statement on Faculty Professionalism.  Her interest in professionalism as a core tenant of healthy, equitable work cultures emerged during her decade of service as Vice Dean for Faculty (2011-2022). In 2022 she began focusing specifically on faculty professionalism. She has served in the Dean's Office since 2004 when she was appointed as Associate Dean for Women in Medicine and Science, then Vice Dean for Faculty Development (2006).
Dr. Brown attended Stanford Medical School and completed her residency training in Internal Medicine at Yale-New Haven Hospital before coming to Duke to complete her Endocrinology fellowship in 1993. Following her fellowship, she joined the Duke faculty and focused her work on women's health and leadership. In 2002, she was selected to serve on the University-wide Duke Women's Initiative. In 2006, she was awarded the Equity, Diversity and Inclusion award from the Duke Office for Institutional Equity. In 2009 she completed the Executive Leadership in Academic Medicine (ELAM) fellowship for women with outstanding leadership potential and now serves on ELAM's faculty.  Dr. Brown is a national expert and thought-leader in faculty affairs and development, and in 2019, she received the AAMC Carole J. Bland Phronesis Award, which recognizes dedicated and selfless promotion of faculty vitality.  She is frequent speaker on topics related to professionalism and conflict management and is active within the Group on Faculty Affairs at the AAMC. She is a certified professional coach.